Capital of the Auvergne and prefecture of the Puy-de-Dôme, Clermont-Ferrand occupies a remarkable natural site, in the middle of the Puys chain (any good tourist guide to Clermont-Ferrand will mention the Vulcania amusement park a few kilometres from the city) and at the gateway to the Midi. The city was born in 1630, by decision of Louis XIII, from the union of Clermont and Montferrand, two rival cities a few kilometers apart and with different origins: ancient for the first, which saw the rise of the first cathedral in the 10th century, medieval for the second, which was founded by the Counts of Auvergne from the 12th century. After an important development in the 19th century, it is the establishment of Michelin (which offers a very interesting visit) between the two world wars that will definitely change the future of the city. The number of inhabitants rose from 50,000 in 1900 to 150,000 in 1962, with the creation of numerous districts. Today, the population of Clermont-Ferrand is 142,000. Of the two original cities, the city has retained two old centres, about 4 km apart. The city center of Clermont-Ferrand, the old Clermont, extends around the cathedral Notre-Dame-de-l'Assomption. The old Montferrand is to the north-east. They are connected by a large avenue (Georges-Couthon, then Avenue de la République). A dynamic cultural town, it hosts a major short film festival every year. Rugby fans can enjoy theASM Experience.
What to visit Clermont-Ferrand?
When to go to Clermont-Ferrand?
When to go to Clermont-Ferrand? The harsh winter climate does not necessarily attract tourists to Clermont-Ferrand. Nevertheless, like any large city, Clermont-Ferrand can be visited all year round. There is no shortage of activities and visits and the city's hotel facilities are quite affordable. If you are a film lover, the International Short Film Festival in Clermont-Ferrand takes place for a week in February and can be a very good reason to come to Clermont during this period. Despite everything, it would be a shame to go to Clermont-Ferrand without enjoying the nature around it. Winter will give you the opportunity to ski. Hiking or cycling will make you happy in the summer
Weather at the moment
Weather all year round
It is difficult to precisely define the climate of Clermont-Ferrand. Because of its position, the city is subject to different influences. However, it is a semi-continental climate that prevails. Overall, summers are rather hot (generally above 20°C), but marked by severe storms. Winter is very cold (average temperature around 3-4°C) but dry.
Prepare for your trip Clermont-Ferrand
Transportation
Car Rental
Taxi
Tailor-made trip
Accommodation & stays
Find a hotel
Holiday rental
Services / On site
Book a table
Activities & visits
Clermont-Ferrand travel inspiration
Pictures Clermont-Ferrand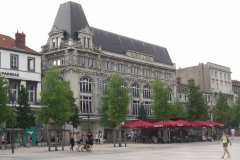 Discover Clermont-Ferrand
Practical information
When to travel?
When to go to Clermont-Ferrand? The harsh winter climate does not necessarily attract tourists to Clermont-Ferrand. N...
Read more about it
Weather forecast
It is difficult to precisely define the climate of Clermont-Ferrand. Because of its position, the city is subject to...
Read more about it