At the confluence of the Rhône and Saône rivers, Lyon bears witness to 2,000 years of history. The former capital of the Gauls has preserved a remarkable architectural heritage. As such, the districts of Vieux Lyon, the Fourvière hill, the Presqu'île and the slopes of the Croix-Rousse are listed as World Heritage sites. The tourist proposals of this destination are very numerous. The tramway makes travelling easier and public transport by the river gives a cruising atmosphere to your trips, but it is on foot that you will go on pilgrimage from the Saint-Jean cathedral on the Fourvière hill to the Notre-Dame basilica which dominates the city. You will linger in Old Lyon in search of its traboules and its Bouchons where you will eat quenelles, cochonnaille, sapper's apron or cervelle de canuts. Other more gastronomic tables will delight the most demanding of gourmets. There are so many museums and historical monuments to discover that you will have to consult your tourist guide in advance to make your itinerary
What a pleasure it is to walk along the docks! You have a choice: traditional version in the city centre, contemporary version in the new Confluence district where the modern Confluence Museum offers remarkable exhibitions. Lyon is also a city of shopping with chic boutiques and renowned chocolate makers.
When to go to Lyon?
Lyon, the third largest city in France, is alive all year round and has an incomparable architectural, cultural or religious wealth. No tourist season other than the one caused by school holidays. So you can come whenever you want! However, it is sometimes very hot in summer and very cold in winter. You should also know that magic works particularly during the Festival of Lights, an emblematic Lyon festival that makes the city shine from all sides, from small candles lit on the windowsills of private individuals to the sumptuous illuminations of the city. Pilgrimages are also an opportunity to climb the hill of Fourvière during religious festivities. The Nuits de Fourvière, in June and July, with multidisciplinary performances in ancient theatre, are also another incentive.
Weather at the moment
Weather all year round
The climate is semi-continental with Mediterranean influences with hot and stormy summers, cold and dry winters. In winter, frosts are frequent, snowfalls are possible and the feeling of cold is often reinforced by the breeze. The Mediterranean influence causes strong heat in spring and summer. The average temperature varies from 2.9°C in January to 21.1°C in July. A few days of fog in autumn, winter and spring.
Prepare for your trip Lyon
Transportation
Car Rental
Taxi
Tailor-made trip
Accommodation & stays
Find a hotel
Holiday rental
Services / On site
Book a table
Activities & visits
Pictures Lyon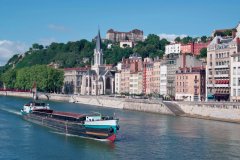 Discover Lyon
Practical information
When to travel?
Lyon, the third largest city in France, is alive all year round and has an incomparable architectural, cultural or re...
Read more about it
Weather forecast
The climate is semi-continental with Mediterranean influences with hot and stormy summers, cold and dry winters. In w...
Read more about it