The 3rd arrondissement is the largest and most populated of the arrondissements of Lyon. It covers the Mutualité-Préfecture-Moncey districts along the Rhône, Voltaire/Part-Dieu, west of La Part-Dieu station, and finally the districts of Villette/Paul-Bert, Dauphiné/Sans-Souci and Montchat. La Part-Dieu district, where Europe's leading transfer station is located, has been undergoing a major renovation since 2015 in order to simplify travel and better connect it to the rest of the city. Among the emblematic places of the 3rd arrondissement, you cannot miss the Auditorium of the Orchestre National de Lyon, a very beautiful concert hall on Charles De Gaulle Square, the Lyon Municipal Library, the Rhône Prefecture and the Hôtel du Département, at the level of Cours de la Liberté, the Palais de la Mutualité on Antonin-Jutard Square and the Montluc Prison Memorial, a former military prison transformed into a national memory hotspot.
The must-see places in Lyon 3rd
When to go to Lyon?
Lyon, the third largest city in France, is alive all year round and has an incomparable architectural, cultural or religious wealth. No tourist season other than the one caused by school holidays. So you can come whenever you want! However, it is sometimes very hot in summer and very cold in winter. You should also know that magic works particularly during the Festival of Lights, an emblematic Lyon festival that makes the city shine from all sides, from small candles lit on the windowsills of private individuals to the sumptuous illuminations of the city. Pilgrimages are also an opportunity to climb the hill of Fourvière during religious festivities. The Nuits de Fourvière, in June and July, with multidisciplinary performances in ancient theatre, are also another incentive.
Weather at the moment
Weather all year round
The climate is semi-continental with Mediterranean influences with hot and stormy summers, cold and dry winters. In winter, frosts are frequent, snowfalls are possible and the feeling of cold is often reinforced by the breeze. The Mediterranean influence causes strong heat in spring and summer. The average temperature varies from 2.9°C in January to 21.1°C in July. A few days of fog in autumn, winter and spring.
Prepare for your trip Lyon
Transportation
Book a train

comp_pv_maritime
Accommodations
Find a hotel

Holiday rental

Airbnb rental
Services / On site
Airbnb experiences

Book a table

Activities & visits
Pictures Lyon 3rd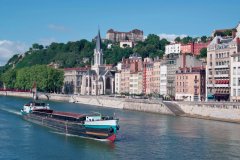 Discover Lyon
Practical information
When to travel?
Lyon, the third largest city in France, is alive all year round and has an incomparable architectural, cultural or re...
Read more about it
Weather forecast
The climate is semi-continental with Mediterranean influences with hot and stormy summers, cold and dry winters. In w...
Read more about it