Just like the 1st arrondissement, the 2nd arrondissement is part of the area registered as a UNESCO World Heritage Site in 1998 because it has a splendid heritage. For example, it houses Place Bellecour, the largest square in Lyon with a surface area of 62,000 m², and the fifth largest square in France after Place des Quinconces in Bordeaux. In the centre of this square is an equestrian statue of Louis XIV, while a statue of the Little Prince and Saint-Exupéry dominate at its southwestern end. The 2nd arrondissement is also renown for its many museums, including the Museum of Fabrics and Decorative Arts which tells the universal history of textiles, but also the Museum of Printing, which presents the history of books and graphic techniques, from Gutenberg to the present day. Finally, the 2nd arrondissement also has several religious buildings, including the Saint-Bonaventure church with its medieval architecture on Place des Cordeliers, or the Saint-Nizier church with its flamboyant Gothic style.
When to go to Lyon?
Lyon, the third largest city in France, is alive all year round and has an incomparable architectural, cultural or religious wealth. No tourist season other than the one caused by school holidays. So you can come whenever you want! However, it is sometimes very hot in summer and very cold in winter. You should also know that magic works particularly during the Festival of Lights, an emblematic Lyon festival that makes the city shine from all sides, from small candles lit on the windowsills of private individuals to the sumptuous illuminations of the city. Pilgrimages are also an opportunity to climb the hill of Fourvière during religious festivities. The Nuits de Fourvière, in June and July, with multidisciplinary performances in ancient theatre, are also another incentive.
Weather at the moment
Weather all year round
The climate is semi-continental with Mediterranean influences with hot and stormy summers, cold and dry winters. In winter, frosts are frequent, snowfalls are possible and the feeling of cold is often reinforced by the breeze. The Mediterranean influence causes strong heat in spring and summer. The average temperature varies from 2.9°C in January to 21.1°C in July. A few days of fog in autumn, winter and spring.
Prepare for your trip Lyon
Transportation
Car Rental
Taxi
Tailor-made trip
Accommodation & stays
Find a hotel
Holiday rental
Services / On site
Book a table
Activities & visits
Pictures Lyon 2nd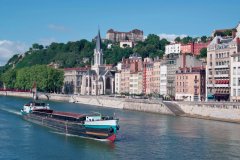 Discover Lyon
Practical information
When to travel?
Lyon, the third largest city in France, is alive all year round and has an incomparable architectural, cultural or re...
Read more about it
Weather forecast
The climate is semi-continental with Mediterranean influences with hot and stormy summers, cold and dry winters. In w...
Read more about it