With its 460 kilometres of coastline, its important historical heritage and its sunshine, Charente-Maritime is very attractive. In addition, this destination is rich in four islands. Oléron is famous for its oysters, forests and fine sandy beaches. People come to the island of Ré for its beaches, its historical monuments and its many bicycle paths. Aix is a small island where car traffic is prohibited, as is Isle Madame, accessible only at low tide. In Charente-Maritime, several stops are essential in tourist guides. La Rochelle, famous for its port of Les Minimes and its aquarium, Royan, a seaside town on the Côte de Beauté, Rochefort, a former military port on the banks of the Charente, Saintes, with its Gallo-Roman amphitheatre and its basilica listed as a UNESCO World Heritage Site, Talmont-sur-Gironde, built on a small peninsula along the Gironde, Meschers-sur-Gironde, a real balcony on the estuary, owes its fame to its troglodytic caves, Marennes, known for its oysters and bell tower, Brouage, a small citadel in the heart of a marsh, Pons, a medieval city whose pilgrim hospice is classified as a World Heritage Site, Jonzac, another medieval city on the banks of the Seugne. Finally, the most famous place is Fort Boyard, but it is not open to visitors. The gourmet pleasures are shared between cognac, pineau from the Charentes, oysters from Marennes or Tremblade, Charente melon, potatoes from the Ile de Ré, Surgères butter and mussels from bouchot in the baie de l'Aiguillon
The must-see places in Charente-Maritime
When to go to Charente-Maritime?
When to go to Charente-Maritime? On the coast and on the islands, the best time is of course in summer. Inside and in cities such as La Rochelle, Royan or Rochefort, you can visit them all year round. In high season prices soar and tourists are mainly concentrated in the seaside towns or on the islands of Ré and Oléron. Late spring and early fall are ideal times to enjoy not only the beach, but also traffic and parking facilities and more reasonable prices. Charente-Maritime is home to some beautiful festivals. The most mediatized is undoubtedly the Francofolies de La Rochelle festival, which takes place around July 14. It combines popular song, alternative, shows for young audiences and the discovery of young talents. In February, the Printemps musical en Ré is a chamber music festival that opens the season of the Saisons musicales en Ré. The festival of kites in Châtelaillon-Plage, which takes place at the end of April, seduces both children and their parents. The show is everywhere with kit-jumpers and their impressive figures, the Air Force aerobatic team, not to mention the night flight staged with sound and light. In mid-June, Musique et gastronomie du monde in Saint-Georges-de-Didonne invites you to travel to the heart of the world's diverse sounds and flavours. In mid-July, the Saintes Festival is an international classical music festival, dedicated mainly to Bach. At the end of September-early October, the Grand Pavois is open to lovers of boating with a guest of honour and hundreds of exhibitors every year
Weather at the moment
Weather all year round
The climate of the Charente-Maritime is a temperate oceanic climate with a fairly strong average sunshine. On the weather side, there is a certain contrast between the relatively dry coastline and the slightly wetter and colder interior. In winter, Cognac can have 40 days of frost while La Rochelle has only 23 days over the same period. On the islands and the coast the climate is almost Mediterranean. In Charente-Maritime, temperatures vary on average from +5°C in winter to +20°C in summer.
Prepare for your trip Charente-Maritime
Transportation
Book a ferry

Car Rental

Taxi
Accommodations
Find a hotel

Holiday rental

Airbnb rental
Services / On site
Book a table

Activities & visits
Pictures Charente-Maritime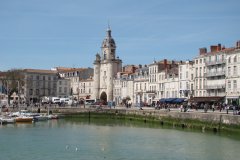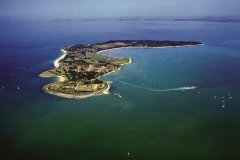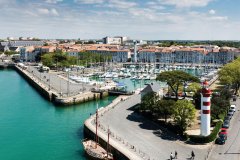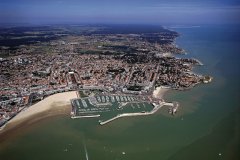 Discover Charente-Maritime
Practical information
Weather forecast
The climate of the Charente-Maritime is a temperate oceanic climate with a fairly strong average sunshine. On the wea...
Read more about it
Discover the bike tours Charente-Maritime