Historical capital of Provence, Aix-en-Provence has kept all its splendour and shines in many respects for its heritage, its famous calissons, its festivals and its cultural news. Founded on the heights, Aix has a Roman name, Aquae Sextiae (aquae for thermal waters and Sextiae for the Consul Sextius). The thermal baths of warm waters are known since the 1st century BC, and today, the Provençal way of life can be found in the alleys, squares and, of course, the many fountains of Aix. Do you want to visit the city? Here is what a tourist guide to Aix-en-Provence will offer you. In the heart of the city, the Cours Mirabeau gives an idea of the richness of Aix. Almost 500 m long, it is the link between the Mazarin district in the south and the old commercial city in the north. It is also one of the most popular and lively places in Aix. Enjoy its shaded terraces, the facades of its houses and its four fountains, harmoniously distributed from one end to the other. Further on, go through the pedestrian streets around the Richelme squares, then the Town Hall. Then go back up to the cathedral Saint-Sauveur, not hesitating to get lost in the many alleys. When you arrive near the Archbishopric's Palace, don't miss the various private mansions on rue Gaston-de-Sapora. In the museum section, this city of art is not to be outdone: above all, do not miss the Paul Cézanne Museum, the painter inspired by Aix as much as he himself left his mark on the city.
What to visit Aix-En-Provence?
When to go to Aix-En-Provence?
When to go to Aix-en-Provence? All year round, you can enjoy the sunshine and ideal temperatures. Perhaps avoid summer, the high tourist season, when the city is invaded, traffic is difficult and accommodation is even more expensive. Not to mention the heat that reigns there! The rest of the year, you can visit all the monuments and museums and stroll through the city to discover its fountains and alleys. Ask around, but the cultural offer is so extensive in Aix that an exhibition or festival will necessarily attract your attention!
Weather at the moment
Weather all year round
Aix-en-Provence enjoys very good sunshine all year round. The city is subject to a Mediterranean climate characterized by contrasting temperatures, with an annual amplitude of about 15°C. Rainfall often falls in the form of heavy showers in spring and autumn (during the famous Mediterranean episodes). Summer is very hot and dry, winter is mild. Unlike many other Provençal cities, Aix is relatively protected from the Mistral.
Prepare for your trip Aix-En-Provence
Accommodations
Find a hotel

Holiday rental
Services / On site
Book a table

Activities & visits
Pictures Aix-En-Provence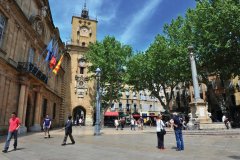 Discover Aix-En-Provence
Practical information
When to travel?
When to go to Aix-en-Provence? All year round, you can enjoy the sunshine and ideal temperatures. Perhaps avoid summe...
Read more about it
Weather forecast
Aix-en-Provence enjoys very good sunshine all year round. The city is subject to a Mediterranean climate characterize...
Read more about it