All over the world, this commercial and fishing port, which enjoyed great prosperity in the 17th and 18th centuries, but which nothing had predisposed to its new vocation as the jet-set capital, has become a myth. From its foundation to the 21st century, the history of Saint-Tropez is first and foremost linked to the sea. A former commercial and fishing port, the city is now a meeting place for stars and showbiz celebrities. But, a tourist guide on Saint-Tropez will tell you about it, you shouldn't stop at this image alone. The city has many points of interest to see or visit: the old town, built from the end of the 15th century, with its numerous chapels and oratories (notably the Sainte-Anne chapel), the port, with its terraces of large cafés and luxurious yachts swinging at the quay, the onecitadelle, built on the order of Henri IV, outside the walls, to house a reinforcement garrison likely to come to the rescue of the city in the event of a siege and which houses a museum of maritime history, the marine cemetery where the graves of old families of sailors, long-distance captains, shipowners, shipbuilders or traders, but also famous artists can be found... Finally, Saint-Tropez is also a city of vines and olive oil where there are many possibilities for shopping. Do not hesitate to come and visit Saint-Tropez, a pretty Provençal city and the setting of the mythical And God... created the woman, who propelled Brigitte Bardot, the city's muse, to the forefront.
What to visit Saint Tropez?
When to go to Saint Tropez?
When to go to Saint-Tropez? Unless you want to get close to European and American stars at all costs, the two best times to discover Saint-Tropez are undoubtedly spring and autumn, which corresponds to the low season. Hotel and restaurant rates are relatively lower than in summer during this period and beaches are less frequented. As for the climate, it is ideal, warm but not too hot, and you can often swim from spring to late November in autumn. The high tourist season is of course summer, July and August, the roads are crowded and the prices, rather high in Saint-Tropez all year round, become really prohibitive. Remember to book well in advance: there are many French and foreign tourists there!
Weather at the moment
Weather all year round
Saint-Tropez has a Mediterranean climate. Winters are mild and sunny with temperatures averaging 15°C and moderate rainfall. In summer, temperatures are very high (sometimes scorching) and can reach 35°C. In spring, nature is flowery and the weather is pleasant. In autumn, the weather is mild and the landscapes colourful. These periods of low season are therefore very popular.
Prepare for your trip Saint Tropez
Transportation
Car Rental
Taxi
Tailor-made trip
Accommodation & stays
Find a hotel
Holiday rental
Services / On site
Book a table
Activities & visits
Saint Tropez travel inspiration
Pictures Saint Tropez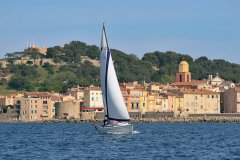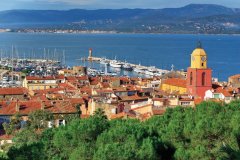 Discover Saint Tropez
Practical information
When to travel?
When to go to Saint-Tropez? Unless you want to get close to European and American stars at all costs, the two best ti...
Read more about it
Weather forecast
Saint-Tropez has a Mediterranean climate. Winters are mild and sunny with temperatures averaging 15°C and moderate r...
Read more about it