The most beautiful landscapes of the Mediterranean
The Mediterranean is an intercontinental sea that borders the coasts of Southern Europe, North Africa and Western Asia. It offers enchanting landscapes and there are countless travellers who want to reach its cities, fishing villages and its most beautiful beaches to enjoy the sun, swimming and relaxing moments. In some places, its waters are so crystal clear that one would quickly believe to be in the Caribbean or in the middle of the Indian Ocean. From Greece to the south of France, the east of Spain, the west of Italy and the north of North Africa, here are 10 of the most beautiful Mediterranean landscapes. The Big Blue never ceases to make us dream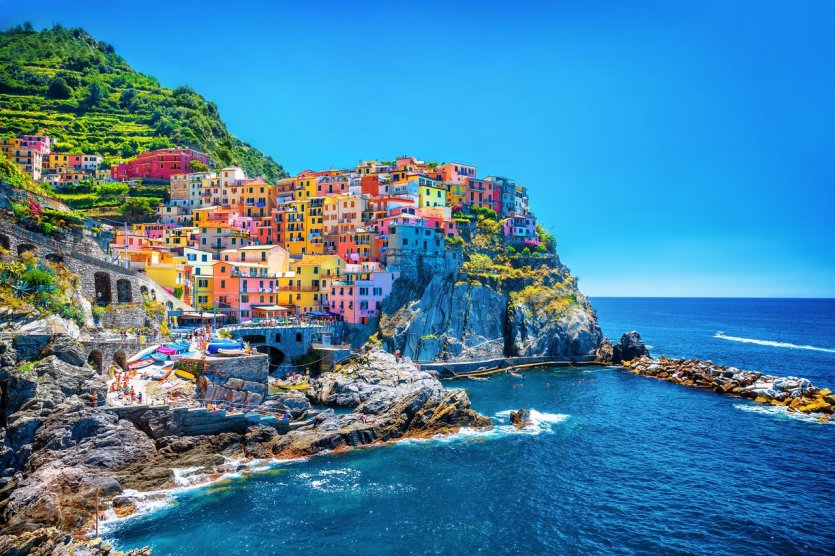 1- Cinque Terre, Italy
The Cinque Terre are a succession of ancestral villages on the rugged coast of the Italian Riviera. Monterosso, Manarola, Corniglia, Vernazza and Riomaggiore are all colourful hillside villages, with their feet in the water, where it's good to stroll through the narrow streets to experience a complete change of scenery. Around, the landscape is typically Mediterranean with pine trees at the back, but also here and there vineyards, and then of course the Grande Bleue which stretches as far as the eye can see. These five little jewels are linked together by picturesque paths, which offer breathtaking panoramas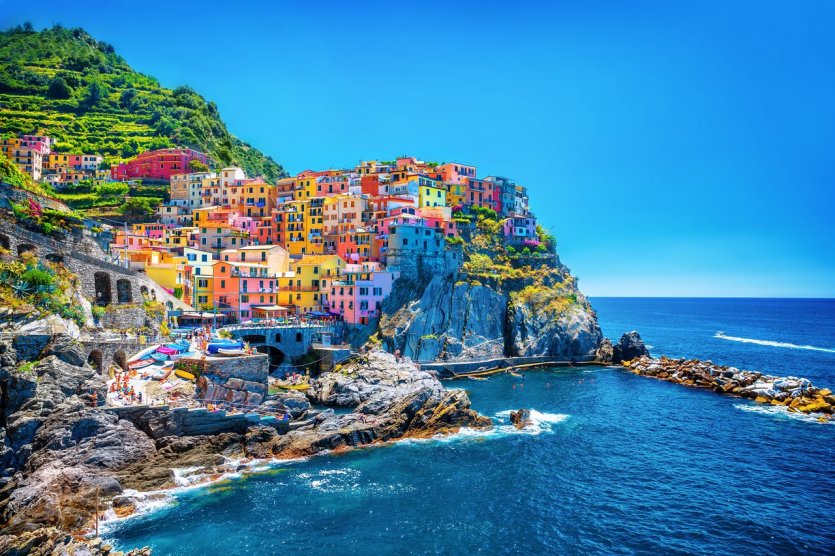 2- The En-Vau Calanque, France
Travellers who stop over in Marseille during the summer months are bound to want to visit the Calanques National Park to discover some dreamy landscapes. The En-Vau calanque is undoubtedly one of the most beautiful, with its turquoise waters and its pebble beach where you can sunbathe. Around it lie the majestic cliffs of the Marseilles massif, made up of limestone rocks and Mediterranean vegetation. The En-Vau cove, like all the coves of the Bouches-du-Rhône in general, quickly gives the feeling of being in paradise, as if privileged to find oneself in an environment where one can enjoy the view at every moment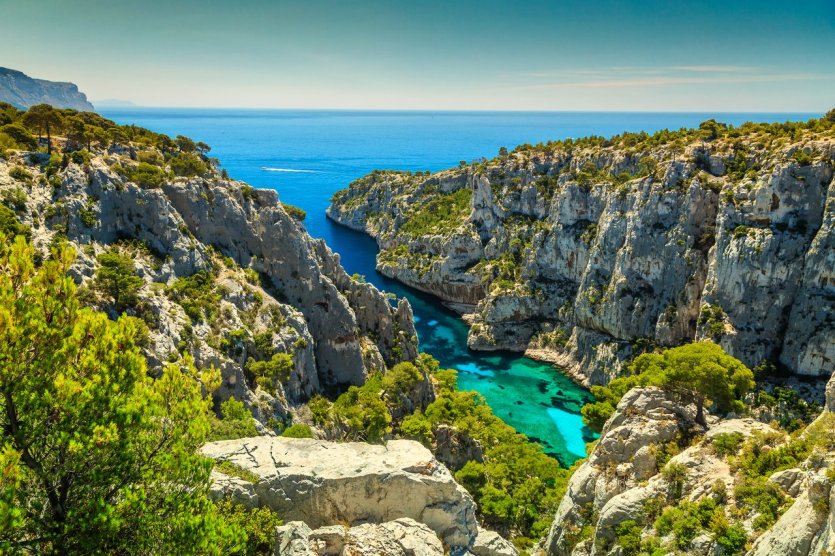 3- The bay of Saint Paul, island of Rhodes
On the island of Rhodes, the town of Lindos is a small jewel that delights lovers of ancient architecture. However, the human constructions are not the only elements that attract visitors en masse. Indeed, Lindos overlooks the beautiful bay of St. Paul, which offers one of the most beautiful beaches of the island. Its particularity is that it is a natural enclave with crystal clear waters, bordered by rugged rocks. While swimming in the bay or visiting an ancient temple, walkers can also reach the steep cliffs around and let their eyes get lost in the immensity of the Mediterranean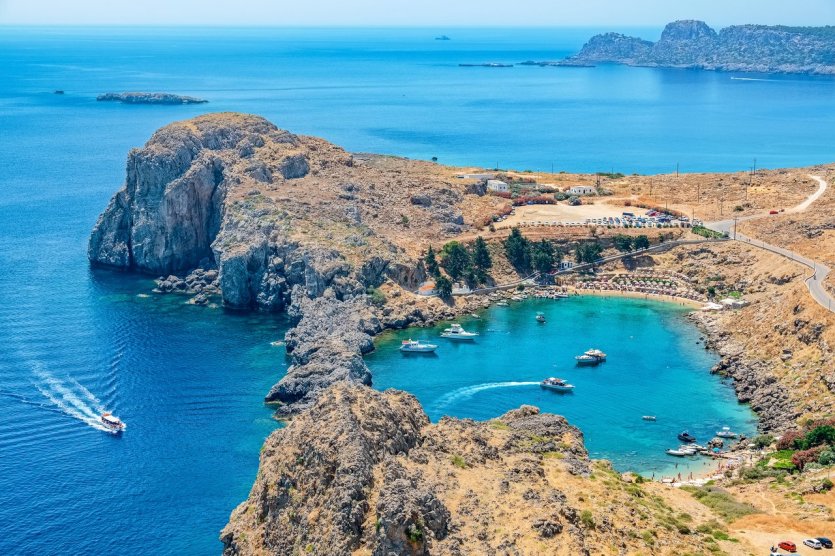 4- La Cala Macarelleta, Menorca
The Balearic archipelago reveals breathtaking Mediterranean landscapes. On the island of Menorca, Cala Macarelleta is the perfect place to relax on the fine sand or in the shade of one of the pine trees that line the beach. Here, the environment is totally preserved, so all you have to do is take advantage of this natural beauty to take a few shots that you will enjoy contemplating all year round. One of the main activities in Cala Macarelleta is of course the exploration of the sea bed. Equipped with a mask and a snorkel, you can discover the great diversity of the marine fauna and flora of this cove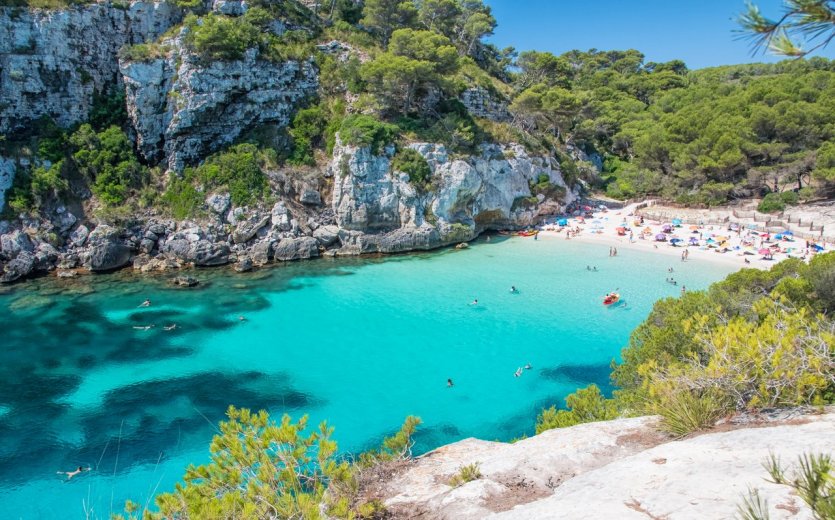 5- Kaputas beach, Turkey
In the south of Turkey, nestled between Kalkan and Kas, Kaputas beach is not necessarily the best known of the Mediterranean sandy beaches, but it is well worth a visit! It is a masterpiece of pure beauty. The passage is made up of forests, rocky heaps and of course the sea whose movements attract surfers in large numbers. From lazing on the sand to water sports, visitors have the choice to enjoy this incredible setting. It should also be noted that there are no less than 200 species of flora around the beach, some of which are endangered. This is why the place is part of a conservation project.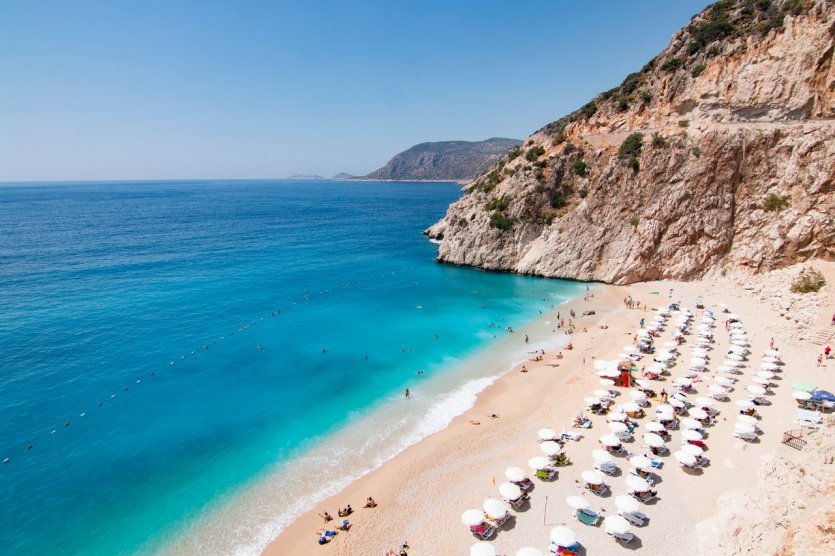 6- Comino lagoon, Malta
The tiny island of Comino is located halfway between Malta and Gozo. It attracts travelers in droves for the presence of a lagoon whose waters immediately evoke the most beautiful lagoons in the world, like those found in Polynesia. Between the rocky environment, the arid vegetation and the turquoise colour of the water, the setting is simply idyllic. However, beware, the place is taken by storm over a large part of the year. So a little advice for all those who wish to take photos where only elements of nature appear: come early in the morning!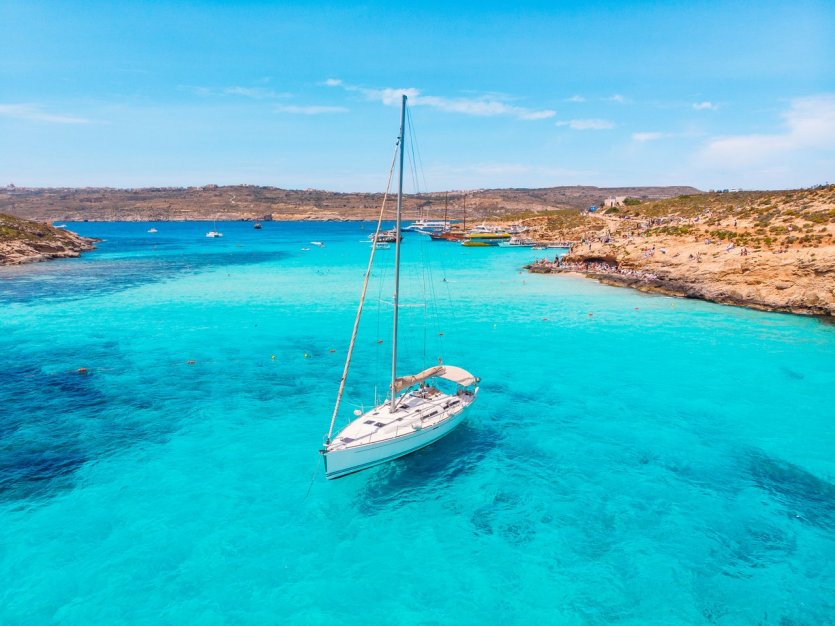 7- Corricella, Italy
A coastal village in Procida, a small island off the coast of Naples, Corricella offers an idyllic setting for a vacation. The town has several promenades that always offer a striking view of the marina. There are houses on the hillside with striking colours: blue, yellow, pink and ochre. The best thing to do is to go to the viewpoints that allow you to contemplate the Marina as a whole, mixing the colours of the houses with the blue of the Mediterranean. You should also not miss the winding streets to reach the most beautiful monuments, such as the monastery of Santa Margherita. And to go shopping or have a drink in the sun, head for Via Vittorio Emanuele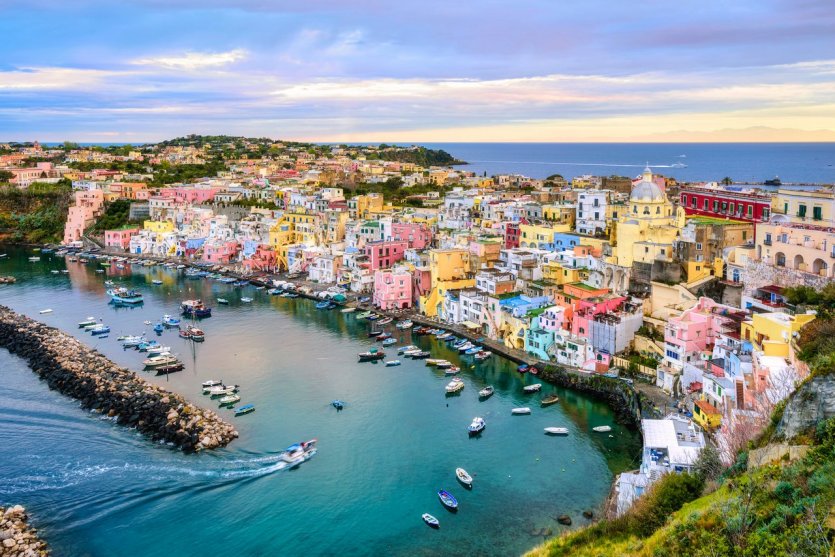 8- Sidi Bou Said, Tunisia
The city of Sidi Bou Said fascinates by its architecture mixing Arab and Andalusian styles. Strolling through the streets, you will discover superb white buildings decorated with blue doors and windows. Dar El Annabi is a house with Arab-Muslim architecture that should not be missed under any circumstances. After having criss-crossed the city on both sides, it is advisable to take the high ground to admire the splendid view of the city's port. Vegetation, boats, the sea and the relief in the distance, the setting is perfect to take some pictures, before returning to the city to try the local gastronomy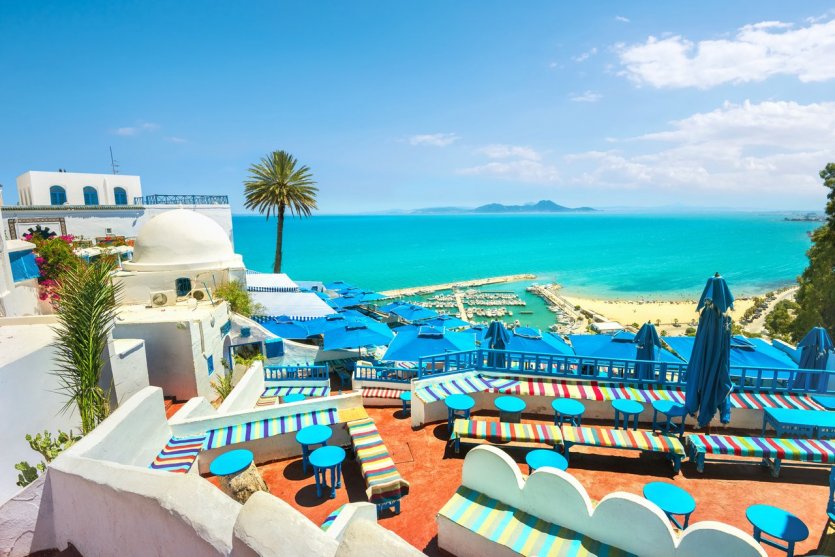 9- Palombaggia beach, Corsica
If Corsica is full of treasures, the beach of Palombaggia is undoubtedly one of those that we would not miss for anything in the world. Located 12 km south of Porto-Vecchio, it is made up of white sand, umbrella pines, ochre-coloured rocks and translucent water in which it is a pleasure to swim and explore the sea bed. There are countless spots on the beach offering breathtaking views. Those who wish to do so can also take advantage of water sports to let off steam. And a tip for a unique moment: wait for the sun to set as the beach empties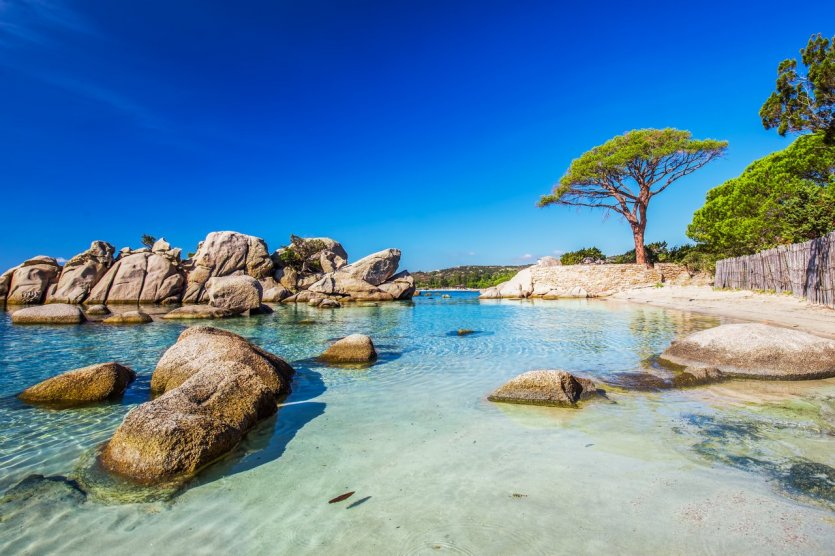 10- Cape Greko, Cyprus
Located in the east of Cyprus, close to the seaside resort of Ayia Napa, Cape Greko attracts visitors for its cliffs, underwater caves and the shades of blue of the sea. There are a multitude of paths to see the various rock formations, including natural arches. After a hike, it's time to dive into the turquoise waters, at the perfect temperature. To contemplate the richness of the seabed, don't hesitate to sign up for a supervised diving session. And in the evening, the fading light gives the place a completely different atmosphere, but just as seductive