In the northeast of France, close to Germany and Switzerland, in the heart of the vineyard, Colmar the Alsatian immediately seduces by the beauty of its old centre preserved as a setting for a historical film! This small town is a jewel to be discovered by miniature train, horse-drawn carriage, boat, bicycle and on foot. By taking his time. The old Colmar, structured around the Gothic church of Saint-Martin (13th century) with its cobbled streets, lined with medieval half-timbered or early Renaissance buildings, bathed in canals, flowered in summer, illuminated in winter, is a delight. You should stroll along the Quai de la Poissonnerie, where the fish market was held and where the city's professional fishermen lived, associated with the boatmen within a powerful corporation. From here you can reach two other picturesque districts, on one side the Tanners' district and on the other the Little Venice. Colmar delights families with its many museums: the toy museum, the gingerbread museum and the Alsatian folk art museum, the Hansi village and its museum in the famous Maison des Têtes, the natural history and ethnography museum, to name but a few. Another advantage is that Colmar is located on the Alsatian wine route. The local vineyards produce wines from Riesling and Gewürztraminer. In addition, Colmar is an ideal base camp to visit the Alsatian vineyards, the Vosges Balloons Regional Nature Park or take a trip to our European neighbours. Charming accommodation, a friendly welcome and Alsatian cuisine add to the joy of discovery.
When to go to Colmar?
It is in summer that Colmar is the most pleasant to visit, under the sun, the heat is rarely hot. Spring and early fall are also suitable. The rest of the year the weather is rather gloomy. However, the five Christmas markets, among the most famous in Alsace, bring their colours, flavours and a joyful atmosphere that easily manage to reverse the trend! So discovering Colmar at the end of the year is not lacking in charm. It's the magic of Christmas! And in any case, if it rains, the many museums await you.
Weather at the moment
Weather all year round
Colmar is subject to a dry continental climate. It is the second driest city in France. Winter temperatures are close to zero. In March, temperatures gradually rise until they become very pleasant in May. From June to August, the sun is shining, the temperature is around 25°C during the day, 15°C at night. It is the most pleasant season. The most favourable of the year. A few more sunny days in September. By November, the weather is already gloomy.
Prepare for your trip Colmar
Transportation
Car Rental
Taxi
Tailor-made trip
Accommodation & stays
Find a hotel
Holiday rental
Services / On site
Book a table
Activities & visits
Colmar travel inspiration
Pictures Colmar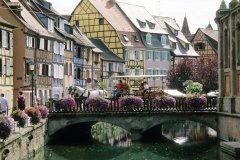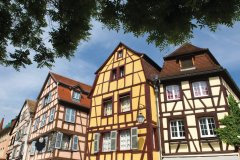 Discover Colmar
Practical information
When to travel?
It is in summer that Colmar is the most pleasant to visit, under the sun, the heat is rarely hot. Spring and early fa...
Read more about it
Weather forecast
Colmar is subject to a dry continental climate. It is the second driest city in France. Winter temperatures are close...
Read more about it