A tourist guide to Pau will tell you: there are thousands of reasons to go there, and you will soon discover that there are almost as many reasons to love it. Its softness of life makes it one of the favourite cities of the French. Its palm trees and exceptional gardens give it a special atmosphere that the view of the snow-covered peaks makes even more pleasant. A historic city where Henry IV was born, its royal destiny has left it a rich heritage and irresistible architecture. A cultural city with one of the most beautiful Zenith in France and a Fine Arts Museum and unique events such as the Grand Prix F1 car race and the passage of the Tour de France, the capital of Béarnaise lives all year round and that is surely why 12,000 students choose to study at its renowned universities. The walks here are ! fabulous with in particular the Boulevard des Pyrénées, a large balcony hypnotic nature, and a historic district faithful to its tourist vocation of the 19th century. Companies linked to the high technology and research sector make it an avant-garde city, its Halls testify to a strong attachment to gastronomy driven by local products: from the famous Russian to the Jurançon and including the hen to the pot, you will discover that traditions and modernism go well together! Owner of a beautifully designed congress centre, a unique white water stadium, it has seen its Pyrenean palace updated, brand new, and its pedestrian heart redesigned
When to go to Pau?
When to go to Pau? All year round, no doubt. Pau's many museums and monuments can be visited all year round, and each season has its own charm. Both summer and winter are mild and temperate, which makes a visit to the city even more enjoyable. A very touristy city, it may be preferable to favour spring or autumn. Prices are also lower at this time of year. Nevertheless, winter offers a magnificent contrast between a city where palm trees are numerous and the view of the snow-covered Pyrenees.
Weather at the moment
Weather all year round
Pau has a warm oceanic climate, which gives it a very pleasant atmosphere all year round. Summers are mild (average 25 or 26°C) and winters are not too harsh (often around 8-10°C). Generally, the Indian summer continues quite late until October. If it rains regularly (due to oceanic influence), the rains rarely last long and are generally followed by the "beautiful blue sky of Pau".
Prepare for your trip Pau
Accommodations
Find a hotel

Holiday rental
Services / On site
Book a table

Activities & visits
Pictures Pau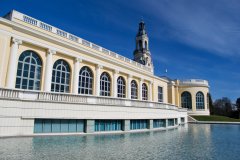 Discover Pau
Practical information
When to travel?
When to go to Pau? All year round, no doubt. Pau's many museums and monuments can be visited all year round, and each...
Read more about it
Weather forecast
Pau has a warm oceanic climate, which gives it a very pleasant atmosphere all year round. Summers are mild (average 2...
Read more about it