Biarritz/Miarritze
Travel Guide

Book a flight

Find an accommodation
A seaside resort on the Basque coast, looking out over the Atlantic Ocean, Biarritz came out of the shadows in the 1800s when the crowned heads went there on holiday to take the waters, as your tourist guide tells us. Since then, athletes have taken over. Surfing enthusiasts come to Marbella Beach for the powerful wave, a windy spot that has made Biarritz the European surf capital. Golfers also appreciate this destination for the mythical Golf du Phare, designed by the British colony in 1888, to which are added 16 greens within a 100 km radius. But it is mainly the bathers who invade the site in summer and all year round. With 6 km of beaches dotted with typical striped cabins, alternating cliffs, sand, rocks, coves, between the lighthouse and the largest beach stretched between Bellevue and Hôtel du Palais, two jewels of chic and biarritz. A Mecca of thalassotherapy, Biarritz remains a pretty little town where it is pleasant to stroll through luxury boutiques on distinguished terraces. You can walk to the picturesque fishing port, climb to the top of the lighthouse, which rises to 73 m to enjoy a panoramic view of the ocean to the mountains. There Cité de l'Océanis also the Biarritz aquarium, a historical museum housed in the old Anglican church, Asiatica, the Oriental Art Museum and the Chocolate Museum, the Imperial Church and those of the Orthodox. And while gourmands enjoy Basque specialities and excellent chocolates, others try their luck with slot machines.
Read more
What to visit Biarritz/Miarritze?
Suggested addresses Biarritz/Miarritze
When to go to Biarritz/Miarritze?
If the tourist high season is in summer, the climate of Biarritz, favourable to surfing all year round and a generous sunshine which shines generally from the beginning of April to the end of October, ensures a seaside season which is distinguished by its longevity. We swim on the biarrot beaches almost all year round, or even all year round for a group of die-hard people. Shoppers will avoid the months of November and January when many curtains are lowered due to holidays.
Weather at the moment
Weather all year round
In an amphitheatre facing the Ocean, open to marine winds, Biarritz enjoys a microclimate characterised by mild winters and summer heat that remains sheltered from the heat wave. Thanks to this privileged location and the proximity of salt springs, the small town has been stamped with the title of hydrothermal and climatic station since 1912. Temperatures fluctuate between about 13°C in January and 26°C in August. The sea, on the other hand, has a temperature range of 13°C to 22°C.
Prepare for your trip Biarritz/Miarritze
Transportation
Car Rental
Taxi
Tailor-made trip
Accommodation & stays
Find a hotel
Holiday rental
Services / On site
Book a table
Activities & visits
Pictures Biarritz/Miarritze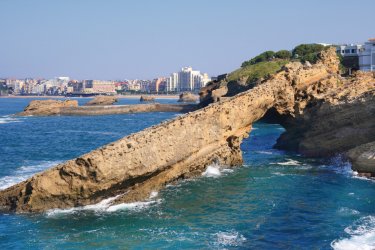 Discover Biarritz/Miarritze
Practical information
When to travel?
If the tourist high season is in summer, the climate of Biarritz, favourable to surfing all year round and a generous...
Read more about it
Weather forecast
In an amphitheatre facing the Ocean, open to marine winds, Biarritz enjoys a microclimate characterised by mild winte...
Read more about it
Other destinations nearby Biarritz/Miarritze