The 10 most beautiful villages of Brittany
How to present this territory with its character ( and weather) well soaked? As the fourth largest tourist region in France, Brittany seduces by its diversity. A maritime land, if there is one, you can discover the benefits of thalassotherapy and all kinds of water activities. But the charm of Brittany can also be seen in its picturesque villages where traditions are still alive. From Finistère to Ille-et-Vilaine via the Côtes-d'Armor and Morbihan, here are the 10 most beautiful Breton villages to discover urgently!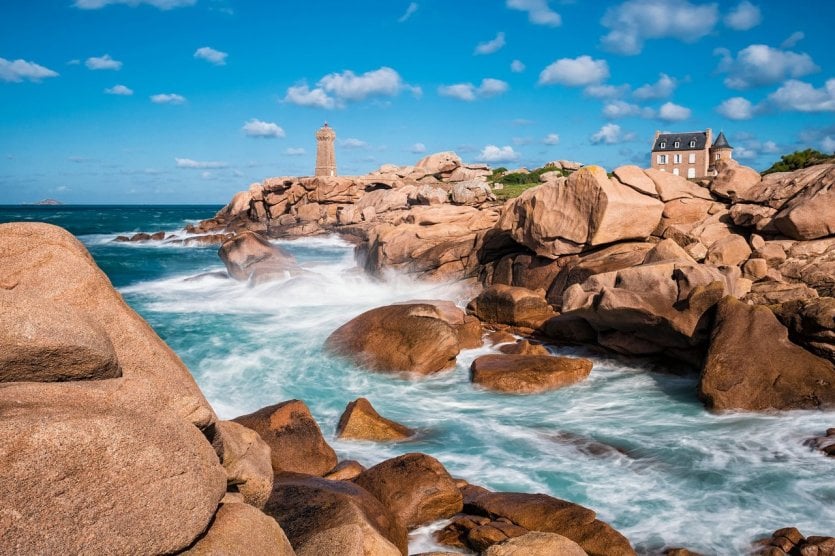 N° 10 - Bécherel, the city of books
No wonder in Bécherel words are becoming more important! Considered as the Breton city of books, there are more than 14 bookshops, each more original than the last. From bookstores and florists to wine bars and calligraphers' or bookbinders' workshops: library rats will no longer know where to turn their heads! Commune of Rennes Métropole, Bécherel is one of the treasures of Ille-et-Vilaine and one of the most beautiful villages in Brittany.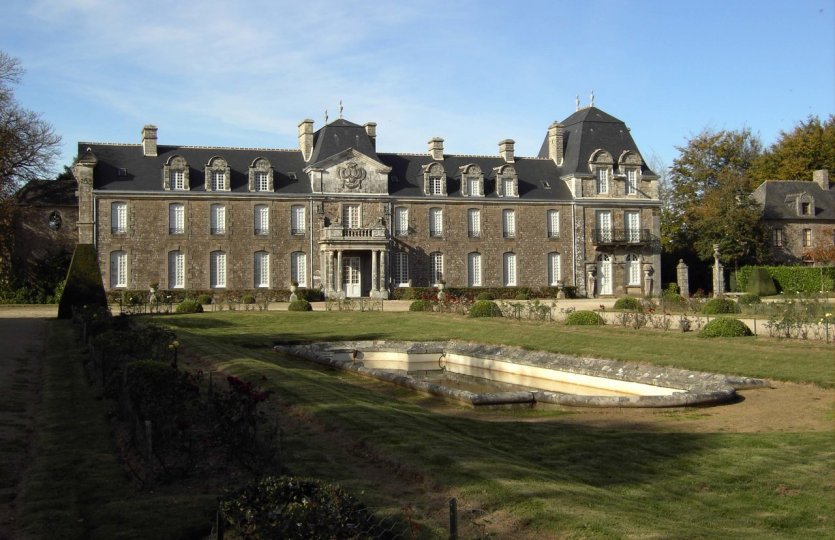 No. 9 - Guerlesquin, the other Finistère
A land of knights and bards, Guerlesquin offers a time travel in the heart of Finistère. This pretty granite village is home to an old seigneurial prison that is the subject of all the curiosities. This square building surrounded by watchtowers housed, on the ground floor, the prisoners' dungeons. But to discover Guerlesquin like a real Breton, let's meet in August during the World Championship to throw menhirs! I promise, the sky won't fall on your head!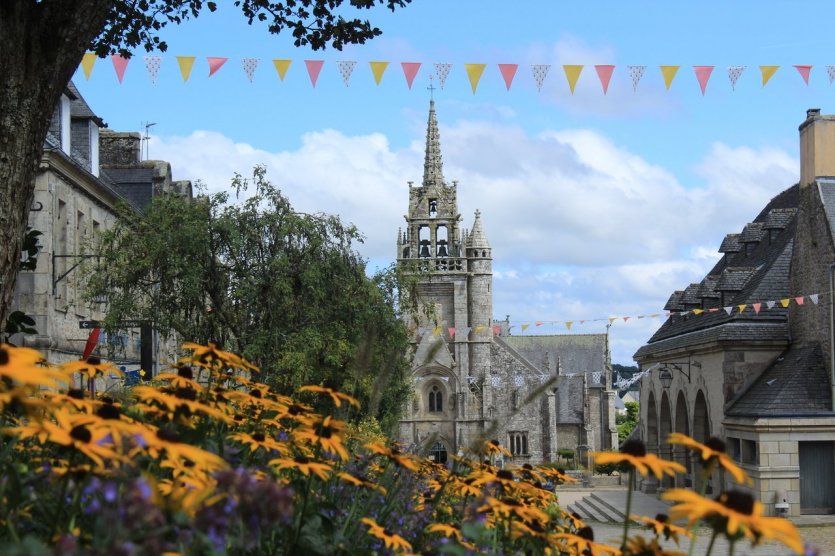 N° 8 - La Roche-Bernard, on the banks of Vilaine

Labelled a Small City of Character, La Roche-Bernard was built by the Viking Bern Hart (strong as a bear) in the 10th century. From its rocky promontory you can admire a splendid view of the Vilaine river which has marked the daily life of this village for centuries. At the bottom of the Old Port, you will find the largest concentration of old rigging in Brittany, a testimony to the intense maritime activity of La Roche-Bernard a few hundred years ago. To find out more, a visit to the Vilaine Maritime Museum at the Château des Basses-Fosses is a must!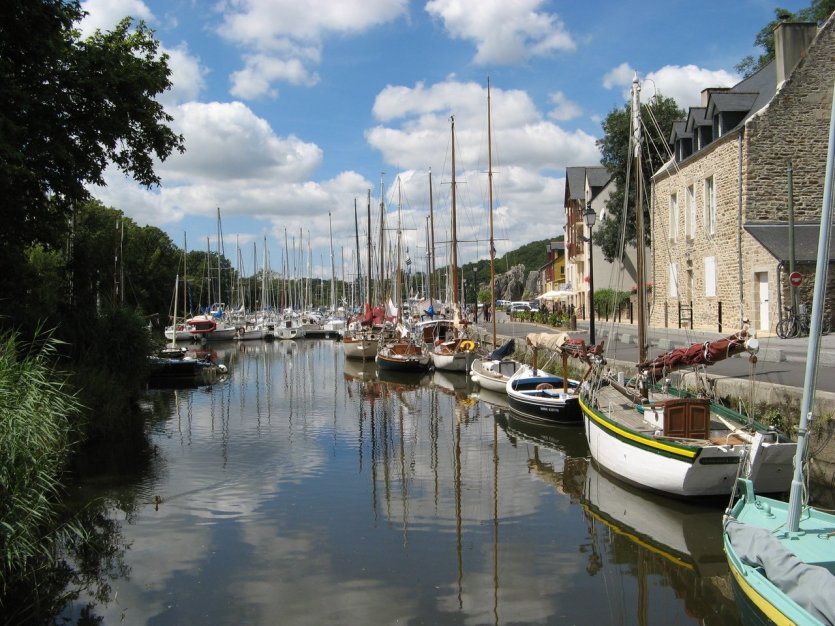 No. 7 - Locronan, an inexhaustible source of inspiration
From Polanski to Jeunet, many directors have chosen Locronan as their setting for their films, considering it one of the most beautiful villages in Brittany. This picturesque village in Finistère has preserved its heritage, particularly its typical granite houses housed in its historic centre, which is completely pedestrianised. Admirably well preserved, they bear witness to the city's rich past, which reached its peak thanks to the sailing trade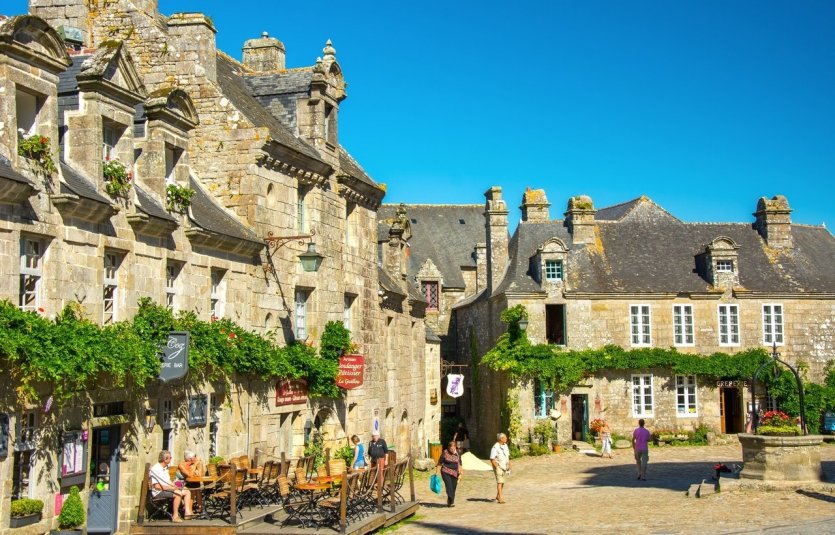 N° 6 - Saint-Briac-sur-Mer, a bucolic stopover
Bordered by the English Channel, Saint-Briac-sur-Mer is a charming fishing village in Ille-et-Vilaine. Renowned for its ten beaches and its historic church, it also shelters very pleasant pedestrian paths in summer. The Chemin des peintres where Auguste Renoir found inspiration in 1886 for his painting The Shepherdess, the cow and the sheep is certainly the most popular. These 13 bucolic km form the first stage of the Sentier des douaniers, one of the most popular hiking trails in Brittany.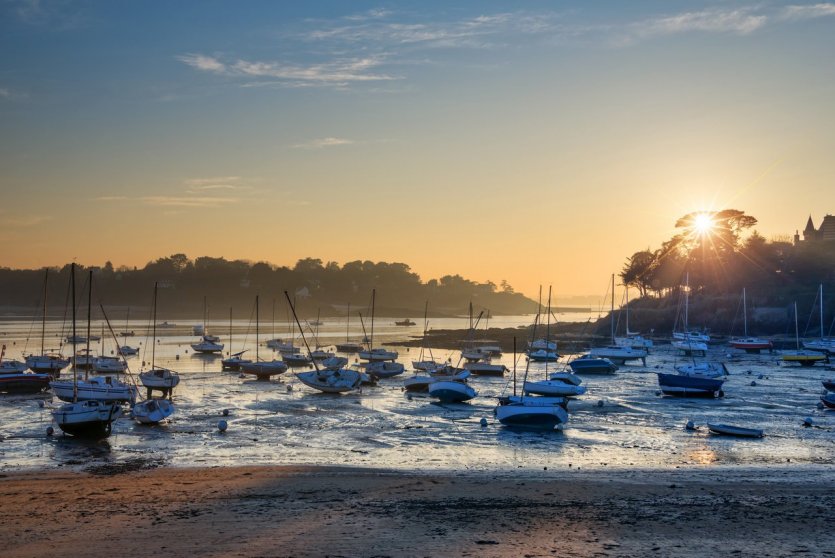 N° 5 - Saint-Suliac, a legendary village
Only 5 kilometres from Saint-Malo, Saint-Suliac is classified among the most beautiful villages in Brittany but also in France. This fishing village founded in the 10th century by the Vikings is said to house, according to legend, the tomb of Gargantua. We can see a menhir that would be the giant's tooth! To take a little height, take the path that leads to Mont Gareau from where you will have a splendid view of the Rance and the bay of Mont-Saint-Michel.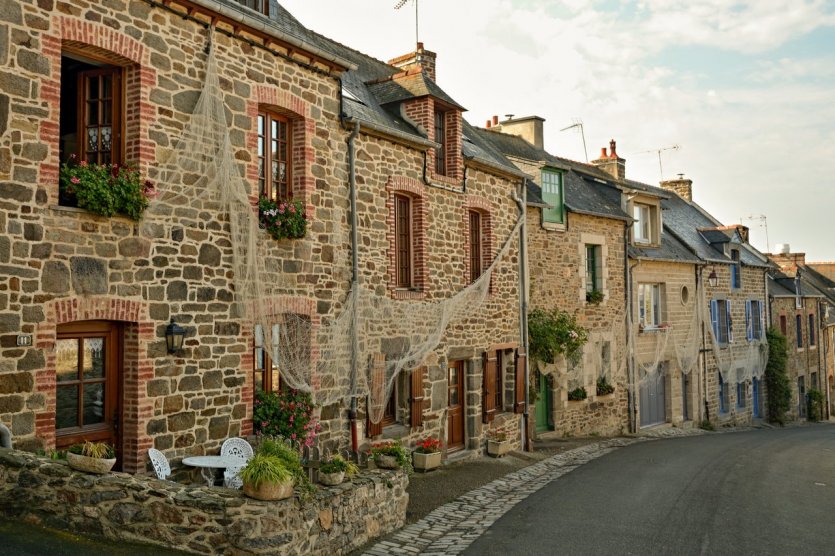 N° 4 - Rochefort-en-Terre, enchanting village
Built on a rocky outcrop, Rochefort-en-Terre stands on ancient Roman fortifications. Between the famous Brocéliande forest and the Gulf of Morbihan, this village was elected Petite Cité de caractère, Plus Beau Village de France but also Ville Fleurie. A bewitching land, Rochefort-en-Terre has attracted many artists such as the painter Alfred Klots who transformed the ruins of his castle into a sumptuous Breton mansion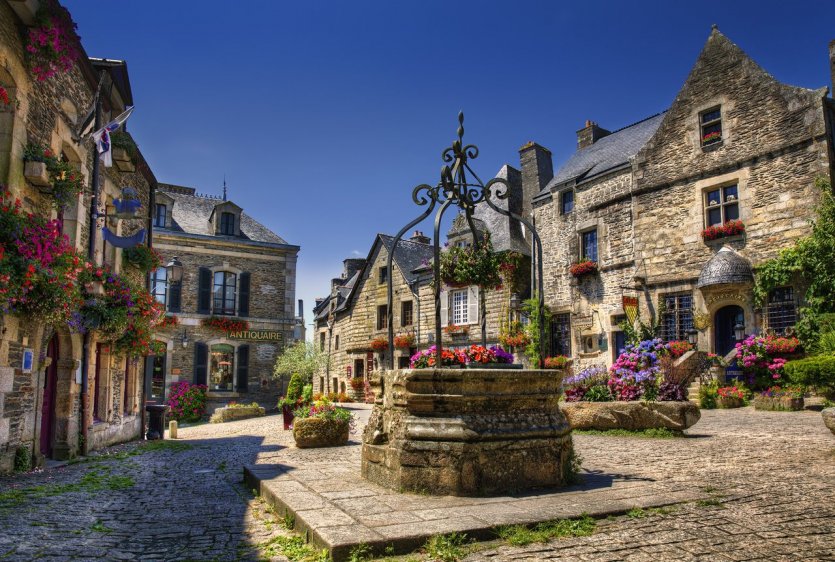 N° 3 - Pont-Aven, an inspiring land
Gourmands already know its butter cakes, yet Pont-Aven is much more than just a gastronomic stopover! This village in Finistère is better known as the City of Painters since it is here that the Pont-Aven school, created by Paul Gauguin, was born. The bohemian spirit of the village still attracts artists who come to seek inspiration on the banks of the Aven river, sometimes calm, sometimes capricious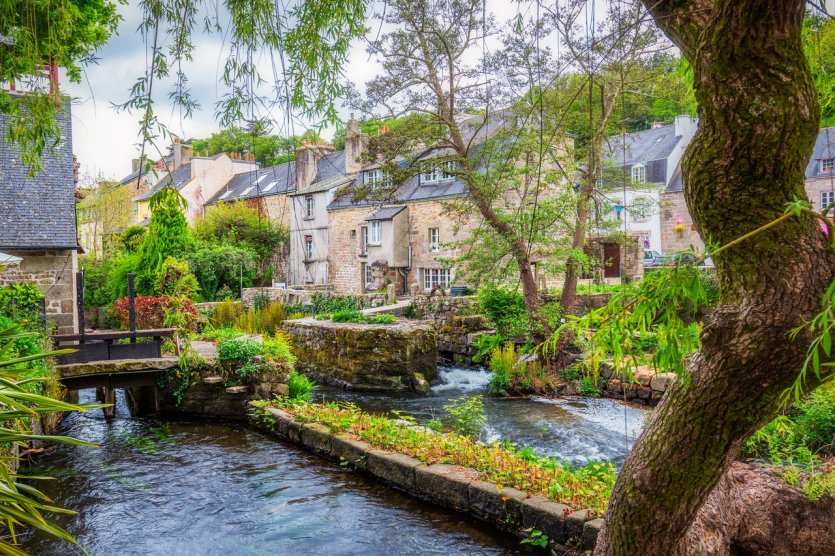 No. 2 - Moncontour, a medieval city
25 km from Saint-Brieuc, in the Côtes-d'Armor, Moncontour is surrounded by imposing ramparts and built on a rocky spur: it was a fortified square of the duchy of Penthièvre. It is nice to stroll through its narrow streets while admiring the private mansions and the rich properties inherited from the canvas merchants who made his fortune. Every odd year, a medieval festival restores the splendour of this historic city. See you in 2019!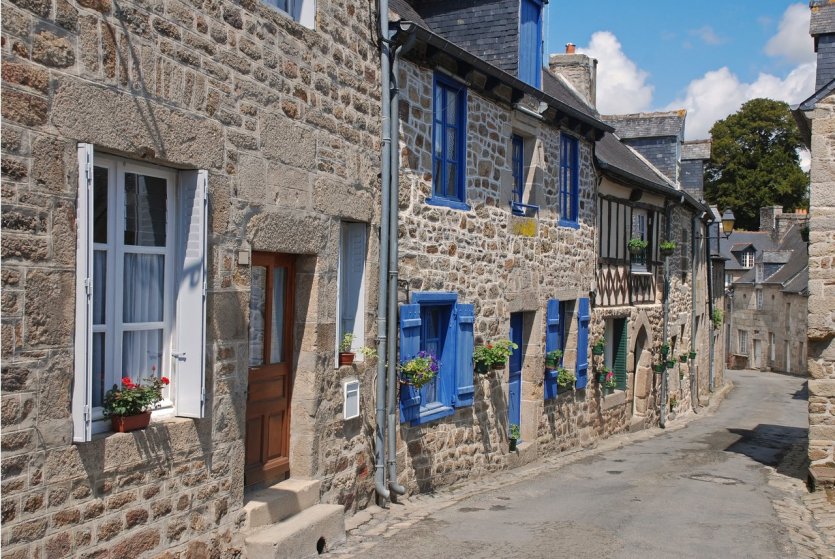 N° 1 - Ploumanac'h, a pink granite jewel

Elected as the favourite village of the French in 2015, Ploumanac'h is an old fishing hamlet now linked to the commune of Perros-Guirrec in the Côtes-d'Armor. It is the one that has seduced us the most to occupy the first place in our classification of the most beautiful villages of Brittany. along its coast, pink granite stones that appeared three hundred million years ago protect the village from the whims of the sea. This sumptuous show is a permanent object of study for geologists and a source of inspiration for many painters who came to enrich their palette of colours at sunset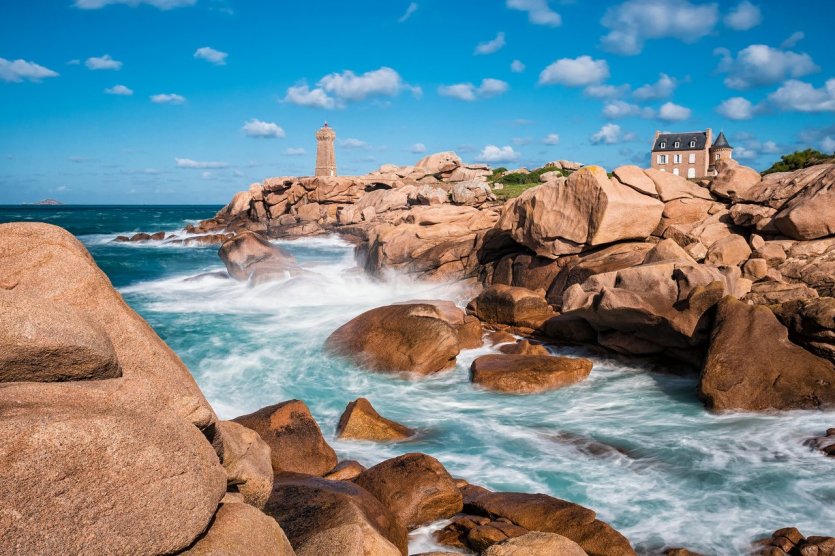 Learn more about Bretagne