Belgian Flanders has some well-kept treasures, and Ghent (Ghent in Dutch), a port city at the confluence of the Lys and the Scheldt and the capital of East Flanders, is a good example. Rich in an exceptionally well-preserved medieval architectural heritage - one thinks here of the 12th century castle of the Counts, or the ancient facades of the houses of Graslei, on the banks of the Leie - the Flemish city that gave birth to Charles V is an open-air museum without losing its softness of life and its authenticity. The second most populated city in Belgium after Antwerp, the cultural dynamism is enthusiastically supported by the many students who live there. Ghent's tourist guide takes you for a stroll through its immense squares and cobbled streets, between historic and sumptuous monuments, small popular cafés with a lively atmosphere and quality restaurants. Try the Flemish way of life, Ghent is so pretty!
The must-see places in Gent
When to go to Gent?
When to go to Ghent? The best time to go to Ghent is certainly between June and September, when temperatures become more pleasant and rains less frequent. The Belgian winter is generally rather cool and rainy, while temperatures soften around May. Spring is a pleasant time to visit East Flanders. December, for the markets and Christmas activities, can also be the subject of an escapade of a few days. So when to go to Ghent? Ideally in the summer
Weather at the moment
Weather all year round
Belgium's oceanic climate, influenced by the warm waters of the Gulf Stream, gives Ghent a weather characterized by moderate temperatures and a rainfall rate equivalent to that of Normandy. In Ghent, the temperature differences between winter and summer are quite small and East Flanders is one of the regions with the best weather all year round.
Budget
The cost of living in Ghent is comparable to that of France (in the provinces rather than in Paris). Restaurants are generally a little more expensive than in France, but the portions are more generous. If wine is more expensive than in France, you will save money by choosing beer. As for hotel prices, they are essentially the same.
Procedures
No visa is required to visit Ghent. For European Union nationals and Swiss citizens, a valid or expired identity card or passport less than five years old is sufficient to travel to Belgium; for Canadian nationals, it is necessary to have a passport. Unaccompanied minors must be in possession of a permit to leave the country to go to Ghent.
Health
No vaccine is required to travel to Ghent. With a real hospital overcapacity, Belgium enjoys excellent sanitary conditions and no high-risk diseases are to be reported in this part of the world. However, make sure your vaccines (DT Polio, etc.) are up to date. Concerning hydration, no problem: the water is drinkable in Ghent.
How to go to Gent? Our advice & tips
Organised trips

Going alone

Moving around
Some tour operators offer tours in the capital of East Flanders, allowing you to discover the architectural and historical heritage along a route marked out in advance. It is also possible to combine the visit of Ghent with a visit to Bruges, Ostend, Antwerp and of course Brussels. The advantage of this type of offer is that it allows you to benefit from advantageous rates in terms of transport and accommodation.
Discover our selection of travel agencies for this destination
It's easy to get to Ghent. All you have to do is book a train or plane ticket (the earlier you plan to leave, the cheaper you will be) and accommodation, also in advance. If you have a personal car, the roads in Belgium are in very good condition and make access to Ghent very easy.
To travel in Ghent, there will be no lack of transport between the three tram lines, bus lines, taxis, bicycles and of course walking. The pedestrian centre of the beautiful Flemish city is perfectly adapted to walkers. To reach the surroundings of the city you can also rent a car
Prepare for your trip Gent
Transportation
Book a ferry

Car Rental

Taxi
Accommodations
Find a hotel

Holiday rental

Airbnb rental
Services / On site
Book a table

Activities & visits
Pictures Gent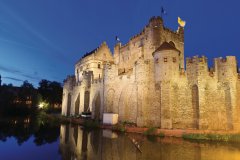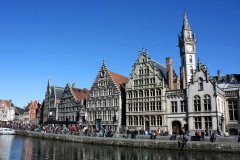 Discover Gent
Practical information