Lille did not need a film like Bienvenue chez les Ch'tis to attract more than a million tourists to the North each year. The capital of Flanders began its transformation more than 25 years ago from an old industrial city to a vibrant and modern metropolis accessible less than an hour by TGV from Paris. Renovated and rehabilitated over the years, the Lille urban area concentrates in its districts a series of architectural curiosities to visit with its tourist guide in Lille. From the Grand Place for pedestrians to the Palais des Beaux-Arts, which houses the second largest collection of works in France after the Louvre, the Belfry of the Town Hall, a UNESCO World Heritage Site, the cobblestones steeped in the history of Old Lille, the Vauban citadel, the city's green lung, the popular district of Wazemmes and its colourful market, the Lille metropolis has plenty to keep you busy, between a dish of fried moulds and a fricadelle. All served with a sense of hospitality and kindness that are not a legend!
When to go to Lille?
The best time to go to Lille is in summer, from June to September, when the thermometer is close to an average of 20 °. But temperatures are never freezing in the North, including in winter, thanks to the proximity of the English Channel, and the rest of the year is just as pleasant. It is important to keep in mind that it rains a little every month. The Grande braderie takes place every first weekend in September, from Saturday 8am to Sunday 6pm in the centre of Lille. If you come by car, you will have to park at the gates of the conurbation in car park relays and take public transport (metro, bus).
Weather at the moment
Weather all year round
Located about a hundred kilometres from the English Channel, Lille enjoys an oceanic and temperate climate. Weather wise, winters are mild, summers cool and no month is really dry. It always rains a little but never too much in Lille! The average temperature exceeds 20° only during the summer, from June to September.
Prepare for your trip Lille
Transportation
Car Rental
Taxi
Tailor-made trip
Accommodation & stays
Find a hotel
Holiday rental
Services / On site
Book a table
Activities & visits
Pictures Lille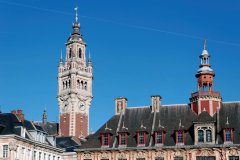 Discover Lille
Practical information
When to travel?
The best time to go to Lille is in summer, from June to September, when the thermometer is close to an average of 20...
Read more about it
Weather forecast
Located about a hundred kilometres from the English Channel, Lille enjoys an oceanic and temperate climate. Weather w...
Read more about it