Genoa (Genova), Italy's leading port, is the capital of Liguria, a region in northwestern Italy. Known for its central role in maritime trade for centuries, it is now a very dynamic student, scientific, sporting and cultural city. To be at the forefront of fashion and technology, it is nevertheless home to a rich heritage and its old town is classified as a World Heritage Site for its New Streets at 43 Palais des Rolli. And we can imagine the splendour that was that of Genoa! In addition, there is an exceptional concentration of religious buildings: 28 churches, 6 shrines, 5 basilicas, the Romanesque cathedral San-Lorenzo, a synagogue... Narrow alleys lead to Ferrari's Piazza and the opera Teatro Carlo-Felice. Climb to the top of the Lantern, the medieval lighthouse of Genoa, to discover the size of the industrial port and its countless containers, soak your feet in the sea, visit the little-known Chiossone Museum of Japanese and Asian Art, the Aquarium and the Sea Museum. Some of us will be upset if we do not point out that Genoa is also the cradle of Italian football. Finally, you should know that the city has seen the birth or development of many prestigious people, including the most famous, Christopher Columbus. As for Genoese cuisine, it delights you with specialities such as pesto (yes!), focaccia, burrida, wild herbs soup, nettle farinata, stuffed food... Consult your favourite tourist guide to find the best addresses to discover it
When to go to Genoa?
In Genoa, the tourist low season is during the months of January, February, March, November and December. The high tourist season is very extensive, from the beginning of April to the end of October, with a peak of very high season in July and August when tourist numbers are at their peak. For the lowest hotel rates, choose October. Conversely, September is the month with the highest rates. As for the weather, it is mild all year round, with a few days to spare. Heritage lovers will enjoy Rolli Days (a weekend at the end of May), open days in the Rolli palaces. Built in the 16th and 17th centuries to accommodate dignitaries, now occupied by administrations, banks and private apartments, some of these historic buildings were exceptionally accessible to the public. The opportunity to discover jewels of architecture and art from the Renaissance and Baroque periods. Check the Genoa agenda, there is always something going on, whether it is an electronic music festival or a science festival. Football fans will check the sports calendar for a match in the Luigi-Ferraris stadium.
Weather at the moment
Weather all year round
The climate in Genoa is both subtropical humid and Mediterranean. It is characterized by its humidity with more than one meter of rain per year (few rainy days but abundant rains) and a low temperature range between day and night. Similarly, there is little amplitude during the year. Winters are very mild (6/12°C) with exceptional frost and rare snowfalls, hot but not hot summers (21/28°C).
January

0°C
5°C
February

2°C
8°C
March

6°C
13°C
April

10°C
18°C
May

14°C
23°C
June

17°C
27°C
July

20°C
29°C
August

19°C
28°C
Sept.

16°C
24°C
October

11°C
17°C
Nov.

6°C
10°C
Dec.

2°C
6°C
Budget
The euro is in force in Genoa. This destination is not the most expensive in Italy, but it is not intended for small exchanges. The bulk of the budget is for accommodation. Move away from the city centre to find an affordable room or turn to youth hostels. Public transport is very affordable. Card Mudei is economical to visit museums and other buildings. And since Genoa is a student city, there are many good deals.
Procedures
For a stay of a maximum of three months, French and other European nationals must be in possession of a valid identity document (national identity card or passport, to the exclusion of any other document). French national identity cards issued to adults between 1 January 2004 and 31 December 2013 are still valid 5 years after the expiry date indicated on the back, but no material change has been made. If customs is aware, hotels, banks, etc... not necessarily. So, in order to avoid any inconvenience, use a valid passport instead of a CNI with an expired expiry date
Health
No particular health risk at this destination. Genoa is a safe city with a good health system. Your European social security card is in force on the spot. There are many pharmacies where you can find all the basic equipment you need to deal with small problems. Plan to protect yourself from the sun in summer and good shoes because even if public transport is numerous and efficient, you will walk a lot to enjoy the destination.
How to go to Genoa? Our advice & tips
Organised trips

Going alone

Moving around
Genoa is not the most popular Italian destination for tour operators, but there are several options available to you, the most common being a three-day weekend with flight and accommodation. It can be practical over a short period of time and advantageous. Other stays combine a visit to Genoa and the discovery of Liguria.
Discover our selection of travel agencies for this destination
You will not have any particular difficulty in reaching and visiting Genoa alone. The city is served by Cristoforo Colombo airport, which is connected to the centre by public transport. Sea stations connect Genoa with the main Mediterranean ports. Railway lines represent a practical and efficient solution not only for reaching and circulating in the Ligurian capital. Finally, there are four motorways serving Genoa. Housing is easy.
Public transport, managed by the AMT, covers the entire city with 138 bus lines, 1 metro line serving 7 tourist attractions, 2 funiculars and 10 elevators linking the city centre to the upper town and its panoramas, and a 1901 rack railway linking Principe to Granarolo, 1 narrow-gauge railway line from Genoa to Casella, a small town in the hinterland, with a journey through nature and 1 fast sea line, the Navebus, which links Pegli in the west to Porto Antico in the centre, in less than 30 minutes.
Prepare for your trip Genoa
Transportation
Book a ferry

Car Rental

Taxi
Accommodations
Find a hotel

Holiday rental
Services / On site
Book a table

Activities & visits
Pictures Genoa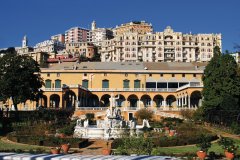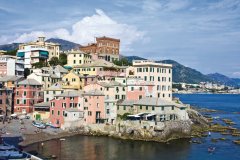 Discover Genoa
Practical information