Which campsite to choose in Vendée ? Here are 10 must-see campsites!
For you too, summer rhymes with camping! These accommodation structures have never ceased to be popular with holidaymakers, who are attracted by a lifestyle that breaks away from everyday life and allows them to feel closer to nature. In a mobile home, in a tent, in a caravan or in a camper, a multitude of establishments await campers in the Vendée, a department on the Atlantic coast that is a delight for summer beach lovers. It is more than time to book for the next summer vacations. Want to discover the jewels of the Vendée coastline, Le Petit Futé has selected for you the 10 best campsites in Vendée. Have a good vacation!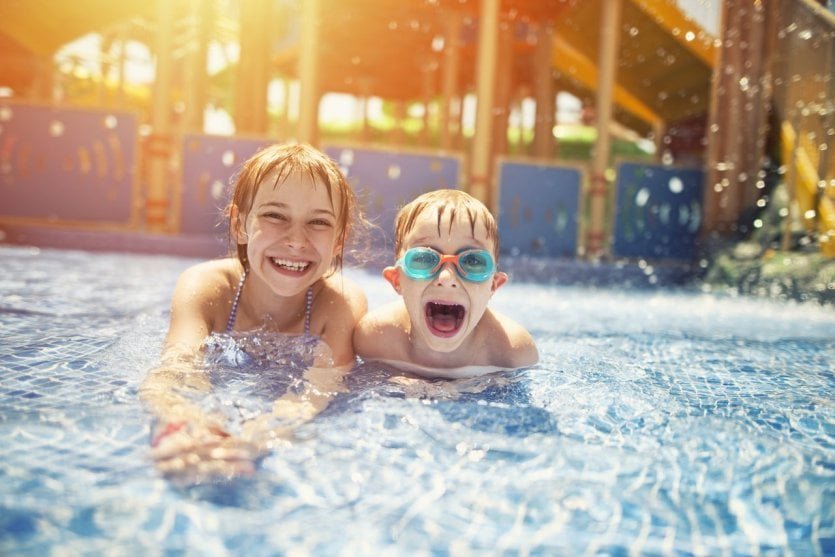 1- Camping La Pomme de Pin, Saint-Hilaire-de-Riez
In Saint-Hilaire-de-Riez, the campsite La Pomme de Pin offers to the vacationers to settle down in a cottage or in a furnished tent just a step away from a superb large sandy beach. Many services are offered including a bakery, a restaurant, a laundry and bicycle rental. Children can attend the clubs or spend time with their parents in the water park with paddling pools and water games, aquasplash, slides, sand lagoon, swimming corridor, balneo area... A very pleasant 4 star campsite ideally located to go to the Ile d'Yeu.
2- Camping Les Cyprès, Saint-Gilles-Croix-de-Vie
The campsite Les Cyprès has also 4 stars. There are 293 pitches and two swimming pools, one indoor with a whirlpool and one outdoor with a paddling pool for children. For those who wish to find some comfort at home, mobile homes that fit perfectly into the nature are available, unless you prefer an unusual stay in an "Amazon" or "Cheyenne" tent. There is a grocery store, a snack bar/ice cream parlour and a bathroom for babies. Aquatic sessions, multi-sport field, multiple animations... you will never be bored at Les Cyprès in Saint-Gilles-Croix-de-Vie and moreover, the beach is only 400 m away from the campsite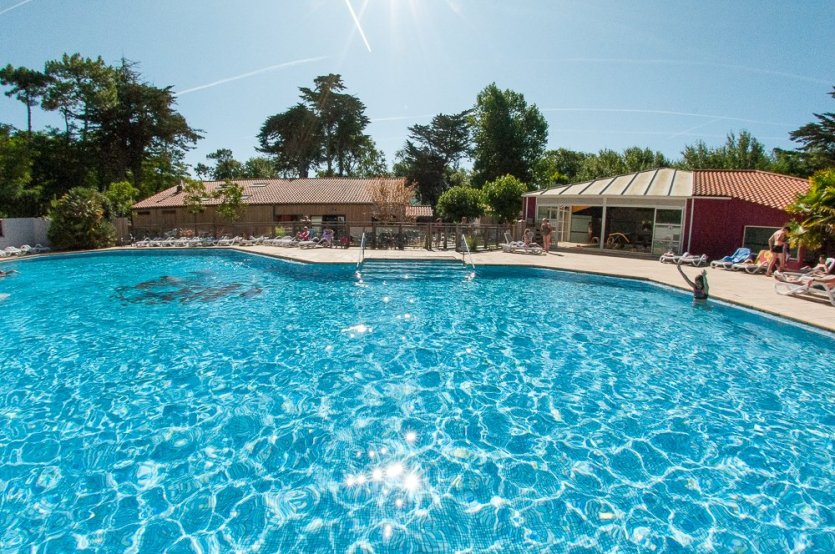 3- Camping Sol à Gogo, Saint-Hilaire-de-Riez
Labeled Camping Paradis, the famous TV series, this campsite offers pitches and mobile homes in a relaxing environment close to the sea. The aquatic area with its slides is a delight for children, while parents have plenty of time to relax on a deck chair. Feel like a little break with a fruit juice and a sweet treat during the day? Go to the snack bar! And in the evening, you can take advantage of animations and other themed evenings that make the summer sparkle and entertain children and adults. A campsite very well placed to go and explore during the day the Côte de Lumière and other seaside resorts such as Brem-sur-Mer and Brétignolles-sur-Mer.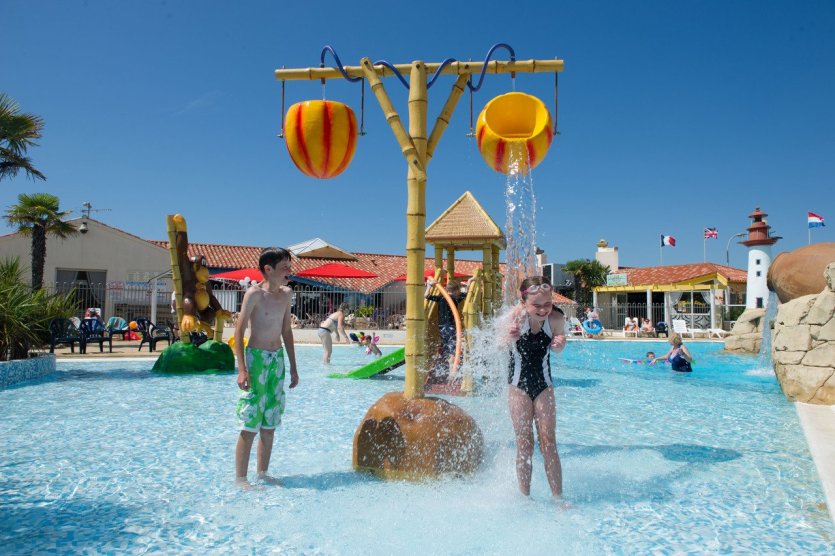 4- L'Île-aux-Oiseaux, L'Île-d'Olonne
This 3-star campsite has 226 sites. Whether you stay in a tent, a caravan or a mobile home, you can choose what suits you best. This structure is ideal for those who want to reconnect with nature, located close to salt marshes and a bird sanctuary. The sea is only 5 km away for the morning or afternoon beach. The campsite offers couples and families two swimming pools, playgrounds and "Le Nid", a place to relax over a coffee and read in peace. Bicycles can be rented to go for a ride in the nearby national forest or to reach the dynamic city of Sables-d'Olonne, located only 7 km away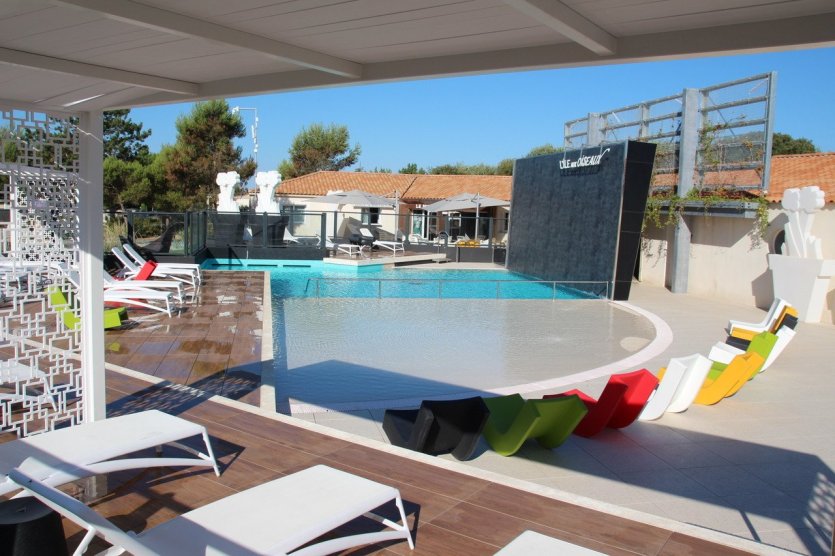 5- Camping les Jonquilles, La-Tranche-sur-Mer
What if we took advantage of the summer to spend the vacations in the charming ecotourism resort of La-Tranche-sur-Mer? Les Jonquilles campsite, with its 3-star rating, is located between the forest and the sea. An ideal location for swimming and getting some fresh air in the shade of the trees. Indoor and outdoor swimming pools, sauna, hammam, whirlpool, multisport field, petanque field, you can take advantage of the facilities to release the pressure of the year and have a good time. And if you don't feel like cooking, you can always go and eat some grilled sardines on the spot! A multitude of activities await the holidaymakers nearby, with mountain biking, tandem, hiking and water activities.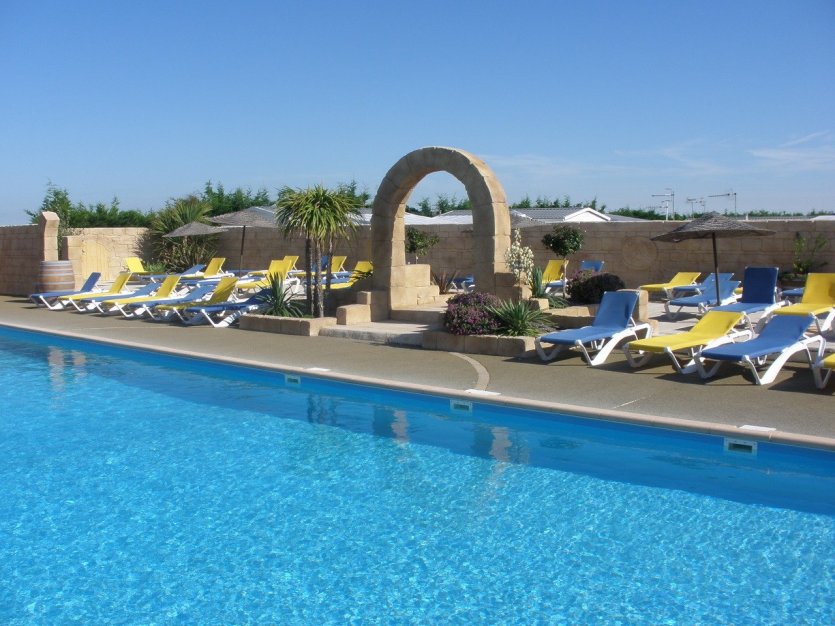 6- Camping Côté Plage, Saint-Jean-de-Monts
Saint-Jean-de-Monts is a well-known seaside resort in the Vendée. Holidaymakers can pitch their tents, motorhomes or rent a mobile home in this campsite with its quiet, wooded pitches. The structure is equipped with a mini-market, practical to avoid running to the supermarket, but also with a bar and a restaurant. The aquatic area is very pleasant with a paddling pool and a swimming pool with slide. Sports activities, games, children's entertainment and themed evenings, the program is to be consulted to enjoy good times and make friends. We also appreciate the rental of gas barbecues for a few grills, and bicycles during the day to explore the pine forests and other surrounding dune areas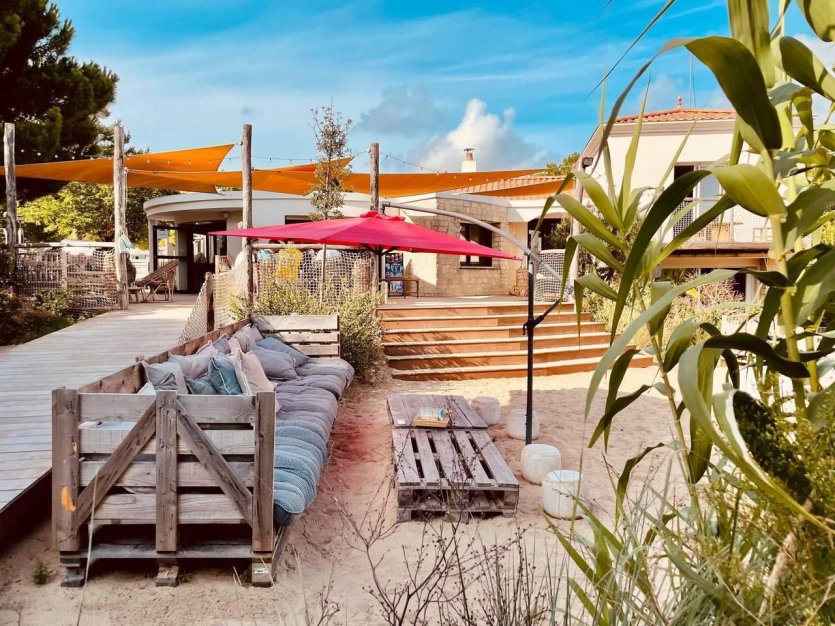 7- Camping La Grand'Métairie, Saint-Hilaire-la-Forêt
Pitches, mobile homes, mountain-style chalets, this campsite with the Camping Paradis label offers a farm-style camping stay. It is indeed equipped with a mini-farm so that children can spend time with goats, a pony, peacocks and chickens. Gardening sessions are also offered depending on the season. The pluses of this 4-star campsite in the Vendée: a guinguette where you can have a drink and a meal, a wellness area, activities and various trails to explore around the structure. As for the beaches, there are some very nice ones nearby, such as the beach of Bouil, located only 5 km away in Longeville-sur-Mer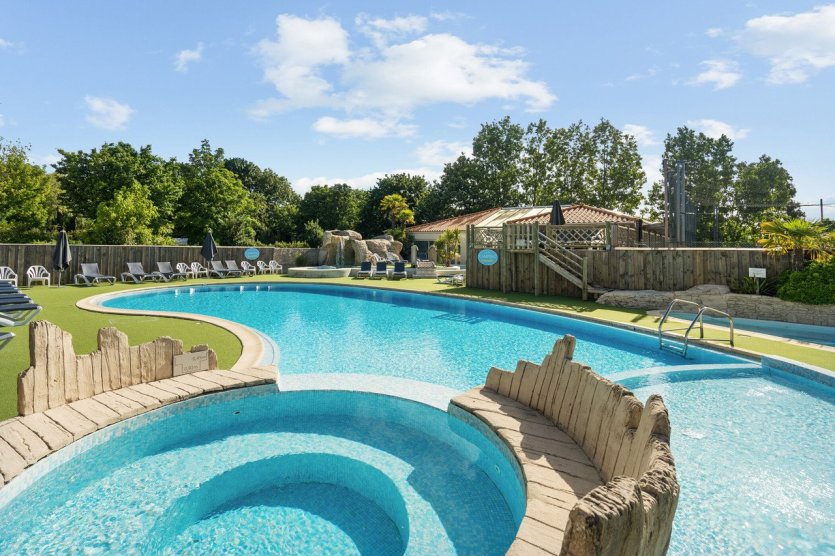 8- Camping l'Albizia, Notre-Dame-de-Monts
Located near Noirmoutier and Saint-Jean-de-Monts, the 4-star campsite l'Albizia offers tree-lined sites and mobile homes with up to 3 bedrooms. An ideal campsite for seaside vacations since the nearest beach is only 1 km away. There are two swimming pools, one indoor and one outdoor, as well as a paddling pool for children. A wide range of services is offered for a smooth stay. The bar/restaurant allows you to refresh yourself at any time or to eat some fast food. Among the possible and very appreciated activities: tug of war and beach volleyball and soccer tournaments organized directly on the beach.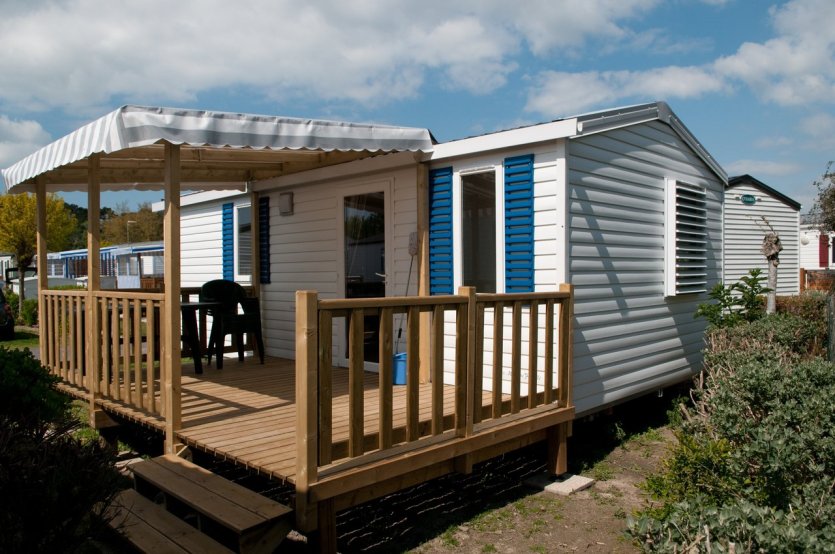 9- Camping La Gachère, Olonne-sur-Mer
This campsite is located directly in a pine and oak forest, perfect for finding shade in summer and not suffering from the heat. Tent pitches, mobile homes, caravans with great comfort and tents on stilts for two people, various accommodation solutions are proposed to spend a pleasant moment. The aquatic area allows you to go for a swim, and for the beach lovers, the pretty sandy area of Les Granges is accessible after a 1 km walk along a forest path. Wifi, snack bar, bar, ice creams, bike rental, the essential services are there. As well as the animations which come to decorate the daily life with bingo, karaoke, competition of game of bowls and other evenings quizzes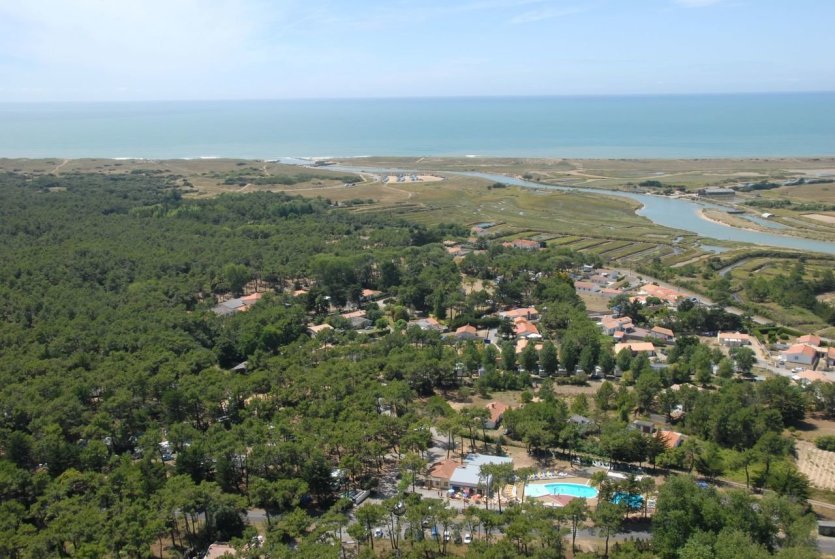 10- Camping Les Sirènes, Saint-Jean-de-Monts
Located in the heart of a 15-hectare state forest, this three-star campsite in the Vendée offers pitches, pretty wooden cottages and tent lodges. The large beach of Saint-Jean-de-Monts is only 700 m away and for a last swim, you can also take advantage of the campsite's swimming area with a large pool and paddling pool. Children's clubs welcome children and teenagers and for adults, there is also plenty to do with ping-pong, soccer, archery or step and Zumba classes. Let's also note that from the campsite, 170 km of bicycle paths allow you to discover all the attractions of the Saint-Jean-de-Monts area in summer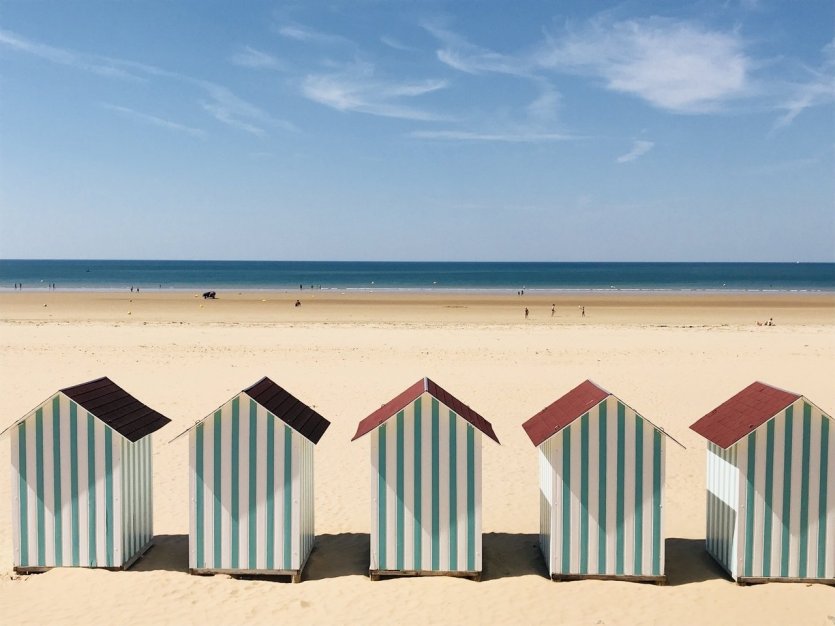 Learn more about La Tranche-Sur-Mer (85360)