This immense commune covers 17,200 hectares, mainly wooded. In Île-de-France, 60 km southeast of Paris, Fontainebleau is a famous destination for its immense castle that houses 12th century elements, a sumptuous theatre, Marie-Antoinette's Turkish boudoir and the Napoleon Museum. You can also visit the French-style gardens decorated with ponds and sculptures. The Fontainebleau forest surrounds the city and its castle. It is a place of walk, climbing and horseback riding very appreciated by Parisians. This picturesque forest has inspired generations of artists, with its rocks, some of the purest sands in the world and remarkable trees. In the heart of this mythical forest recognized by UNESCO as a World Biosphere Reserve and classified as an "exceptional forest", the Grand Parquet equestrian stadium hosts international events all year round. The Fontainebleau forest is a world famous site for boulder climbing and is criss-crossed by a large network of marked trails to be explored on foot, by bike or on horseback. A tourist guide of the destination may be useful to you to discover all the good addresses of the city and its surroundings.
What to visit Fontainebleau?
When to go to Fontainebleau?
When to go to Fontainebleau? You can visit the castle and stay in town all year round. The high tourist season in Fontainebleau is summer. The weather is also very good in spring and autumn, two ideal seasons to discover the forest, which then takes on splendid colours. And check out the programme: many festivals and equestrian events take place in the Fontainebleau region, including the International Jazz Festival, Django Reinhardt in Fontainebleau and Samois-sur-Seine, the Festival of the best European series, the Festival de l'Histoire de l'Art at Château de Fontainebleau.
Weather at the moment
Weather all year round
In Fontainebleau, the climate is temperate. Heavy showers fall all year round on Fontainebleau on a regular basis, but they are relatively low. The annual rainfall is about 720 mm. In Fontainebleau, the average temperatures vary from 3°C in January to 20°C in July.
Prepare for your trip Fontainebleau
Transportation
Car Rental
Taxi
Tailor-made trip
Accommodation & stays
Find a hotel
Holiday rental
Services / On site
Book a table
Activities & visits
Fontainebleau travel inspiration
Pictures Fontainebleau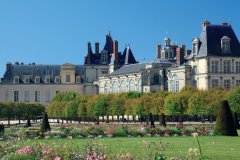 Discover Fontainebleau
Practical information
When to travel?
When to go to Fontainebleau? You can visit the castle and stay in town all year round. The high tourist season in Fon...
Read more about it
Weather forecast
In Fontainebleau, the climate is temperate. Heavy showers fall all year round on Fontainebleau on a regular basis, bu...
Read more about it