Chambord
Travel Guide

Book a flight

Find an accommodation
Chambord is a small village of about a hundred souls located in the Loir-et-Cher. If the village is located in an exceptional environment (a forest classified as a national estate surrounds the village), Chambord is known and renowned for its magnificent and gigantic castle, born of the exalted excessiveness of Francis I and inspired by Leonardo da Vinci. This residence was the scene of the king's hunts but also the symbol of the Renaissance period in France. As a Chambord tourist guide will explain, the whole of the village's life revolves around the castle and its many monuments such as the Saint-Louis church, the Italian bridge and the Chambord gardens, another wonder to visit. Chambord cannot be separated from its natural environment, the forest. With its 5,440 ha and 32 km of surrounding walls, Chambord National Estate is the largest enclosed park in Europe. Don't miss listening to the deer's bellow, which is a rather unforgettable moment. Much more than a castle, Chambord is a jewel of architecture and nature whose visit plunges the public into a unique and magical atmosphere, perfectly in tune with the digital age.
Read more
Suggested addresses Chambord
When to go to Chambord?
When to go to Chambord? If the Chambord region (and even more so the castle) can be visited in any season, the high tourist season takes place during the summer holidays of July and August. Its proximity to the Loire makes the climate mild enough in summer and pleasant enough to visit the surroundings. Nevertheless, prices rise at this time and it is better to book your accommodation well in advance to avoid any unpleasant surprises. The mid-season (April-May and September-November) is perhaps the ideal time to visit the region. Temperatures are mild (even if the weather is uncertain) and the forests are tinged with beautiful colours in spring and autumn
Weather at the moment
Weather all year round
Inland, Chambord enjoys a climate of oceanic influence with a temperate tendency. It is thus subject to continental influences while preserving a rainfall and thermal content close to the ocean climate. However, it rains less than on the coast, winters are colder (average temperatures around 6°C) and summers are warmer (often above 25°C in July and August).
Prepare for your trip Chambord
Transportation
Car Rental
Taxi
Tailor-made trip
Accommodation & stays
Find a hotel
Holiday rental
Services / On site
Book a table
Activities & visits
Pictures Chambord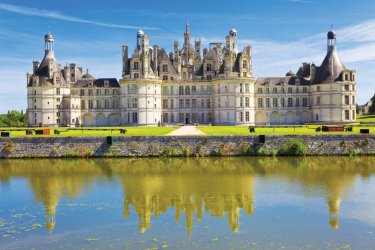 Discover Chambord
Practical information
When to travel?
When to go to Chambord? If the Chambord region (and even more so the castle) can be visited in any season, the high t...
Read more about it
Weather forecast
Inland, Chambord enjoys a climate of oceanic influence with a temperate tendency. It is thus subject to continental i...
Read more about it
Other destinations nearby Chambord