The Cher formed with the Indre the former province of Berry. In its centre, Bourges, a royal city, reigns over the landscapes of the Sancerre and Pays-Fort in the northeast, the Sologne in the northwest, the Champagne berrichonne in the west, and the Val de Loire. Sports enthusiasts will easily find something to do in the Cher. Swimming pools, bodies of water, leisure centres and aquatic centres will delight water sports enthusiasts. It is possible to discover the Cher from the sky thanks to hot air balloon or plane flights and for the most daring at the end of an elastic band by jumping from the top of the 55-metre high Culan viaduct. The tree line will also give them their share of adrenaline. For the quietest, the rivers and countless water points. Hunting is inseparable from the Cher and especially from the Sologne forest where some hunting crews continue to hunt. In the historic and preserved district of Bourges, the Jacques-Cœur Palace is next to the city's other monument, Saint-Étienne de Bourges Cathedral, George Sand's Estate, Valençay Castle or Noirlac Abbey. In Châteauroux, the countryside is so close to the city that they blend harmoniously... As you walk through the old town and its narrow streets lined with beautiful 18th century mansions, you will appreciate the Bertrand Museum, the Cordeliers Convent, Château Raoul, the Notre-Dame and Saint-André churches.
When to go to Cher?
When to go to the Cher? Le Printemps de Bourges, a renowned music festival, makes time stop in April in Bourges. Four days during which the concerts and open stages are in full swing to the delight of festival-goers from all over France. Other festivals that enliven the region include L'Air du temps in Lignières, the Franco-Scottish festivals in Aubigny-sur-Nère and the rich Mac-Nab programme in Vierzon. The Cher department, concerned about the attractiveness of the region, is also committed to offering all its inhabitants and visitors activities, in order to better understand its territory, its assets, its history... Come and attend the medieval festivals in June, the Vines in September and the Gastronomy festivals in January: four seasons to bring the Cher and its traditions to life.
Weather at the moment
Weather all year round
The Cher department is not only in the centre of France, but it also has a climate that is absolutely in the middle of the national averages. The climate is temperate with continental and oceanic influences
Prepare for your trip Cher
Transportation
Book a ferry

Car Rental

Taxi
Accommodations
Find a hotel

Holiday rental
Services / On site
Book a table

Activities & visits
Pictures Cher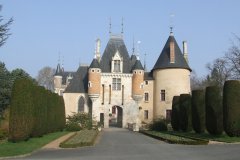 Discover Cher
Practical information
When to travel?
When to go to the Cher? Le Printemps de Bourges, a renowned music festival, makes time stop in April in Bourges. Four...
Read more about it
Weather forecast
The Cher department is not only in the centre of France, but it also has a climate that is absolutely in the middle o...
Read more about it
Discover the bike tours Cher