Straddling four departments, Allier, Cantal, Haute-Loire and Puy-de-Dôme, Auvergne is a magnificent medium mountain region famous for the Chaîne des Puys, its thermal resorts and its cuisine. The 80 volcanoes of Auvergne, a natural treasure unique in Europe, will offer you an ideal place for outdoor activities: hiking, cycling, white water sports, skiing, snowshoeing, sledging in winter. The history of Auvergne is also strongly linked to thermalism with the presence of 109 springs and ten cities of water. Heritage lovers will be able to marvel at the five major religious buildings of Romanesque art, including Notre-Dame-du-Port in Clermont-Ferrand, on the roads to Santiago de Compostela. Not to mention the dozens of castles, some of which offer guided tours to plunge the youngest into medieval history. With your family, you can enjoy unforgettable and unusual moments in the many parks and museums of the region: Vulcania to see the volcanoes in a different light, l'Aventure Michelinto learn everything about this great Clermontese name, the Pal for a relaxing day, the ASM Experience unique museum for rugby enthusiasts.... In Auvergne, good restaurants and gourmet products abound. Let yourself be tempted by a saint-nectaire or a salt, a saint-pourçain or a côtes-d'auvergne. Not to mention the lentil from Le Puy... and so many other delicacies!
What to visit en Auvergne?
When to go to en Auvergne?
Depending on your activity, you can go to Auvergne in all seasons. Every season has its charms! Prices will rise in the high season (winter holidays, July and August), as will attendance. While winter sports resorts are less popular than alpine resorts, it is nevertheless necessary to book your accommodation well in advance. If winter allows skiing, cross-country skiing and snowshoeing, visiting Auvergne during the other seasons will allow you to broaden your range of activities. The light of summer and autumn is particularly sublime and gives nature amazing colours
Weather at the moment
Weather all year round
The Auvergne climate, due to the large size of the region, is divided into two sub-climates. To the southwest (in Cantal), there is a very humid and relatively mild oceanic climate. The departments of Allier, Puy-de-Dôme and Haute-Loire tend more towards a more extreme continental climate (a lot of snow in winter, very hot summer).
Prepare for your trip en Auvergne
Accommodations
Find a hotel

Holiday rental
Services / On site
Book a table

Activities & visits
Pictures de Auvergne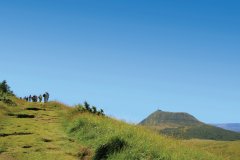 Discover Auvergne
Practical information
When to travel?
Depending on your activity, you can go to Auvergne in all seasons. Every season has its charms! Prices will rise in t...
Read more about it
Weather forecast
The Auvergne climate, due to the large size of the region, is divided into two sub-climates. To the southwest (in Can...
Read more about it
Discover the bike tours en Auvergne