Haute-Loire
Travel Guide

Book a flight

Find an accommodation
Literally, Haute-Loire is mountainous and bathed by the Loire, which digs beautiful gorges here. Located in the central-eastern part of the Massif Central, Haute-Loire rises to an altitude of 1,749 metres at the top of Mont Mézenc, and two thirds of its territory is over 800 metres high, while its minimum altitude is almost 400 metres. It is therefore a mountain territory that you discover with a succession of laughing valleys, those of the Allier, the Loire, the Lignon du Velay. The Mezenc massif meets the Meygal, further west, with the Nordic domain in the heart of Velay. This territory offers an exceptional natural environment marked by volcanism with the presence of three hundred volcanoes representing all types of volcanism. There is also a remarkable architectural heritage, starting with the one of Le Puy-en-Velay with its cathedral from which pilgrims leave, among other religious buildings. Also part of the Haute-Loire heritage are the abbey church of La Chaise-Dieu, the Saint-Julien basilica in Brioude, the fortress of Polignac and a whole range of Romanesque art. The department also houses the first castles on the banks of the Loire. Discover the many picturesque villages of this territory, four of which are among the most beautiful in France. You have enjoyed the landscapes, hiked in an exceptional environment, chosen between mountain biking, trail and rafting, appreciated prestigious monuments: you still have to push the door of various museums including the one dedicated to lace and the other to salmon
Read more
What to visit Haute-Loire?
Suggested addresses Haute-Loire
When to go to Haute-Loire?
This destination is known to be cold and has a harsh climate. We'd rather wait until the sunny days to enjoy it. Moreover, outside the summer season, tourists will often find the door closed. In winter, the cold weather and snow can make driving conditions difficult, especially at high altitudes. And when the Burle blows, the icy wind that lifts the snow and forms drifts, it is better to stay by the fire. Of course, cross-country skiers and snowshoe enthusiasts will find the winter season ideal for their leisure activities and, in any case, the access roads to the Meygal domain are always well clear. It is only in May that we see the department totally green and the sun and the sweetness really settle in. The major event in Haute-Loire, around November 11, is the international gathering of hot-air balloons in Velay. The opportunity to see Le Puy-en-Velay and the Haute-Loire du ciel and in silence. Ask for the programme of the other festivities that take place throughout the year: Nuits de rêve festival, InterFolk, Country festival, Festival du Rire de l'Yssingeaux, Festival des Sept Lunes, fêtes Renaissance du roi de l'oiseau, Festival de La Chaise-Dieu... There are also gourmet seasons around the Haute-Loire stamped products: le Puy green lentils (harvested in August/September), Velay verbena (visit the distillery all year round), fine Mezenc fat (February/June), Velay black lamb (perfect for Easter).
Weather at the moment
Weather all year round
Mainly Atlantic, its altitude and closed basins give the Haute-Loire local climatic variations. Example: Ribeyre de Lavoûte-Chilhac is very sunny, Margeride is cold and rainy. Rainfall is half as low in the plains and valleys as on the peaks (Mézenc, Margeride), the annual difference in average temperatures varies from 3°/19.5°C to 400 meters at - 2°C/13°C to 1,200 meters. The Val d'Allier is the hottest, the Mezenc the coldest.
Prepare for your trip Haute-Loire
Transportation
Car Rental
Taxi
Tailor-made trip
Accommodation & stays
Find a hotel
Holiday rental
Services / On site
Book a table
Activities & visits
Pictures Haute-Loire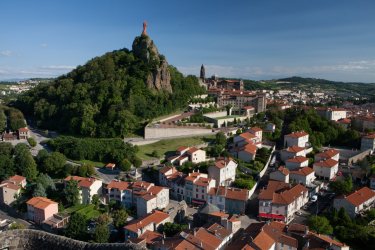 Discover Haute-Loire
Practical information
When to travel?
This destination is known to be cold and has a harsh climate. We'd rather wait until the sunny days to enjoy it. More...
Read more about it
Weather forecast
Mainly Atlantic, its altitude and closed basins give the Haute-Loire local climatic variations. Example: Ribeyre de L...
Read more about it
Discover the bike tours Haute-Loire
Other destinations Haute-Loire