Less than an hour from Paris by TGV, this city in the Pays de la Loire region, bathed by the Sarthe and Huisne rivers, is the capital of the 24 Hours of Le Mans. Long before this mechanical epic, the city was the birthplace of Henry II Plantagenet (1133-1189), husband of Eleanor of Aquitaine who became King of England. "A city I loved above all," he said of Le Mans... A city of Art and History, Le Mans has a jewel in its heart with the Cité Plantagenêt. At the foot of its cathedral, there are 20 hectares of cobbled streets, lined with half-timbered houses and Renaissance hotels, sheltered behind a Roman wall to discover with your guide in hand. The heritage of this destination is breathtaking. You can also visit interesting museums including the Queen Berangère Museum, a museum of folk art housed in half-timbered buildings and the Tested Museum with park and gardens. Saint-Julien Cathedral is one of the largest in France (134 m long and 5,000 m² of surface area), a splendour. Don't miss the painting of the angel musicians on the ceiling. An external menhir testifies to the human occupation of the site since prehistoric times. We must see the collegiate church of Saint-Pierre-la-Cour. Le Mans is also an International Tertiary Cluster and a Territory of Medical Excellence. A land of innovation and a university city. There is no shortage of names to designate Le Mans: city of tanners, wax city (made from the 16th to the 19th century), silk city (17th and 18th centuries). It is also the red city because of the colour of its walls and not in reference to the period when it was a working class city
When to go to Le Mans?
When to go to Le Mans? All year round, you have accommodation, restaurants, a lively city life and the tramway to get from one point to another. Spring is a particularly good time to visit, as the climate is pleasant and there are many cultural and sporting events such as the Europajazz Festival, the 24 Hours of Le Mans Moto, the 24 Hours of Le Mans and Le Mans. Le Mans is a circus among other events of regional or national importance. And don't ignore winter and the end of the year holidays, because then Le Mans celebrates Christmas, and it's magical!
Weather at the moment
Weather all year round
The climate of Le Mans is an oceanic climate degraded by continental influence. It is characterized by cool, humid winters and mild summers and generally variable weather. Be aware that the maximum amount of precipitation occurs during the cold season and that the city then records about fifty days of frost. The average maximum temperatures are 25°C in July/August and the average minimum temperatures are 1 to 2°C in January/February.
Prepare for your trip Le Mans
Transportation
Car Rental
Taxi
Tailor-made trip
Accommodation & stays
Find a hotel
Holiday rental
Services / On site
Book a table
Activities & visits
Le Mans travel inspiration
Pictures Le Mans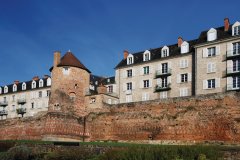 Discover Le Mans
Practical information
When to travel?
When to go to Le Mans? All year round, you have accommodation, restaurants, a lively city life and the tramway to get...
Read more about it
Weather forecast
The climate of Le Mans is an oceanic climate degraded by continental influence. It is characterized by cool, humid wi...
Read more about it