An hour from Paris by car, the Sarthe is a breath of fresh air. It turns out that the department is the most wooded in western France and that it has 1 000 kilomètres of marked horse riding trails, enough to enjoy green tours at leisure. Among the most stunning landscapes in the department, the Mancelles Alps, a listed site in the heart of the Normandy-Maine regional natural park, and the state forests of Bercé, Sillé-le-Guillaume and Perseigne are of course the most impressive. There's a lot to see in Sarthe, you quickly lose your mind. But it is unthinkable to miss certain places, where the landscapes of the Sarthe and what they have to offer us are fully expressed. With 3,000 kilometres of hiking trails and nearly 760 kilometres of long-distance hiking trails, the Sarthe promises you beautiful walks. The General Council and the Departmental Hiking Committee have approved itineraries on which you can discover, along the way, the treasures of Sarthe's heritage. The department is full of paths and signposted routes specially adapted to two-wheelers; 400 kilometres allows you to discover the Sarthe by bike
When to go to Sarthe?
When to go to the Sarthe? during the hunting season, the woods and forests of the Sarthe are very popular with game hunters. From July to December, do not hesitate to visit the Bourg-Joly Malicorne art faience factories. All year round, you can walk, cycle or ride on the 3,000 kilometres of hiking trails. Around mid-June, you can attend the Le Mans 24 Hours. Every spring, the Europajazz Festival, a jazz festival, takes place in Sarthe and its neighbouring departments. In May, the Festival de l'Épau offers its public about thirty classical music concerts. There is something for everyone!
Weather at the moment
Weather all year round
The climate of the Sarthe is an oceanic climate degraded by continental influence. It is characterized by cool, humid winters and mild summers with variable weather, knowing that the maximum amount of precipitation occurs during the cold season.
Prepare for your trip Sarthe
Transportation
Car Rental
Taxi
Tailor-made trip
Accommodation & stays
Find a hotel
Holiday rental
Services / On site
Book a table
Activities & visits
Sarthe travel inspiration
Pictures Sarthe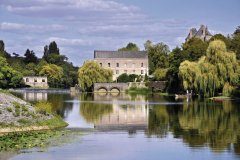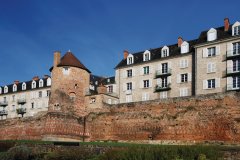 Discover Sarthe
Practical information
When to travel?
When to go to the Sarthe? during the hunting season, the woods and forests of the Sarthe are very popular with game h...
Read more about it
Weather forecast
The climate of the Sarthe is an oceanic climate degraded by continental influence. It is characterized by cool, humid...
Read more about it
Discover the bike tours Sarthe