In the heart of the Loire Valley, Angers is a destination that invites you to enjoy its famous softness of life and a multitude of possibilities, starting with a visit to the emblematicChâteau d'Angers, imposing medieval fortress with 17 defensive towers from which you can enjoy a 360° view of the city! This one houses the Apocalypse Tapestry, the largest collection of medieval tapestries in the world. The old town offers its medieval atmosphere: cobbled streets, half-timbered houses, Saint-Maurice cathedral and monuments in the Gothic Angevin style. To discover with his tour guide from Angers by hand. We come across the Saint-Jean Hospital (11th century) and its Jean-Lurçat Museum, which created the Chant du Monde, a monumental tapestry in response to the Apocalypse Tapestry. Do you have your dose of stones? Rendez-vous at Terra Botanica, a park with exotic trees brought back from the 4 corners of the world by the explorers of yesteryear. Did you know that Angers is the 1st green city in France, according to the 2017 ranking? Enter the butterfly greenhouse, discover the hydrangeas along the river, in a gabarre, fly aboard a hot air balloon to enjoy the landscape to the full. Angers is also the city of Anjou and Loire Valley wines, in the heart of the 3rd French wine-growing region. Initiation and tasting at the Maison des Vins, to discover some nectars among the 27 AOCs of Anjou Saumur. But it is undoubtedly on the banks of the Loire that you will appreciate the sweetness of Angers and its magical charm. And if you doubt it, you will understand why the landscapes of the Loire are part of UNESCO's cultural heritage.
Prepare for your trip Angers
Transportation
Car Rental
Taxi
Tailor-made trip
Accommodation & stays
Find a hotel
Holiday rental
Services / On site
Book a table
Activities & visits
Angers travel inspiration
Pictures Angers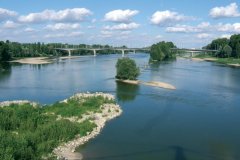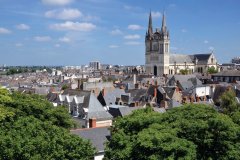 Discover Angers
Practical information
When to travel?
When to leave? Maine-et-Loire is open all year round and Angers in particular, a lively city with four seasons and ma...
Read more about it
Weather forecast
Between Touraine and the Atlantic coast, the department of Maine-et-Loire and Angers enjoy an oceanic and temperate c...
Read more about it