Mahé
Travel Guide

Book a flight

Find an accommodation
Located in the Indian Ocean, the granite island of Mahé is the largest of the Seychelles islands. A heavenly destination if ever there was one! A small paradise of 27 km long and 7 km wide lined with beaches and coconut trees, with a picturesque coastal road. Mahé is home to the country's capital, Victoria, and its highest point, the Morne Seychellois (905 m). It is a land and sea destination. The island of Mahé is as suitable for hiking in the Morne Seychellois National Park as it is for snorkeling in the Sainte-Anne National Marine Park, which is 5 km away, not to mention lounging on one of the 70 beaches on the island. The capital Victoria is home to Creole stores and craft galleries, but also, among other attractions, a beautiful museum of natural history and a lush botanical garden where you can measure the island's biodiversity. Take the back roads to admire this biodiversity in its wild version. Visit old colonial houses and snorkel with exotic fish, the national sport. Paradise is also a grilled fish in the shade of flamboyants in the scent of frangipani trees in bloom. To stay, you have the choice, according to your budget, between affordable guest-houses, comfortable hotels and charming villas. Ready for paradise?
Read more
When to go to Mahé?
The best periods to go to Mahé are the months between the dry and wet seasons, i.e. April and especially October. Light wind, fleeting showers, calm ocean, ideal heat: the beautiful weeks are here! Whatever the date chosen, the heat is never overwhelming (25 to 32°C during the day, at least 24°C at night). The humidity level is always bearable (about 80%). Maximum rainfall is generally observed between mid-December and mid-January. The high tourist season generally corresponds to the European vacation periods, i.e. July and August, Christmas, February and Easter. You have then all the tourist offer available (restaurants, diving clubs, souvenir stores...). However, you can go to Mahé all year round as there is no off-season. You should also know that from November to April, the sea is ideal for diving and sailing. The climate is warm and humid, the wind is weak and the sea is calm. And if you come in March, you will attend the International Carnival of Mahé and its parade of floats representing the different participating countries. And in October it is the Kreol festival, very colorful, in the three islands of the archipelago.
Weather at the moment
Weather all year round
The climate of the island of Mahé is equatorial, with pleasant temperatures all year round, varying little between 26 °C in August and 31 °C in April. From October to March, it is hot (30-32 °C) and humid, and the sea is generally calm. From May to September, the atmosphere is cooler (24-29 °C) and drier, and the sea is rougher. October and April are the most pleasant months. The sky is often overcast in July and August, the wind stirs up the ocean and showers are scattered.
Budget
Given the price of a plane ticket (from 750 € to 1 300 € in economy class) and the duration of the flight (10 hours), it is preferable to stay two weeks in Mahé. The Seychelles is not a cheap destination. For a one-week stay in Mahé, count at least €2,000 per person for an all-inclusive trip. Not much less for an individual trip. But happiness is earned! And don't forget to rent a car. It will allow you to discover the island more easily.
Procedures
To stay in Mahé you must have a passport valid for at least another six months, a confirmation of the reservation for the accommodation, at least for the first 3 nights, with a contact, a round trip air ticket, and a sufficient budget for your stay (about 135 € per day).
Health
Good news: a tropical country without health problems! Health conditions are good in Mahé, no malaria, no diseases specific to the tropics. No vaccinations are necessary, but standard vaccines are recommended as elsewhere. There is no specialized hospital infrastructure in Mahé, so it is better to plan a medical repatriation solution in case of serious medical problems.
How to go to Mahé? Our advice & tips
Organised trips

Going alone

Moving around
Many agencies offer trips to Mahé, which often combine the three granite islands (Mahé, Praslin, La Digue) and a coranian island, in 10 to 12 days. It is possible to discover Mahé by coastal cruises organized for small groups on board comfortable sailing boats or catamarans. The trips to Mahé are generally oriented more or less towards the beach, nature, diving, hiking and always include a discovery of Victoria and its points of interest.
Discover our selection of travel agencies for this destination
Visitors usually approach the Seychelles via Mahé and Victoria airport. No need to worry about landing alone. Moreover, French is quite frequently understood so you can easily organize your trip on the spot. But it will not necessarily be cheaper than going through a travel agency. You can choose the discovery package on a sailboat which allows you to plan your stay à la carte and to save on accommodation and car rental.
Renting a car at the airport is the best way to discover the beauty of the island at your own pace and convenience. The road network is of good quality. Be careful however, the roads are often narrow and winding, driving is on the left and pedestrians are numerous, including at night. The French driving license is sufficient locally. It is possible to take cabs in Mahé (price to be negotiated before). Private companies provide catamaran cruises in the archipelago
Prepare for your trip Mahé
Transportation
Car Rental
Taxi
Tailor-made trip
Accommodation & stays
Find a hotel
Holiday rental
Services / On site
Book a table
Activities & visits
Pictures Mahé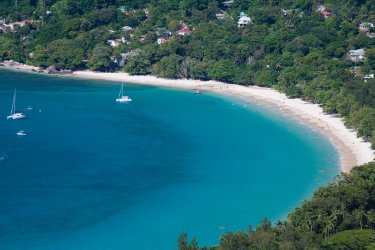 Discover Mahé
Practical information