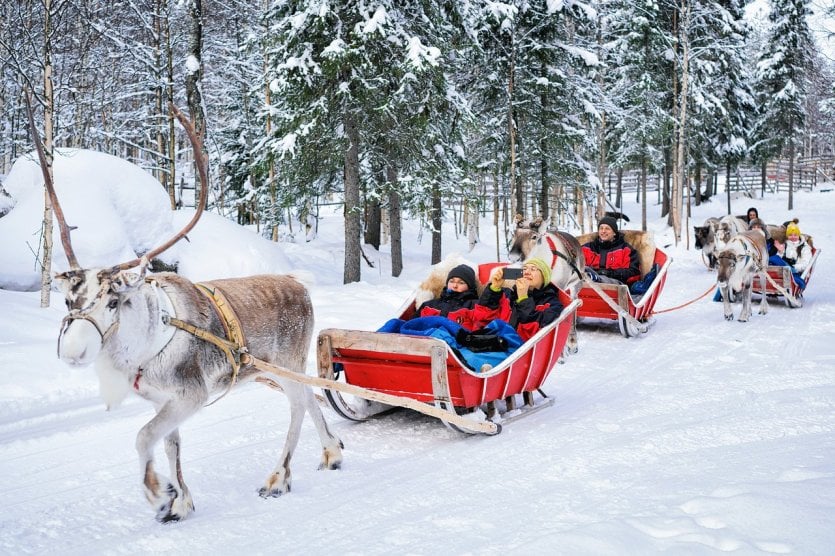 On New Year's Eve, do you dream about it? But where to go on New Year's Day? Here are some travel ideas to make your New Year's Eve unforgettable!
Where to go on New Year's Day to spend the New Year in the sun?
Spending New Year's Eve under the coconut palms is a great way to end the year in style and get back in colour at the same time!
Rio is one of the sunny cities not to be missed on New Year's Eve. The party takes place directly on the beach in Copacabana or Ipanema. Brazilians throw thousands of gifts in the water for the Afro-Brazilian sea goddess and light candles on the beach. An unforgettable New Year's Eve guaranteed to be a samba night!
Miami and its dream beaches, here is another destination that will please sun and tan lovers who dream of celebrating 2020 in the warm sand. On December 31, many festivities will take place on the beachfront in South Beach, but also in downtown Miami. In Downtown, as every year now, a big show organized by the singer Pitbull will take place in Bayfront Park. Many stars will be on stage, including Queen Latifah and Snoop Doggy Dog before the traditional midnight fireworks to mark the start of the New Year.
If you are dreaming of even more distant but equally sunny destinations, Sydney is also a city of first choice. This city in south-east Australia is world famous for its spectacular fireworks display on 31 December, which illuminates the Harbour Bridge and the Sydney Opera House to music! It is possible to attend this magical show for free, but you have to arrive early to get a good seat. To get an overall view of the show, far from the crowd, boats moored in the Harbour also welcome visitors for the occasion, but it's not free...
Where to go on New Year's Eve to wake up in the mountains?
There's nothing like a session of sliding on the powder snow to get your mind back on things and recharge your batteries in the heart of winter! In France, there is no shortage of resorts, and whether in the Alps or the Pyrenees, most of them offer a magical programme for New Year's Eve. In Val Thorens, for example, the evening of the 31st will begin with a torchlight descent and end with a superb pyrotechnics show. In La Plagne, it will be a disco evening with a disco ball and a sound and light show. All in all, what a great evening to spend on December 31st, with family or friends!

If you are really thirsty for the great outdoors and want to be even more out of place for New Year's Eve, head for Lapland in Finland! During winter, it's the Northern Lights season. Going in search of them in the middle of the night, by snowmobile or on a hike, is always an exhilarating adventure! And if you are lucky enough to catch a glimpse of them, this moment will remain etched in your memory. During the day, we also recommend that you take a dog-sled ride to experience the thrill of magnificent snow-covered landscapes. And for families, don't miss the chance to visit Santa Claus at his house in Rovaniemi, where he lives and receives millions of visitors every year, not far from the Arctic Circle.
For a great breath of fresh air and a change of scenery, the Moroccan desert is also an excellent choice. In winter, the temperatures are pleasant and it is the right time to go to a bivouac for a few days in the desert to immerse yourself in nature and live as close as possible to the Berber populations, between mint tea and camel rides. Passing New Year's Day in the desert and watching a sunrise over the dunes is both a magical and incredibly peaceful moment
Where to go on New Year's Day to spend a festive New Year's Eve in Europe?
But if you feel like partying without going far away, some of Europe's major cities are reaching out to you for an unforgettable New Year's Eve party.
The Dublin New Year Festival celebrates the end of the year in style! From December 31st to January 1st, the centre of the capital becomes pedestrianised with concerts, shows, street theatre... Not forgetting the lively atmosphere of the mythical Irish pubs!
Further south, Lisbon is a very pleasant destination to celebrate New Year's Eve. The weather is mild, as are the prices, and the fireworks on the banks of the Tagus, near the famous Belém Tower, are an unforgettable moment. Head to the Praça do Comercio, one of the city's main squares, for a festive walkabout at the stroke of midnight!
Belgrade is one of the trendiest cities to party in Europe at the moment, without going broke. But be aware that according to the orthodox calendar, New Year's Day falls on January 14th. However, you will be able to celebrate the fiesta in Belgrade without any problems from 31 December and play extra time on 14 January for a typically Serbian festive New Year's Eve.
Getting there:
Find your best New Year's Eve flight - Compare
Rent your car at the best price for New Year's Day - Compare
Useful:
Book your New Year's Eve accommodation under the best conditions - Compare
Find a local agency for a tailor-made New Year's Day trip - Find
Find a cultural or sports activity for New Year's Day - Find