A herd of giraffes against a Kilimanjaro backdrop erects the mythical landscape of this dream destination. In northeastern Tanzania, Kilimanjaro, the cradle of Masai pastoralists, is home to Africa's highest peak, rising to 5,891 m above sea level under the ice. This massif includes three extinct volcanoes: Shira (3,962 m), Mawenzi (5,149 m) and Kibo, which culminates in Uhuru Peak, the highest peak on the continent. The ice cap on Kilimanjaro is getting thinner and thinner. With global warming and deforestation, and despite the creation of the national park in 1973, scientists predict that it will have disappeared by the middle of this century. A very touristic destination, Kilimanjaro attracts hikers who compete with this giant by enjoying a remarkable environment. Biodiversity in terms of both fauna and flora is one of Kilimanjaro's treasures. This massif is a wilderness reserve that includes several biotopes: a plain where many exotic birds nest, an upper tropical forest rich in primates, lush vegetation in the rainforest, fog and cloud forests, moors and maquis in the alpine region. An 8 km wide biological corridor is maintained between the massif and Amboseli Park (Kenya) to help the circulation of about 20 species of wild mammals. This destination is therefore one of the last wild paradises to be discovered on this site. Don't forget to bring your favorite tour guide
What to visit Kilimandjaro?
Suggested addresses Kilimandjaro
When to go to Kilimandjaro?
When to leave for Kilimanjaro? The best time to stay in Kilimanjaro is from July to October or in January-February, between the rainy seasons. The short rainy season takes place between November and December, and the longest and steepest between March and May, during which it can sometimes rain a lot for several days in a row. Nevertheless, to witness the great migration of wildebeests, zebras and antelopes in Serengeti Park, you will have to brave the rain, as it takes place between January and March in one direction and between October and December in the other direction. Allow 6 to 10 days to reach the summit of Kilimanjaro and return, usually from the southern slope, the easiest. The trails on the northern slope are reserved for freed mountaineers. You have 7 gateways distributed around the mountain that give access to the different ascent routes with base camps and more or less basic refuges that participate in the adventure.
Weather at the moment
Weather all year round
Kilimanjaro is subject to a tropical savannah climate. It is characterized by a dry season from mid-May to mid-October with temperate temperatures, then a short rainy season until the end of November, then a new dry and hot season from early December to the end of February and finally the long rainy season from early March to mid-May. At the foot of Kilimanjaro, the average annual temperature is 23.5°C, it can drop to 5°C at an altitude of 4,000 m and to -7°C at the top of the Kibo.
Budget
Tanzania is one of the poorest countries in the world. The local currency is the Tanzanian shilling (Tsh), but hotels and restaurants rarely refuse dollars and euros. Concerning the tip, everyone goes on an excursion as well as a safari in Kilimanjaro. In restaurants, tips are appreciated but not mandatory.
Procedures
A tourist visa is required to enter Tanzania and stay in Kilimanjaro. Visas can be requested from the Tanzanian Embassy or upon arrival at Dar es Salaam, Arusha, Mwanza and Zanzibar airports, but also at the ports of Dar es Salaam, Zanzibar and Kigoma. For visas taken on Tanzanian soil, the price is US$50 (or €50). The ordinary visa is issued for a period of three months, renewable once for a further two months, without leaving the country.
Health
Tanzania is a malaria-prone country. For Kilimanjaro, a treatment is to be taken and it is important to protect yourself from mosquitoes, especially on safaris. As in many African countries, drink only bottled or boiled water, as running water is not drinkable in Tanzania. The yellow fever vaccination certificate is increasingly required upon entry into the country.
How to go to Kilimandjaro? Our advice & tips
Organised trips

Going alone

Moving around
Tour operators offer many customized tours for Tanzania according to your desires and budget. You can choose to focus on a relaxing stay, a getaway to Zanzibar, a safari in the heart of Tarangire National Park, climbing Kilimanjaro or combining all this, if time and resources allow.
Discover our selection of travel agencies for this destination
To obtain attractive rates, it is essential to do so in advance. Consider buying your flight tickets six months before departure or, if you have more time than money, travel through the Middle East, there are cheaper tickets with stopovers in the Middle East all year round. On site, you will need to use a local guide to climb to the top of Kilimanjaro.
Rather expensive, single-engine domestic flights remain practical and reliable when you want to reach several sites without wasting time on the road, particularly the southern parks or the regions of the three large lakes. Be careful, they are not programmed every day. In the North or to reach the coast, buses are the easiest solution with safe roads. For Zanzibar, we recommend taking one of the many ferries that leave from central Dar es Salaam every day.
Prepare for your trip Kilimandjaro
Transportation
Car Rental
Taxi
Tailor-made trip
Accommodation & stays
Find a hotel
Holiday rental
Services / On site
Book a table
Activities & visits
Kilimandjaro travel inspiration
Pictures Kilimandjaro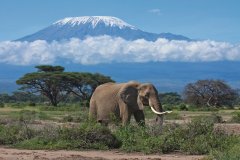 Discover Kilimandjaro
Practical information