It is one of the small Indonesian islands in the Sunda, south of Bali. Lombok, which can be reached from Bali by ferry, fast boat or plane, is a destination famous for its fine sandy beaches, turquoise waters and surf spots, the best known being those of Kuta and Banko Banko. Off the west coast of Lombok, the tiny Gili Islands, where motor vehicles are not allowed, offer even more beaches, coral reefs for scuba diving and snorkelling, but also a sea turtle hatchery. It is the richness of biodiversity that is quite remarkable in this archipelago. The majestic Mount Rinjani, one of Indonesia's highest volcanoes, invites you to hike. Reaching its summit at an altitude of 3,700 m, you can discover the Segara Anak crater lake and a breathtaking panoramic view. You can visit Mataram, the small capital of Tombok, and the Palace of Mayura, the Hindu temple Merru, the Great Lingsar Temple and the Segara Temple. Leaving the city, it is pleasant to cycle through the rice fields. Others prefer not to leave the beaches of the centre of the island, an area of seaside pleasures and idleness, but also a playground for surfers competing against the waves before enjoying this gentle way of life in Lombok, which is attracting more and more tourists in search of calm and unspoilt nature. In any case, don't forget to bring your favourite tourist guide.
Suggested addresses de Lombok
When to go to à Lombok?
When to go to Lombok? The high season in Bali and on the island of Lombok is July and August, during the dry season, and the low season from October to April, during the wet season. The best time to stay in Lombok is during the dry season but rather from May to October. Bali is the Australians' favourite Asian destination and they go there in large numbers from Christmas to the end of January; in summer, it is European tourists who arrive. This is why the months of May, June and September are the right months to discover Lombok quietly, far from the crowd of tourists.
Weather at the moment
Weather all year round
It is always hot, even very hot in Lombok, very close to the equator. The climate is both tropical and equatorial. Indonesia's weather often shows annual temperatures between 25°C and 35°C at sea level. The very high tourist season corresponds to the months of June to September and the end of the year celebrations. The low season extends from October/November and from January to mid-May.
January

23°C
32°C
February

23°C
32°C
March

23°C
32°C
April

22°C
33°C
May

22°C
32°C
June

21°C
31°C
July

20°C
31°C
August

22°C
30°C
Sept.

22°C
31°C
October

22°C
32°C
Nov.

22°C
33°C
Dec.

22°C
32°C
Budget
Indonesia is a cheap destination where you can stay in very good hotels for minimal prices, including luxury hotels. Although higher than in most other Indonesian islands, the standard of living in Lombok remains much lower than in European countries and the same applies to hotel and restaurant prices. It is easy to exchange and cash payments are preferred, but it is also easy to pay by credit card in Lombok.
Procedures
No visa is required for a stay of less than 30 days in Lombok and Indonesia in general. However, a return ticket or other proof of departure from the country will be requested by the Indonesian authorities. Travellers must present a passport valid for more than 6 months from the date of entry into Bali and with blank pages to affix the visa. Important: the passport must be in very good condition or it will be rejected immediately.
Health
No vaccine is required for Lombok but it is recommended to be vaccinated against tetanus, typhoid and hepatitis A and B. Malaria treatment is also recommended in Bali, especially if you travel during the wet season. Malaria is on the rise in some areas of Indonesia. Dengue fever also tends to spread... Do not drink tap water in Indonesia because it is not drinkable, only drink water from capped bottles.
How to go to à Lombok? Our advice & tips
Organised trips

Going alone

Moving around
Most agencies and tour operators offer trips to Bali. It is a very popular tourist destination and the tours are multiple and diversified. It is possible to make tours combining all the pleasures of the beach, festive evenings, the discovery of the different Balinese cultures but also of its preserved nature and its rice terraces.
Well served, Bali is a generally safe destination but attention must be paid to road traffic, a source of frequent accidents, and food hygiene must be ensured by drinking only bottled water, in order to prevent the holidays from running out of steam because of a nasty tourist....
Bali has a dense transport network and fast travel due to the small size of this part of Indonesia; there are many taxis and minibuses. Another possibility: the rental of two-wheelers, bicycle or motorcycle, but be careful, you drive on the left and the traffic is chaotic, even dangerous when you are not used to it.
Prepare for your trip à Lombok
Transportation
Book a ferry

Car Rental

Taxi
Accommodations
Find a hotel

Holiday rental
Services / On site
Book a table

Activities & visits
Pictures de Lombok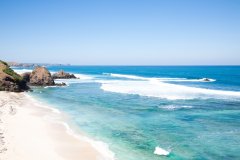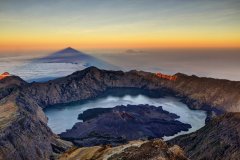 Discover Lombok
Practical information