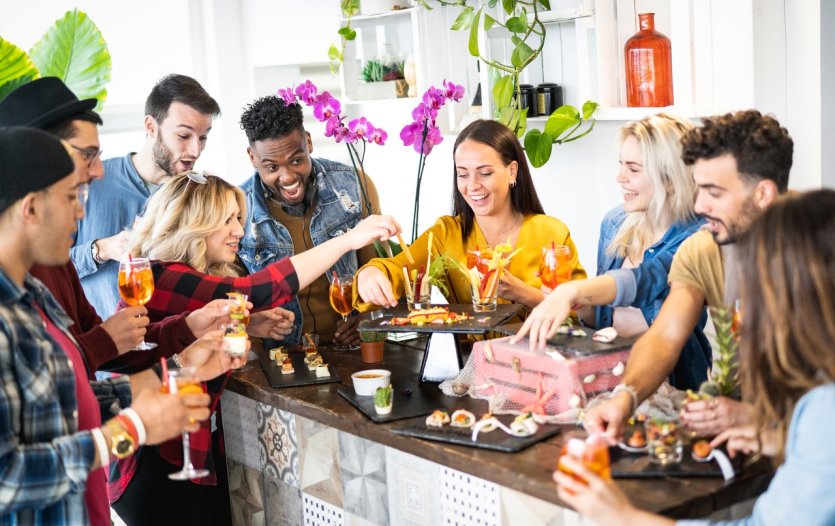 The curfew in France requires us to be at home by 7pm at the latest and not to go out before 6am the next day. In Bordeaux as elsewhere, this does not prevent the organization of aperitifs in small groups, with one's lover, with a maximum of six friends who can stay at home, or with family members. In this period when we can't go on a trip except for compelling reasons, organizing an aperitif to talk about travels can be the opportunity to look at the pictures of our last escapades here and there, but also to start planning the future stays with several people that will eventually happen! However, 7pm on a Friday night when you're out late from work, it's a bit short to go and get the drinks that will allow you to relax and have a nice time. Fortunately, there is a very practical solution in Bordeaux and its metropolis to quickly refuel
Why organize an aperitif to talk about travel?
In this period of confinement where we are led to spend a maximum of time at home, especially in the evening, aperitifs are welcome to relax with loved ones. In compliance with health regulations, and therefore never more than six at home, the organization of an aperitif around the theme of travel can be an excellent way to get away. Since we can't leave as we please, then the aperitif can be an opportunity to finally take the time to look at the beautiful photos taken during the last trip, and past trips, all while having a drink, nibbling on a few delicacies and reminiscing about happy memories. The aperitif can also be the perfect time to plan a future trip, or even make some reservations
In Bordeaux, you can also organize a romantic dinner around wine, or gather some friends around cocktails emblematic of your favorite destination in the world. In this case, if you have not had the time to go and get the necessary drinks, or if you need to restock during the evening, there is a very simple solution: Allo Apéro Bordeaux is the service of home delivery of drinks in the capital of Gironde as well as in several surrounding towns
The aperitif without having to leave home
Planning an aperitif around wines to introduce your loved one to the richness of Bordeaux wine and not having had time to go to the store, is quite embarrassing. Getting a few friends together to watch a football match and not having any beer left in the fridge after the first half is equally embarrassing. Planning an aperitif trip around West Indian cocktails to look at photos of the last trip and not having any more rum available to make the tasty mixes, that can quickly shorten the evening and make the atmosphere fall apart
Those who like to organize aperitifs in complete safety in Bordeaux and the surrounding area can rest assured that home delivery is possible with Allo Apéro Bordeaux, from 9pm to 6am! Wines, rum, vodka, champagne, tequila, softs and much more, refueling with drinks during the evening has never been so easy, just call, place your order and the delivery man will ring at home within 30 minutes only!
During this curfew period, drink deliveries are allowed and Bordeaux is lucky enough to have its own delivery service which operates 7 days a week.