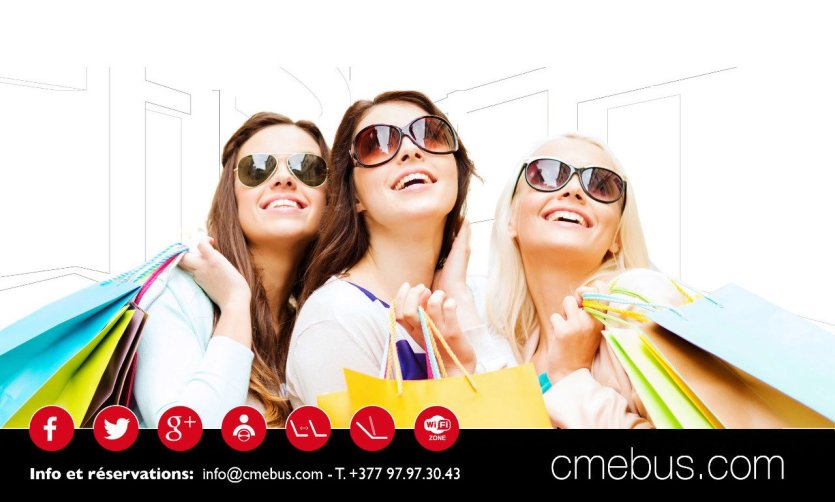 It's almost spring..
Girls, you're gonna have to think hard about reviewing her wardrobe. Down jackets and boots in the closet, make way for your skirts, we're showing off our legs! Ready to show off your pumps in all colors?
How about a weekend getaway to Milan? Crazy shops at all prices, great Italian brands, shoes that you can only find there..
During the day it's "shopping" and in the evening it's "dancing"!
Great! The idea is appealing but... how do we organize ourselves?
Do you know the Compagnie Monégasque d'Excursions (CME)? It is a company specialising in the rental of top-of-the-range and grand touring coaches with driver, located in the Principality of Monaco. It operates a new regular line, allowing you to spend a weekend in Milan, the Italian capital of fashion and culture.
The buses are very comfortable, and wifi is available on board during the trip!
Departures on Friday from :
- NICE - Airport T1 at 17H 00
- MONACO - Place d'Armes at 5:45 pm
- Arrival in Milan (Bus Terminal Lampugnano) at 9.30 pm
Departures on Sunday from :
- Milan (Bus Terminal Lampugnano) at 18.30 hrs
- MONACO - Place d'Armes at 10:30 pm
- Arrival in NICE - Airport T1 at 23H00
Saturday departures from :
- Milan (Bus Terminal Lampugnano) at 8.30 am
- MONACO - Place d'Armes at 12:20 pm
- Arrival in NICE - Airport T1 at 13H10
Departures on Sunday from :
- NICE - Airport T1 at 12:30pm
- MONACO - Place d'Armes at 13H00
- Arrival in Milan (Bus Terminal Lampugnano) at 17H00
You can buy your ticket directly online on the site and take advantage of special offers on the internet
Take advantage and book now:
www.cmebus.com or by phone: +377 97.97.30.43