7 haunted houses to stay in for Halloween
Halloween is fast approaching! To get the chills on October 31st, you can watch a horror movie at home, but you can also pack your bags and go discovering amazing places all over the world. Whether it's in Morocco, France or Italy, all the houses you'll find in this article have one thing in common: they're sure to give you goosebumps! Medieval castle, cottage with a Shining atmosphere, these places open their doors to you to spend one or more nights and live a wonderful and terrorizing Halloween party! With family, friends or for a terrifying romantic getaway: here are 7 haunted houses to discover for Halloween!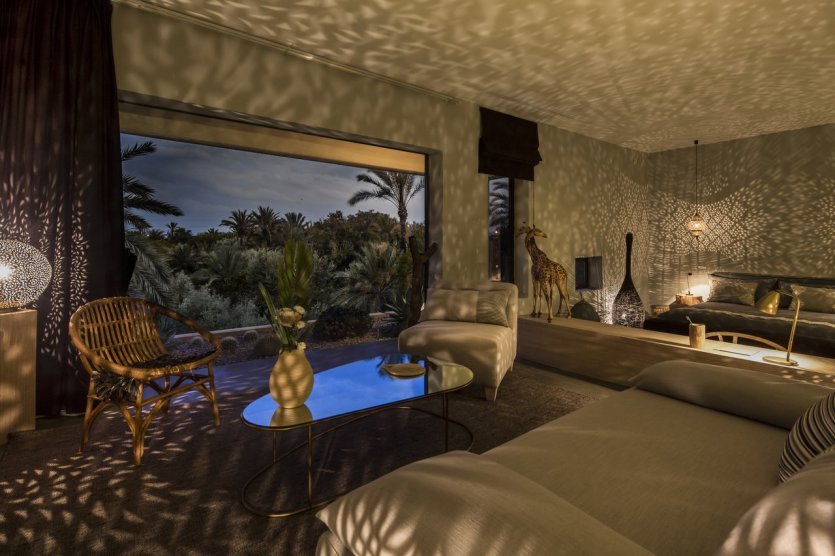 1- The castle of Missery, terror in Burgundy
In the heart of Burgundy lies the castle of Missery, an elegant 18th century residence with authentic medieval towers dating back to the 14th century. Nestled in peaceful countryside and surrounded by a protective moat, you walk through its long corridors on a dark October night, discovering the time when knights resided there who may yet visit you in ghostly guise. The place has 9 rooms, so don't worry, you can always spend the night in groups.
3- The Belle Époque villa in Deauville, a disturbing doll's house
With its candy pink wallpaper and vintage chandeliers, this Belle Époque villa has the ideal setting for a peaceful evening. But a doll's house also means a disturbing atmosphere, especially for those who have seen the horror film Annabelle! A tip: keep an eye on the doors of each cupboard, and to reassure yourself, just take a look out of the window and admire the superb view of the sea and its waves... A villa with the appearance of a manor house for those who have always wanted to live in the Belle Époque, with the added bonus of ghosts!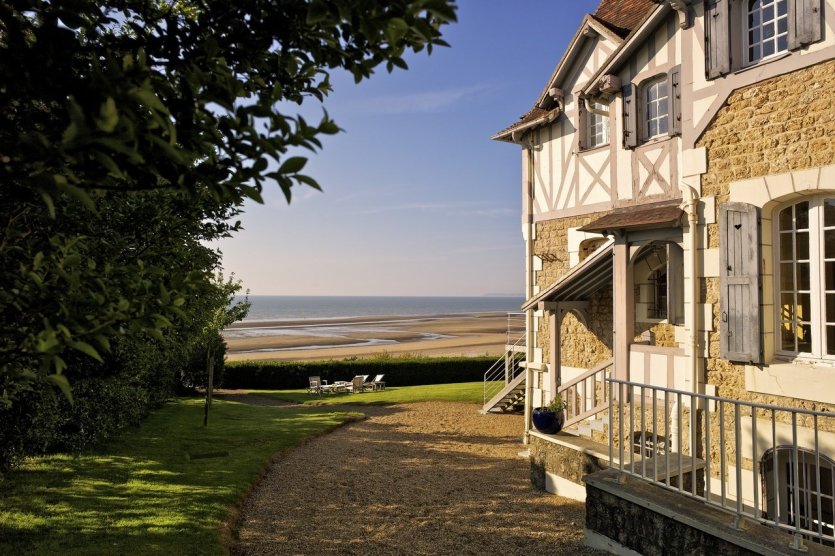 5- Dar El Sadaka Villa, a parallel world
A trip to Morocco is ideal for experiencing a peaceful Halloween party under a blue sky. But if you choose to spend a few nights at the sublime Villa Dar El Sedaka in Marrakech, remember to keep your eyes open at all times. From the outside, the building blends elegantly into the exotic landscape that surrounds it, but inside, it's a curious parallel world that offers itself to the guest: prankish orangutans climb the wicker chandeliers, a giant giraffe watches over the dining room... Each of the rooms is named after the animal that symbolizes it. Let's hope these animals don't turn into ugly creatures on the night of October 31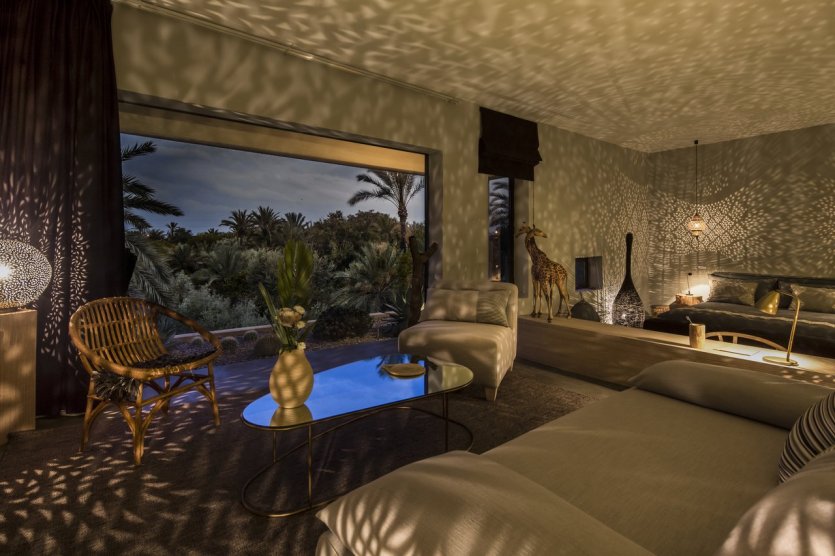 7- The Sisimiut chalet, a Shining-likehouse
At first sight, a chalet in Courchevel is not necessarily the most frightening place for Halloween. And one thinks rather of a nice evening around a cheese-based recipe, by the fire. However, the Sisimiut cottage stands out from the others as soon as you push open the front door: it is a real cabinet of curiosities where extraordinary animals reside and, even more disturbing, a little girl sitting on the living room perch! Don't worry, it's a statuette, but let's hope that this little world doesn't wake up on Halloween night!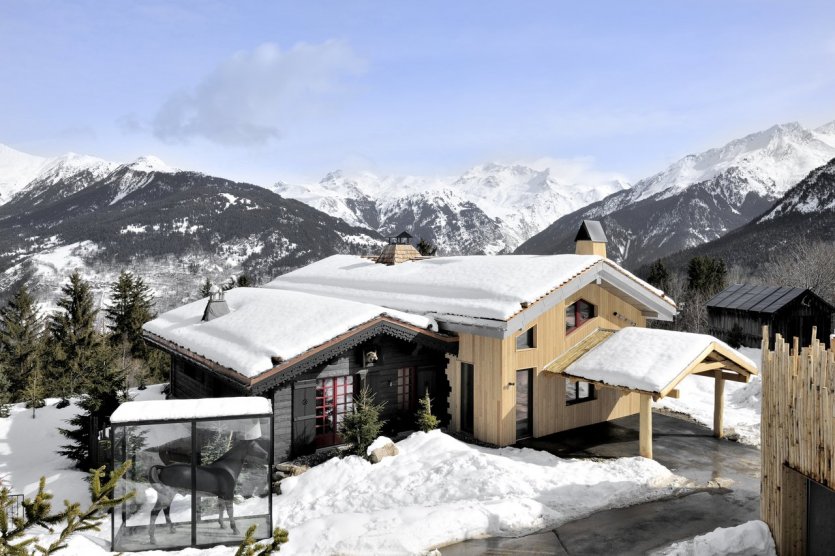 9- The Villa Cetinale, a legendary house
In Tuscany, in the province of Siena, the Villa Cetinale is both a piece of history and a masterpiece of baroque architecture. Its gardens are particularly beautiful, and seem to tell tales and legends to anyone who will listen. With its neatly lined up cypress trees and the mist that covers them at dawn, Villa Cetinale has the perfect autumn atmosphere to bring the whole family together on Halloween. If you decide to eat a delicious Halloween meal there on the evening of October 31, watch out for the digestive walk through the gardens that follows, you never know what might pop out of a bush..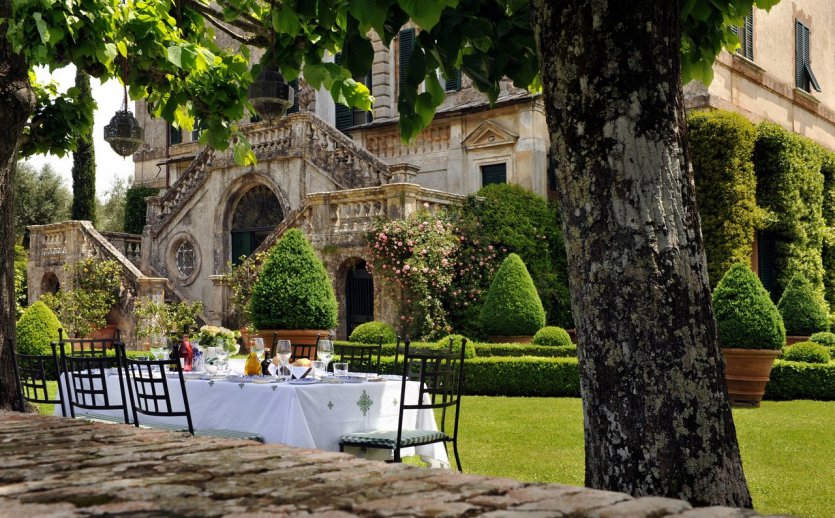 11- Villa Cacela, an enchanting residence
In the middle of the wilderness of Comporta, Portugal, Villa Cacela is perched below a nature reserve. Its chic straw-roofed cabins form a peaceful hamlet away from the hustle and bustle of the city. But on Halloween, it's the wooden sculptures that decorate the walls that will remind us of legends and voodoo incantations. Alone in the world, we will spend our day in the pool... trying to think of everything but ghost stories and statues that could wake up!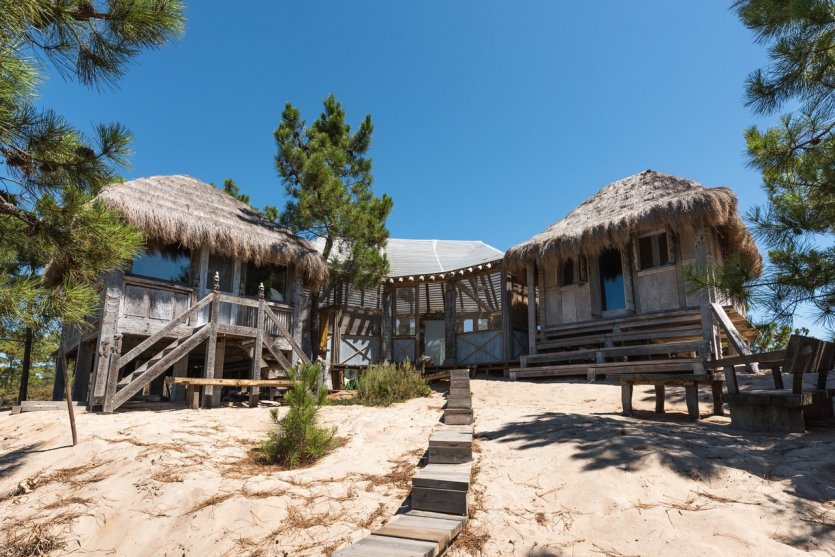 13- Villa Sarati, Ibiza out of season
In autumn, Ibiza takes on the air of a secret island and will seduce families in search of calm and exoticism. For Halloween, we will exile ourselves in the Villa Sarati, under the net awnings which evoke Jack Sparrow's pirate ship. If you feel a bit like a castaway in the middle of an island, and if you are tempted to get scared on the evening of October 31st, the infinity pool and the breathtaking view of the sea quickly reassure you that civilization is not far away!