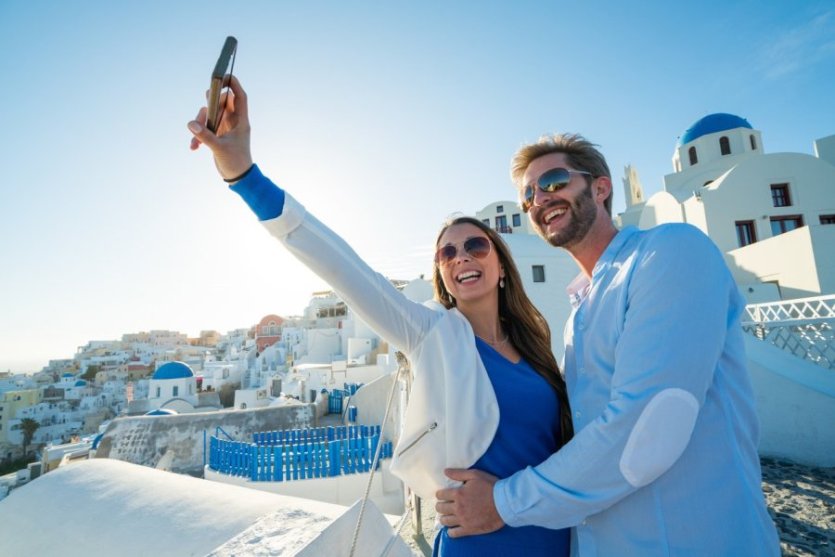 With the chosen one of your heart you have like desires from elsewhere? But where to go for Valentine's Day? Then here are some travel ideas for an unforgettable Valentine's Day.
Where to go on Valentine's Day to find the sunshine
The sun is not only good for our morale, it also acts on our libido! So a trip to the sun is a great way to spend Valentine's Day
In mid-February, the south of Europe offers a much milder weather than in France. We recommend Greece where prices are as mild as the temperatures... Head for the Cyclades and the island of Santorini. Between its beautiful beaches, its typical villages and its delicious gastronomy, Santorini is romantic as you wish. Don't miss the mythical sunsets, an ultra-romantic moment guaranteed!
If you are rather tempted by the charms of the East, Marrakech should satisfy you. Whether you dream of a riad or a comfortable hotel room, prices remain affordable in Marrakech. As for gastronomy, it is up to you to choose the perfumed tagines and spicy dishes whose often aphrodisiac flavours should pleasantly spice up your stay for two. Add to that a hammam with traditional scrub and massage and you will be in nirvana.
Still in the Mediterranean, Sardinia is a sunny island offering really pleasant temperatures in winter. Rather than staying in Cagliari, we recommend you to go and stay in Bosa. It's a small town of 8,000 inhabitants with an incredible charm, situated on the water's edge, and whose typical architecture and picturesque alleyways will delight you. And if you feel like sunbathing together, the beach of Bosa Marina is not far away.
Where to go for Valentine's Day to live of love and gastronomy
Ah Paris, it's not the city of love for nothing! And for those who want to celebrate Valentine's Day around a good meal, it is the city of dreams, because it has hundreds of good restaurants where you can taste all the specialities of France, but also of the world
Whether it's near the Eiffel Tower, on the Place du Tertre in Montmartre, or in Saint-Germain-des-Prés, you'll be spoilt for choice for dinner in a magical place in Paris. For Valentine's Day, restaurants all offer a special menu, but it's true that it's often a bit expensive... You'll have to compare prices in advance and especially think about booking. Finally, it may be more advantageous to opt for a dinner show where the discounts are often more interesting. For example, the mythical Crazy Horse reserves many surprises for women on Valentine's Day and its "Crazy in love" offer for a glamorous evening.
Only 2 hours from Paris by TGV, Bordeaux is another destination that will please lovers. Listed as a UNESCO World Heritage Site, it is one of the most beautiful cities in the Gironde. The beauty of its Gothic cathedral and monuments as well as its gentle way of life are among its assets. But it is also the dream city for gourmet couples! In the heart of a wine-growing area, Bordeaux is indeed the guarantee to taste good vintages accompanied by a good foie gras or a duck breast with honey. Note: many gourmet restaurants in Bordeaux offer dinners for two less expensive than in Paris for lovers' day. This is the case, for example, of the Bordeaux Gordon Ramsay brewery, which will offer a tasting menu at low prices, created by the starred chef himself.
But rather than Venice, which is often grey in February and has high prices on Valentine's Day, we recommend Florence. Of course you won't find gondolas there, but the crazy charm of Firenze should bewitch you. The capital of Tuscany is on a human scale and prices are affordable in restaurants and hotels. Another advantage is that Florence can be easily visited on foot, in just a few hours. Between its picturesque streets, pretty squares and numerous monuments, you will be amazed by the mild Florentine weather.
Where to go for Valentine's Day to relax together
Situated close to the French border and on the edge of the Black Forest, Baden-Baden is a pleasant German spa resort with 19th century architecture. It's a good choice for a glamorous/relaxing getaway with your loved one. Baden-Baden has twelve spas in various styles, including the modern Caracalla Spa and the historic Friedrichsbad Baths. As far as accommodation is concerned, there are both luxury hotels as well as middle-class establishments at around 100 euros per night.Don't miss a carriage ride through the gardens of the "Lichtentaler Allee". Romanticism guaranteed!
If you are looking for a romantic city trip that combines relaxation and culture, Budapest is a European capital that we recommend. Beyond its rich cultural heritage at the crossroads of several civilizations, the Pearl of the Danube has nearly a hundred Turkish baths with hot and relaxing thermal springs. Some of them, such as the Gellert Bath, are true architectural masterpieces! That's enough to make you coo in Hungary!
But for a change of scenery far from the cities, Iceland is a destination to be privileged. Thanks to its great variety of landscapes, it will satisfy all the lovers who like the stays in full nature. From the vast desert expanses near Mývatn, deformed by increased volcanism, to the intricate patterns of the western fjords, Iceland gives the feeling of taking a trip to different countries. Finally, to relax as a couple, there is nothing like a relaxing break in one of the country's one hundred hot water baths, the best known of which is the Blue Lagoon.
How to get there :
Find your flight at the best price - Compare
Lease your car at the best price - Compare
Useful:
Book your accommodation at the best conditions - Compare
Find a local agency for a tailor-made trip - Find
Find a cultural or sporting activity - Find