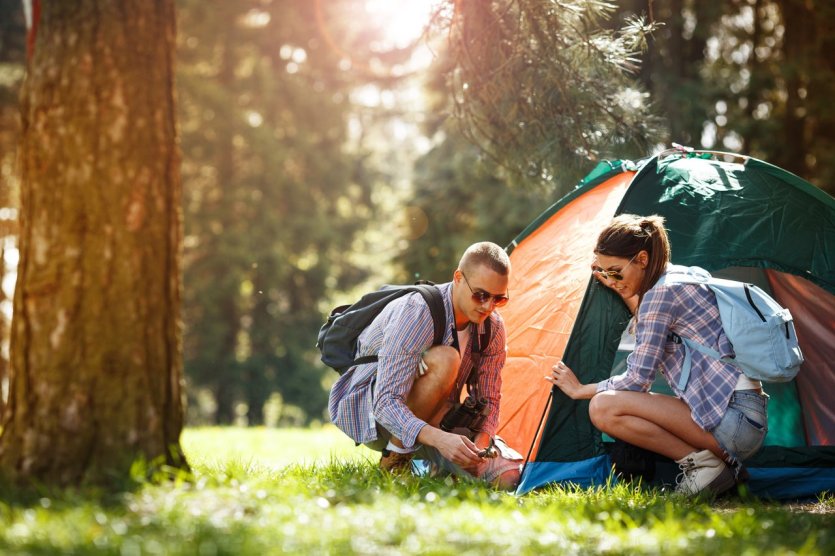 A department bordering the Gironde, Gers, Lot-et-Garonne and Pyrénées-Atlantiques, the Landes fascinates nature lovers, but also lovers of beautiful heritage. You will appreciate its magnificent pine forests, lakes and endless beaches to enjoy moments between outdoor activities, lazing around and swimming at the beach. You can also reach its main towns to appreciate the architecture of the monuments and taste some good local products. In short, this part of south-western France has everything you need to spend a pleasant holiday alone, for two or the whole family. And for this, the numerous campsites in the Landes are just waiting for travellers to let themselves go to the rhythm of the holidays.
Which campsite to choose in the Landes?
There's nothing like settling down at a campsite to enjoy the richness of the Landes. On the one hand, because camping allows you to break away from everyday life, to change your habits and to find yourself in an atmosphere that is 100% relaxation and leisure. And on the other hand, because campsites are aimed at all types of people.
Whether you go on your own, as a lover, with your family or with a group of friends, the campsites in the Landes have many different faces. So whether you're staying with friends for a couple or just passing through for a few nights on a travelling holiday, it's no problem to find a structure with different pitches to pitch your tent. Many campsites in the Landes have a swimming pool to cool off on hot spring and summer days. This is always a nice feature even though the sea is never far away, whether you are in Moliets-et-Maa or Seignosse.
For holidays with children, Les Landes has campsites that are real little corners of paradise for families. Especially thanks to the offer of mobile homes. Indeed, it is always more practical when you leave with the children to find a minimum of the comfort of the house, i.e. an individual bathroom, a kitchen corner with utensils and real comfortable beds! Communities such as Messanges, Biscarosse, Gastes and Saint-Julien-en-Born have campsites with real water areas, which are always very popular with toddlers to let off steam and refresh themselves. Toboggans, fountains, various and varied structures, these are some of the most entertaining holidays awaiting them in a campsite in the heart of the Landes.
In small groups or with the family, the presence of a grocery store, a bread depot, a launderette, and even a multitude of activities on offer (bowling, casino, fishing, disco, etc.) also makes holidays simpler. These services can be found at several campsites in the Landes; it is up to each person to choose according to their needs and desires.
What to do in the Landes?
The Landes is a department highly appreciated for the diversity of its landscapes and the multitude of possible outdoor activities. With more than 600 kilometres of cycle tracks, it is hard not to mention first and foremost the possibility of mountain biking on paths that criss-cross the pine forests, lakes and rivers. To be coupled absolutely with gourmet picnics in the shade of the trees. For lovers of dune walks, there is a lot of fun to be had on the sand on foot or on horseback. Although it should be noted that horseback riding with feet in the water is also possible, a child's dream!
The sea is of course a must on the territory, and several campsites in the Landes offer direct access to the beach. To take advantage of the Atlantic Ocean and its movements, Biscarosse, Mimizan-Plage, Hossegor or Capbreton are the perfect seaside resorts. We like to take the time to daydream on the beach, to swim and laugh in the waves, as well as indulge in various water activities, surfing in mind.
To vary the pleasures, one can also leave one's campsite in Les Landes to reach Soustons and its five peaceful lakes. Ideal for an invigorating walk. And don't forget the Armagnac vineyards, a landscape to be enjoyed by wine tourism enthusiasts. The urban escapades lead to the most beautiful villages of the Landes. Dax and its thermal baths, Roquefort and its fortress church overlooking the river, but also the historic heart of Mont-de-Marsan are worth leaving nature for a few moments to discover a very beautiful architectural heritage. Gourmets will take the opportunity to stop at a few gourmet addresses and taste some specialities: foie gras, duck breast and Tursan wines in mind.