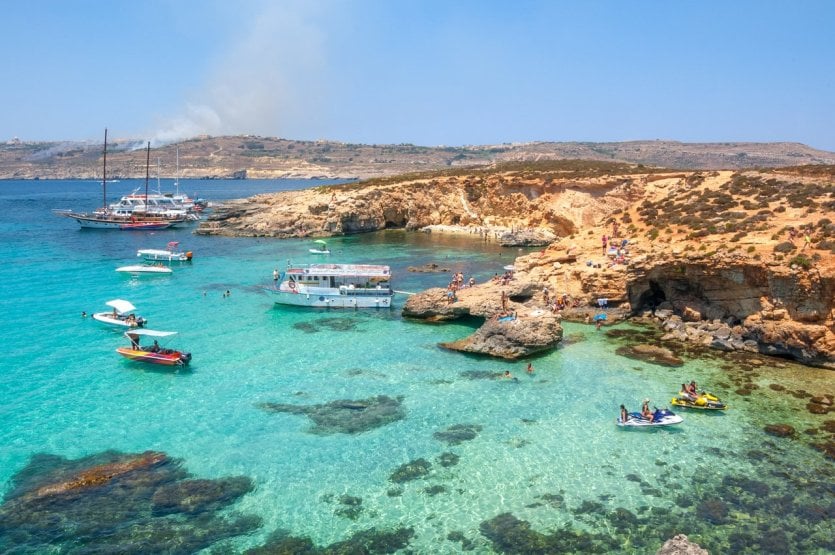 We know that to learn English quickly or to improve your English, a language stay in an English-speaking country is the best option. The experience is even more enjoyable if you can take advantage of it to discover a territory with a great cultural wealth, and what's more, it's sunny! Pupils, students and adults who wish to learn or improve their English in the middle of the Mediterranean can head for the archipelago of Malta, where most of the inhabitants are bilingual, and where the language of Shakespeare is only the second official language. A language stay in Malta with Education First not only allows you to take courses in a school, but also to be in contact with the language with the locals, by reading menus in restaurants and signs in museums, but also by listening to the radio or television. During the group excursions and during free time, you can take advantage of the opportunity to discover the thousand and one riches of a destination which, between the East and the West, shines with its climate, its heritage, its nature, including the beaches with crystal clear waters, and its gentle way of life.
Why go to Malta to learn or improve your English?
Nowadays, mastering at least one foreign language is a real asset. Especially when it comes to English, an international language. Having a solid grounding in English allows you to travel, to interact more easily with tourists visiting your own country, but also to boost your professional career. There are many ways to learn or improve your English, but it is obvious that the most effective way is a total immersion of several weeks in an English-speaking country. A language course in Malta, a former British colony which still retains traces of its membership of the British Empire, allows you to be in contact with the language on a daily basis. During the courses held in one of the Education First schools, but also during the discovery of the archipelago.
The courses allow the acquisition of theoretical knowledge such as grammar rules, spelling, syntax and conjugation. They also include interactive multimedia exercises. They allow you to progress rapidly without forgetting the fun aspect. A language stay in Malta is also an opportunity to meet other people in the group, to exchange ideas and therefore to practice English intensively. Various group activities are also part of the programme, such as visits and excursions. For the learners, these are additional opportunities to practice the language and to hear it. And no matter what age, a language stay in a foreign country is an opportunity to step out of one's comfort zone and develop self-confidence. With the group as well as with the locals, you will be asked to speak, to make an effort, to surpass yourself, and in the end to make the most of your language skills.
A wide range of activities to meet everyone's needs and desires
The other advantage of planning a language stay in Malta with Education First is that everyone can find a package that meets their needs. Young students feel ready to go to the archipelago to improve their English and thus optimise their chances of success in their studies? They can go for a summer camp or a junior program. Students and adults can prepare for certifications that will allow them to enter a university abroad or to develop their career internationally. While young people can stay with host families, students can stay in a student residence and be in contact with other people their age. For adults, it is quite possible to stay in a hotel and enjoy the privacy and tranquility that one longs for.
Finally, from 2 weeks to 11 months, it's up to each individual to judge the formula and the time needed to progress and consolidate their English skills
Malta, an ideal setting in the Mediterranean to learn English
A stay to learn English can take place in England, the United States or Ireland. But for those who want to enjoy a sunny destination, then Malta is the ideal place in Europe. The sun shines 3,000 hours a year and average afternoon temperatures range from 16 degrees in the dead of winter to 32 degrees in the summer. Malta, located between Sicily and the North African coast in the middle of the Mediterranean Sea, is a true crossroads of cultures. It is a destination that is appreciated for its history, its architecture, its festive spirit and its ever surprising nature.
Going on a language study holiday in Malta means settling in a small seaside village like Saint Paul's Bay. You can enjoy water sports and have fun between two English courses. Sliema, the economic capital of Malta, offers beautiful walks, between Victorian-style streets, the seafront and lively beaches. St Julian's is another great place to study English, with its colourful boats and numerous evening entertainment venues.
Malta is also a great place to study English because it offers a multitude of excursions, both in groups and during free time. The capital and walled city of Malta, Valletta, boasts remarkable architecture, including the St. John's Co-Cathedral, the Palace of the Grand Masters, the city walls and Fort Rinella. You can practice your English by shopping along the two main streets, Republic and Merchant, or by visiting the National Museum of Archaeology and the National Museum of Fine Arts. To marvel at the architecture, the peaceful medieval town of Mdina is another must-see, with its maze of narrow streets, the 17th-century Palazzo de Piro and the pleasant moat garden. Hagar Qin, Mnajdra and Tarxien are among the 17 megalithic temples that offer a moving journey into the past on the island of Malta.
In the sunshine, you can also take advantage of a language holiday in Malta to explore its nature. The small island of Comino has a beautiful lagoon, where you can swim and snorkel on the hottest days. Not to be missed is St Peter's Pool, with its turquoise waters, white cliffs and vegetation. For a group hike, sharing English while marvelling at nature, the cliffs of Dingle are another site to join. The panorama on the Big Blue is superb, especially at sunset.