Guadeloupe's must-see attractions
Located in the heart of the Lesser Antilles of the Caribbean, Guadeloupe is one of the favourite destinations of the French and for good reason, the butterfly island fulfils all desires! Paradise beaches bathed in translucent waters, lands that are sometimes lush and sometimes lunar, small islands with discreet coves and preserved traditions, and for all these sceneries a tropical climate tempered by the trade winds. Whether it is eaten, drunk or exposed, culture has a strong identity here that gives the impression of having really been able to get away: in other words, of having lived a real holiday on the other side of the world!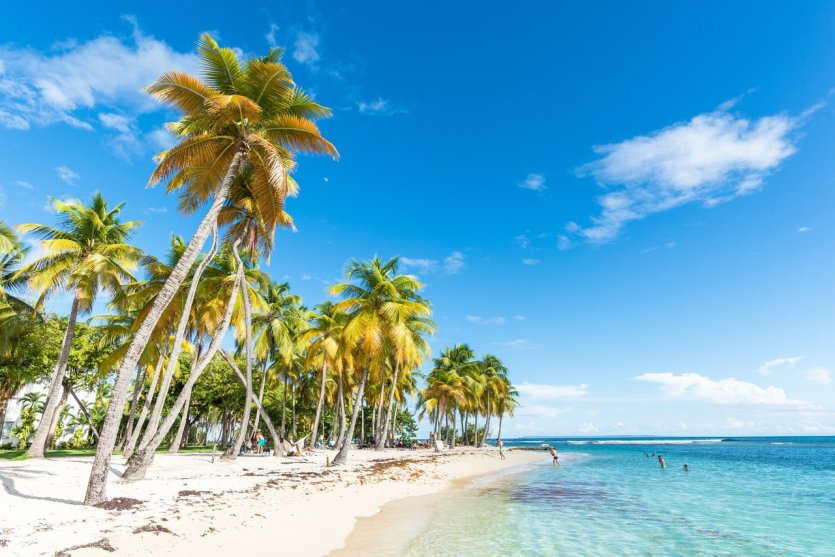 Point to Point
Pointe-à-Pitre is a must because it is the capital of Guadeloupe, ideally located at the junction between Basse-Terre and Grande-Terre. We like to stroll through its typical streets, some of which are lined with colonial houses, others with wooden Creole houses. Its markets are lively, joyful and colourful, an activity that can be found at nightfall towards the Marina where there are a large number of bars, restaurants and discos. In the culture section, Pointe-à-Pitre has several museums, including the very recent ACTe memorial, the Caribbean Centre for the Expression and Memory of the Slave Trade... a landmark visit not to be missed.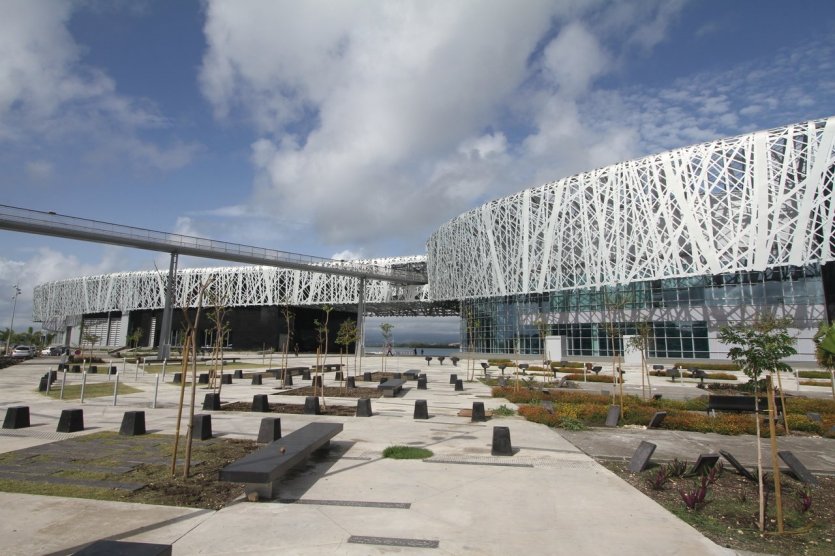 Grande Anse Beach
On the west coast of Basse-Terre Island, Grande-Anse beach is the longest and one of the most beautiful in the Archipelago. In the shape of a half-moon, it is bordered by coconut trees and green hills that rise from its expanse of fine sand. An idyllic setting for swimming in calm weather, you will find showers and toilets as well as some restaurants and "lolos", traditional West Indian grocery stores. Take the time to stay there until sunset, certainly the most beautiful pictures of your stay.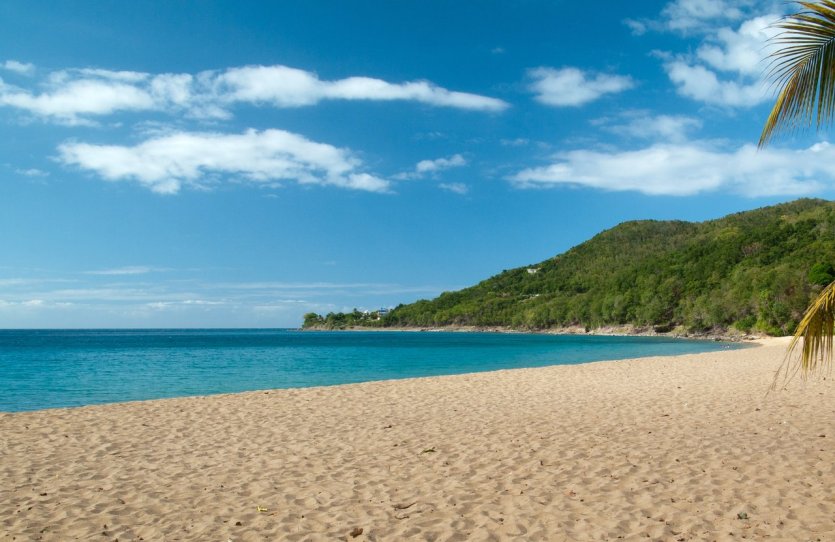 The Soufrière
Known as "vié madanm la" which means "the old lady" in Creole, La Soufrière is the highest point in the Lesser Antilles at an altitude of 1467 metres. This active volcano is located inside the Guadeloupe National Park, in the southern part of Basse-Terre; it does not really have a crater but several eruptive vents from which sulphurous vapours, gases and hot springs escape. At its summit, the landscape is lunar and chaotic, it is the only place that offers a 360° view of the mountain ranges and up to the surrounding islands. The hike around and on the volcano of La Soufrière is very pleasant, it gives to see a remarkable flora and fauna.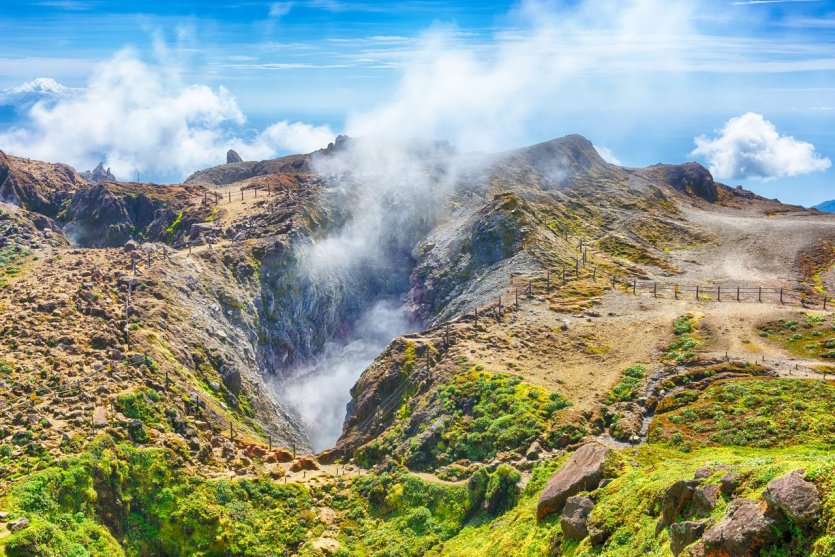 The Desirade
With such a beautiful name, this small island is certainly the most authentic and wildest in Guadeloupe. It is located about ten kilometres from the eastern tip of Grande-Terre and is only accessible by boat. Here time seems to have stopped and tranquility reigns along its 11 km where varied landscapes follow one another between sea and cliffs. La Désirade is the first natural reserve of an overseas geological nature, it is also the kingdom of iguanas and a popular place for divers who dazzle themselves with its magnificent coral reefs.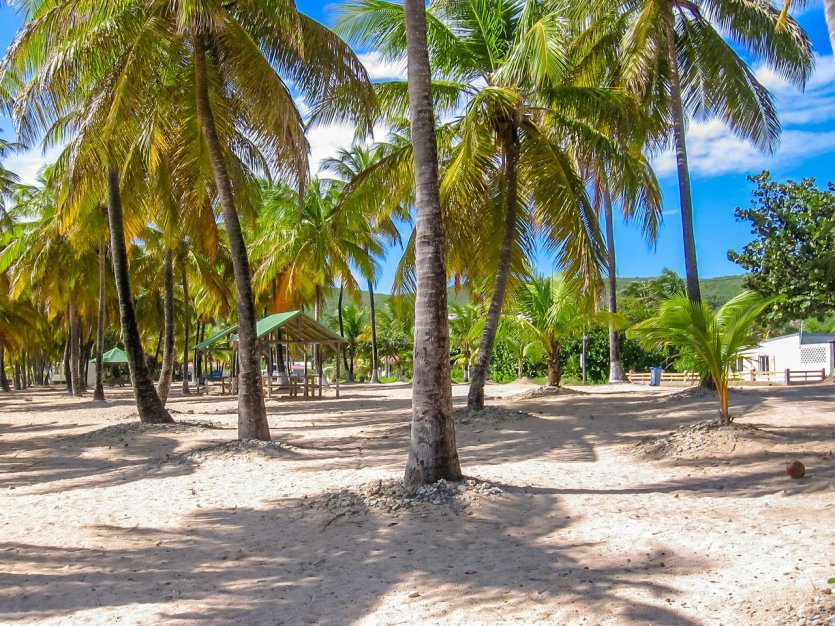 Marie-Galante
We all have a Laurent Voulzy look in our heads when we say his name... Although she keeps her promises of golden beaches, Marie-Galante is best known for her mills and her agricultural activity dedicated to sugar cane: you can taste rums in local distilleries! It is a preserved island that has kept its traditions, there is still a cockfight or a competition of oxen... Marie-Galante has turned to sustainable tourism, it also tends to become 100% autonomous in renewable energy by 2020.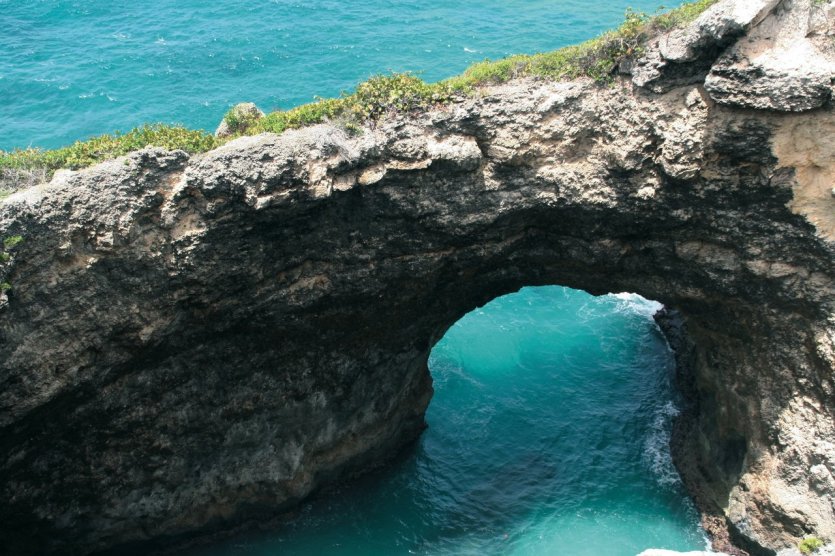 The Saints
The archipelago of the Saintes is composed of 9 islands, only 2 of which are inhabited, Terre-de-Bas and Terre-de-Haut, whose bay is classified among the most beautiful in the world. The island is pleasant and particularly colourful, whether it is the facades of the houses or the multicoloured boats of the fishermen. It is also here that Fort Napoleon is located, which enjoys an exceptional panoramic view of the entire archipelago. Terre-de-Bas is more discreet but just as pretty, it is more suitable for hiking and discovering crafts: you will find here the most beautiful salakos, traditional hats made of vegetable bamboo fibres.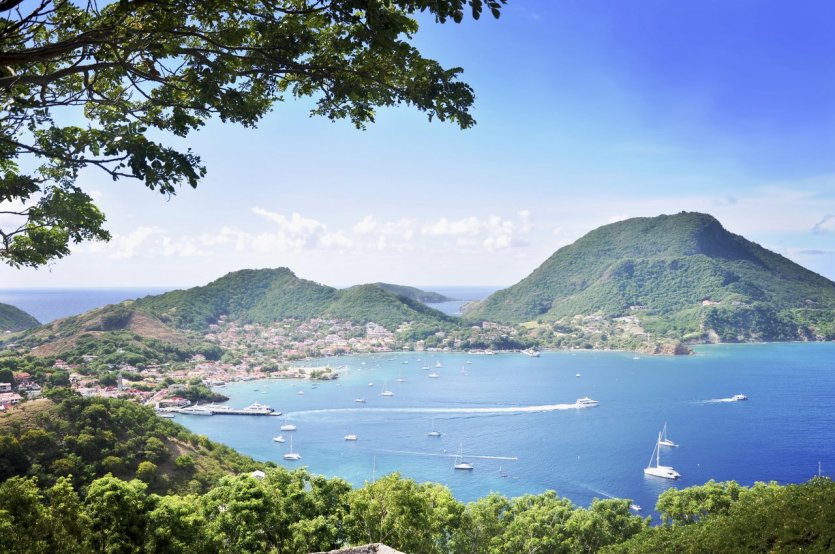 Great Cul-de-Sac marin
Grand Cul-de-Sac marin is an exceptional natural reserve, classified as a world biosphere reserve by UNESCO. Over an area of nearly 15,000 ha, it is composed of mangroves, swampy forests, meadows and a coral reef of nearly 40 km. It is usually visited by boat or sea kayak to observe the many marine species and birds that nest in the mangrove. Hopefully, you will encounter some pretty sea turtles while waiting for the return of the manatee that the National Park is trying to reintroduce.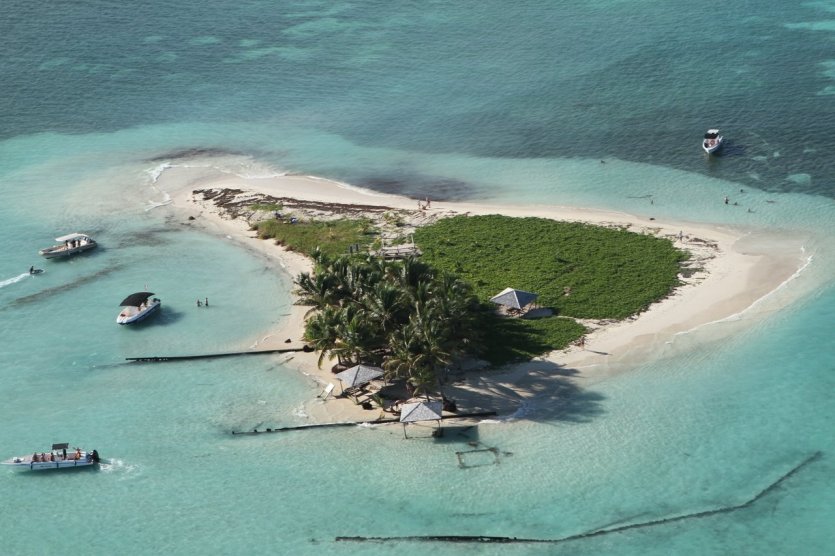 Route de la Traversée
The Crossing is a mountainous road that cuts through Basse Terre, from east to west, for 17 km. It crosses the tropical forest and crosses several major sites: the crayfish waterfall, the zoological and botanical park as well as the Maison de la Forêt and its discovery trail. The scenery of this lush forest is dotted with 300 species of trees, 250 species of ferns and 2,700 species of flowering plants, including about 100 orchids.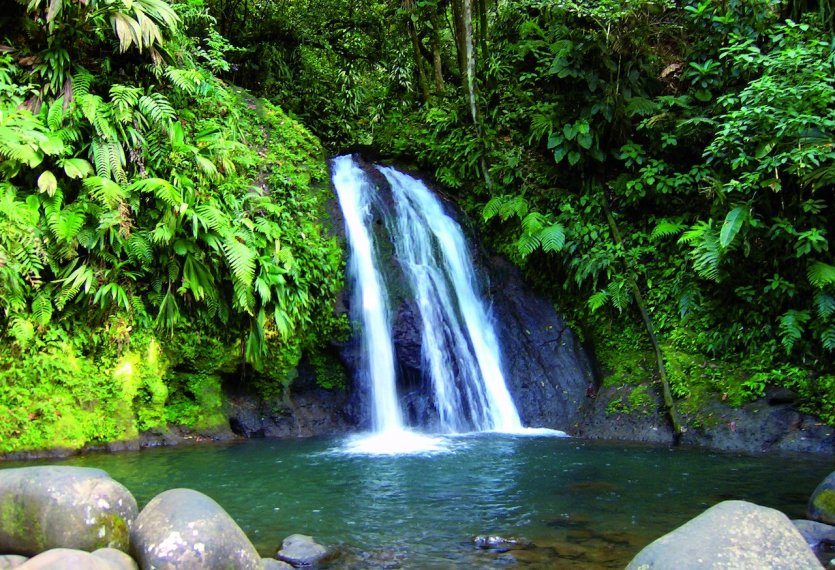 Sainte-Anne
21 km from Pointe-à-Pitre, Sainte-Anne is one of the largest seaside resorts in Guadeloupe. The landscapes are worthy of the postcards you will write from its white sandy beaches lined with turquoise water and lined with coconut palms. Its magnificent lagoon is protected by its coral reef on a coastline that extends over 15 km. Kingdom of water sports, you can even try your hand at flyboarding: a jet-powered watercraft that propels you out of the water like an Iroman!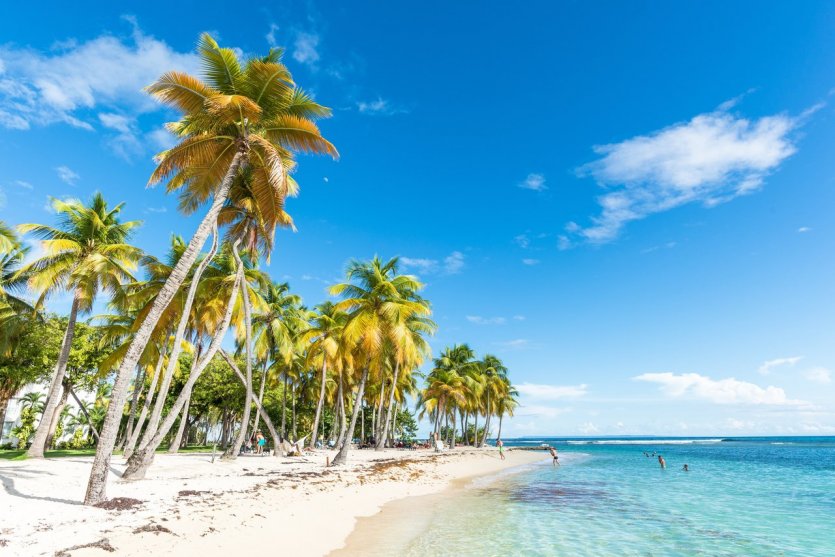 Cousteau Reserve
The Cousteau Reserve, named after its creator, has become an essential place for diving, thanks to the exceptional richness of its seabed, which extends over nearly 1,000 hectares. Hundreds of species of tropical fish and mysterious wrecks can be found at five major sites: the coral garden, the aquarium, the Japanese garden, Mahaut Point and the Franjack wreck. In January and February, the luckiest people will even be able to hear the humpback whales sing..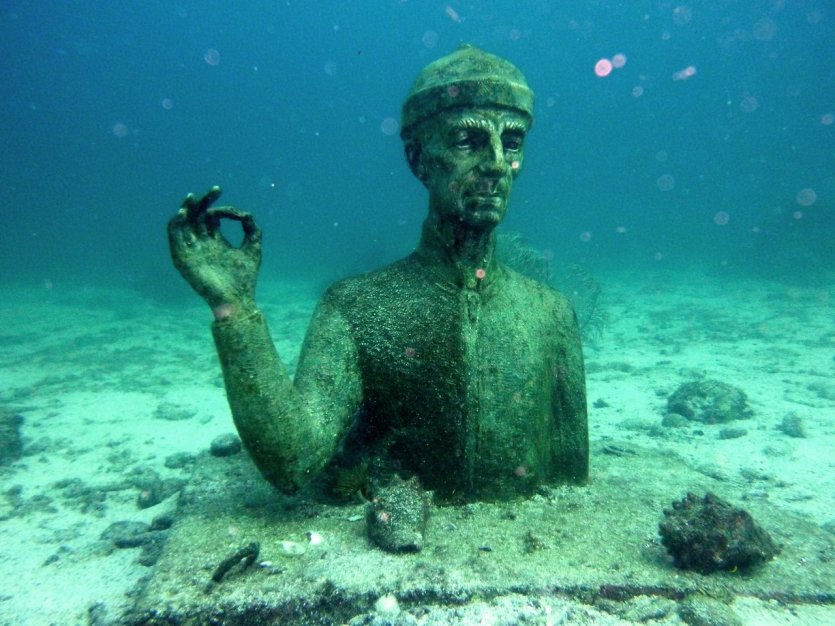 Learn more about Guadeloupe
Prepare for your trip Guadeloupe
Transportation
Car Rental
Taxi
Tailor-made trip
Accommodation & stays
Find a hotel
Holiday rental
Services / On site
Book a table
Activities & visits