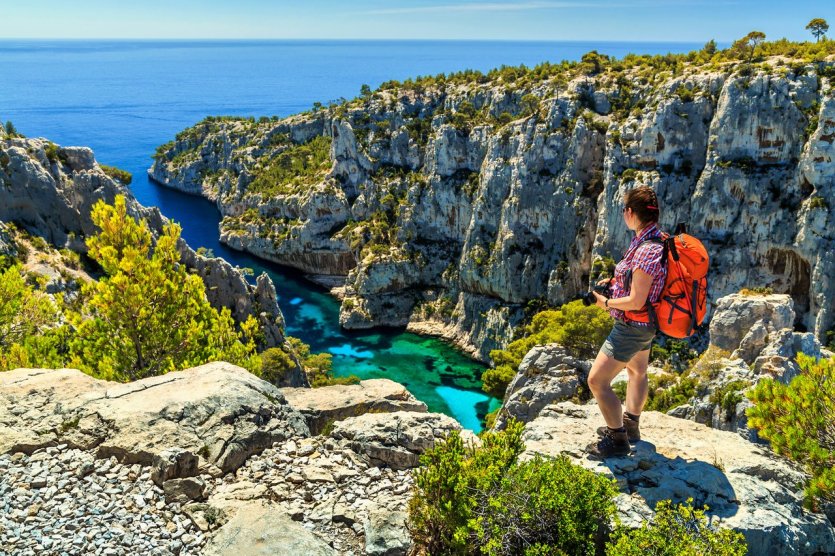 The nice days are finally here and it's the opportunity to enjoy the nice weather! Between France and far away destinations, you have the choice... But where to go in May? Here are some ideas for getaways that should help you take a real break!
Where to go in May to enjoy the sun?
Spring is undoubtedly the best time to visit the calanques of Cassis, as there are far fewer people than in summer! The Calanques massif is famous all over the world. Classified, this site is protected. The easiest way to visit the main ones - the most beautiful is the one of En-Vau - is to go on board one of the boats for a commented visit. But you can also make many walks in the massif..
And why not opt for the north of France? In May, the temperatures are generally mild and the sun is shining. Le Touquet is a pleasant seaside resort with a protected natural site, the Pointe du Touquet, and several beaches. There are many possibilities for beautiful walks in the forest or on the dunes of its fine sandy beaches
For a warmer weather in May, we advise you to fly to the Caribbean for a stay in the famous archipelago of the Bahamas whose name alone makes you dream. Off the coast of Florida, the Bahamas are indeed synonymous with chic idleness, between fine sandy beaches, turquoise water and coconut trees. This archipelago of coral reefs is made up of more than 700 islands in the Atlantic Ocean. Some are uninhabited, others are lined with luxurious resorts while some offer bed and breakfasts at more reasonable rates. As for the islands, you will be spoilt for choice; they are all miniature tropical paradises!
Where to go in May to recharge your batteries?
A total immersion in nature is always welcome for a spring break
Why not go to Lozère? This sparsely populated department offers preserved landscapes, including Mount Lozere and especially the Causse Méjean, an arid limestone plateau with vegetation that resembles the steppes in Mongolia. The walk is a real change of scenery! Don't miss the Przewalski's horses, small free-roaming horses that were on the verge of extinction, but have been reintroduced on this plateau. There are less than 30 of them in an enclosure of 400 hectares. It is the only site in France where they can be observed
Where to go in May for an original city break?

In May, the Nordic countries start to get a nice light and a mild weather. But instead of doing a city trip in a well known Scandinavian capital like Oslo, we suggest you to discover a less touristic city: Göteborg in Sweden. Located on the west coast, Gothenburg is the second largest city of the country and the first port of Scandinavia. A city of water, it is crossed by canals and gives access to a sumptuous and peaceful archipelago off its coast. Strolling in its different districts, culture with the presence of unavoidable museums and high-end gastronomy, Gothenburg is a Northern European destination not to be missed, for a weekend or an extended vacation.
You could also discover the charm of the city of Tours during one of your extended weekends. Only 1 hour from Paris, it is a good value destination with a great nightlife, lively guinguettes and the Loire castles to visit nearby.
Finally, why not let yourself be tempted by Lille? Renovated and rehabilitated over the years, Lille's neighborhoods are full of architectural curiosities. From the Grand-place, which has been returned to pedestrians, to the Palais des Beaux-Arts, which houses the second largest collection of artworks in France after the Louvre, from the belfry of the Hôtel de Ville, a UNESCO World Heritage site, to the cobblestones full of history in Vieux-Lille, from the Vauban citadel, the city's green lung, to the popular Wazemmes district and its colorful market, Lille has plenty to keep you busy!
Where to go in May for a sporty vacation?
What if you were to let yourself be tempted by Sardinia for a special hiking trip? The second largest island in the Mediterranean, after Sicily, offers striking contrasts to those who take the time to explore it, preferably on foot, in all its diversity. The landscapes, between cliffs and coastline lined with beautiful beaches, will intoxicate you like a good Sardinian wine. Less high than its Corsican neighbor, the island is in fact a paradise for hikers because it is made up of 80% of mountains and wild green hills with numerous hundred-year-old olive trees
Where to go in May for a family vacation?
The month of May is one of the most anticipated months. Although it varies from year to year, there are many May bank holidays and they are always a great opportunity to have a vacation in France. With your days off combined with public holidays, make the whole family happy by booking a short stay in one of the vacation villages on the French Riviera for example.
The region is full of seaside resorts. For an immersion in nature, take advantage of canoeing excursions in the Verdon gorges. In addition to our advice on where to go in May, Petit Futé has listed for you the 10 destinations for an extended weekend.
Traveling in the sun during spring break is a great way to recharge your batteries. We are starting to enter the high season, but the prices offered by tourism professionals are not expensive. The sunny, white-sand beaches of the Mediterranean give you a taste of summer vacation
You might be interested in these articles:
The best destinations for the big vacations
Getting there:
Find your cheapest flight in May - Compare
Rent your car for the best price in May - Compare
Helpful:
Book your hotel at the best conditions in May - Compare
Find a cultural or sport activity in May - Find