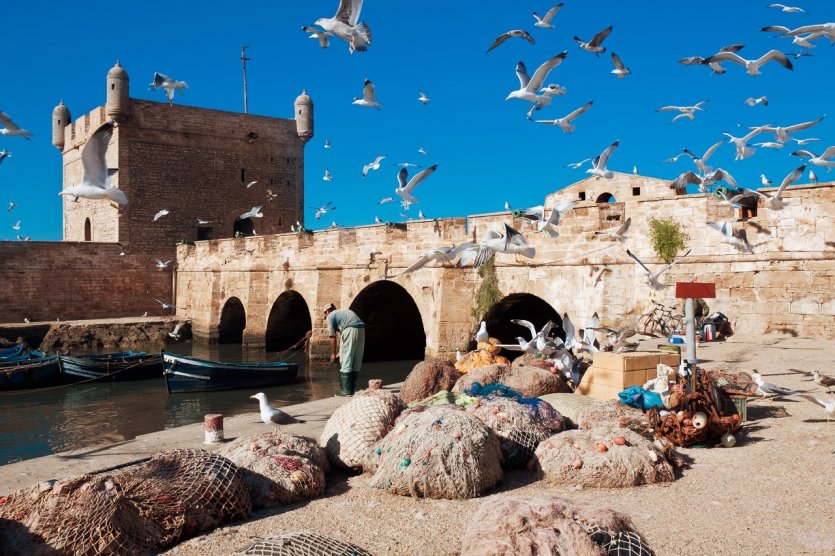 The sunny days are finally coming and cIt is therefore an opportunity to enjoy the mild weather in Europe or to go to the other side of the world for even more change of scenery. But where to go in May? Here are some getaway ideas that should help you take a real break!
Where to go in May to enjoy the sun?
Essaouira is a pleasant seaside town in Morocco and is a very good spring choice for sunbathing at a low price. Less known than Agadir, it has a large and beautiful sandy beach, perfect for swimming and water sports. The pink walls of the medina offer an unforgettable walk, while the whitewashed walls and blue gates of the old town seem to come straight out of a watercolour...
For a holiday at a reasonable price, too, head for Catalonia and its famous Costa Blanca! From Denia to Torrevieja, the Costa Blanca offers a wide range of very different options along its 200 kilometres of coastline. Very long beaches of fine sand will alternate with small coves. All bordered by all shades of blue. There are also many urban beaches, equipped with everything for idleness and others more wild like the beaches of Elche will be between dunes and pine forests.
Still in the Mediterranean, the island of Zakynthos, or Zantikos, in Greece is the ideal destination for lovers of dream beaches and crystal clear water. With a breathtaking sea of postcards, this beautiful island in the Ionian Sea is also rich in green landscapes and picturesque mountain villages. That's enough to keep you busy between two idleness sessions!
Where to go in May to set out for the great outdoors?
To make a new look in spring, a total immersion in nature is always welcome.
In southern Europe, the Amalfi coast in Italy is a wonder in spring for hiking lovers! Along the paths, it offers beautiful steep landscapes, typically Mediterranean, that plunge into the Mediterranean, between olive trees, lemon trees and typical villages. Not to mention the must-see attractions of the Bay of Naples: the island of Capri, Pompeii or Vesuvius.
For fans of green nature, but this time in Germany, Mainau Island in the heart of Lake Constance is a good choice. A small boat takes you to this island from Constance. Spring is the ideal time to visit it because it has a superb botanical park that is particularly flowery in May, hence its nickname "island of flowers". Don't miss out on a visit to the butterfly house, which is home to more than 40 species of exotic butterflies!
But if you want to stay in France, a hike in the Pyrenees, between land and sea, between Collioure and Cadaquès will also make you happy. This route between France and Spain runs along the Mediterranean Sea on mountain paths accessible to all and offers breathtaking landscapes. In Cadaques, don't forget to stop at Salvador Dali's house-museum.
Where to go in May for an original city break?
Why not discover Derry-Londonderry in Northern Ireland? Crossed by a large river, this picturesque city in the fortified historic centre is endowed with many monuments and museums. We particularly recommend the Bogside district for its beautiful historical murals and especially the Free Derry Museum, which looks back on the clashes of Bloody Sunday. High tech and educational, it provides a better understanding of Northern Ireland's turbulent past.
You could also discover the charm of the city of Prague during one of your long weekends. The Czech Republic is one of the best destinations for a cheap trip
Another destination to experience a completely different culture is Japan in the Pacific Ocean! A world of change that will leave you with unforgettable memories!
Where to go in May for a festive holiday?
In 2020, in France, in Marie-Galante, it will also be the 20th anniversary of the famous Terre de Blues festival. For 4 days, the island of Marie-Galante welcomes a large number of festival-goers who have come to participate in an event that has become a must in the Caribbean basin, attracted by a quality musical programme based on the blues, of course, but not only because reggae and Creole rhythms are often in the spotlight.
Where to go in May for a sports holiday?
Going on a trip in May can allow you to reconnect with your favourite aquatic activities, such as surfing for example. In South Asia, Bali will satisfy your desires for thrills. You can find some nice waves to face in Europe, especially in Portugal!
Where to go in May for a family holiday?

May is one of the most anticipated months. Although it varies from year to year, there are many May holidays and they are always an opportunity to take a holiday in France. With your vacation days combined with public holidays, please the whole family by booking a short stay in one of the holiday villages on the Côte d'Azur for example.
The region is full of seaside resorts. For an immersion in the heart of nature, enjoy canoeing excursions in the Verdon gorges. In addition to our tips on where to go in May, Petit Futé has listed for you the 10 destinations for a long weekend.
The other good plan for your trip in May is Cyprus! On the program, bike rides, hiking, idleness by the beaches. Enough to fill up with sunshine just 4 hours from Paris!
In spring, Sardinia is also a good idea for a trip
Close to Cyprus, Crete is a pleasant pied-à-terre for families who dream of a change of scenery while staying in the Mediterranean basin.
Travelling in the sun during spring holidays is an excellent way to recharge your batteries. We are beginning to enter the high season but the prices offered by tourism professionals are not expensive. The sunny beaches and white sand of the Mediterranean give you a taste of a summer holiday
Check out our next article to find out where to go in June!
These articles may be of interest to you:
The best destinations for summer holidays
Getting there:
Find your flight at the best price - Compare
Rent your car at the best price - Compare
Useful :
Book your hotel at the best conditions - Compare
Find a cultural or sporting activity -Find