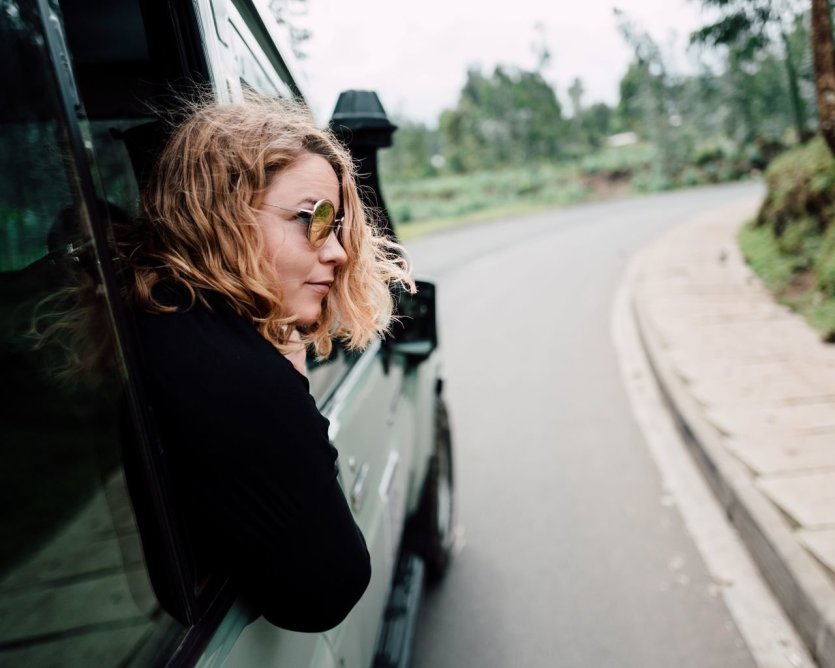 Kim is followed by more than 110,000 followers on her Instagram Kim account. or A photographer by training, she posts superb photos around the world and has told us about her most beautiful travel experiences
Your instagram account Kim.ou card with more than 110 000 followers, how did it all start?
Kim: "Actually, I've always loved photography and I started 8 years ago on Instagram. At first for me it was a simple application to edit photos, but I quickly realized that it was much more than that, that there was a real Instagram community. At the time, I was at the beginning of my studies, in a pharmacy in the city of Basel, but I felt that photography was my true passion. So I decided to do my job and went to London to the University of the Arts where I obtained my bachelor's degree. Then I decided to move to London where I have been living for 6 years and, little by little, I became a travel instigator. Today I travel around the world and I am lucky enough to be able to live off it. »
Recently you did a road trip in California, what do you recommend?

Kim: "I went on a road trip last summer on Route 395. I went from the Valley of Death to Mammoth and then I took the road to Tahoe. Just after Mammoth, there is a beautiful place called Monolake, you really have to go there to admire the sunrise, it's sublime. Just after Mono lake, there is a town called Bodie, it is one of the most beautiful ghost towns there is. In fact, it is a surprising city, because it was left in a hurry, without anyone really being able to explain it... All the departments of the stores and pharmacies are still full, the school notebooks are scattered on the floor... We can see a multitude of places and objects that have been abandoned. And then there is this legend around all these objects: it is strongly discouraged to visitors to bring one, because, beyond the fact that it would of course be frowned upon, these objects would all be haunted and a curse would fall on all those who would risk taking them with them. »
Did you have any other favorites during this road trip?
Kim:"I had the chance to do 3 or 4 road trips in California already. But my favorite road trip is the Highway 1, it's the coastal road. Last year we had the chance to celebrate the reopening of this road. On this occasion, we did a rally from the F1 circuit in Laguna Seca to Morro Bay to San Luis Obispo. We were in cars that dated from 1934 to 2018 and I was in a 1978 Citroën 2 horses with my driver. His name was Bill Young and he was 80 years old! We told each other our lives on the road and they are unforgettable memories. »
Outside of California, what other trip has marked you recently?

Kim:"I really liked Rwanda. I went there last February in partnership with Visit Rwanda. So it was 25 years after the genocide. It is really one of the countries that has left its mark on me the most, because I realized how full of prejudices you can have against a country, in relation to its history. And I didn't expect at all what I found on the spot. It is a country where people are very open, very positive, with a real sense of innovation. Of course I discovered the beautiful landscapes of Rwanda and went to see the gorillas, but it was mostly the people who touched me. They were very authentic and with a real spirit of initiative, because they do everything to move forward and solve their country's problems by themselves, without expecting too much help from outside. I found it very interesting and we should get some in Europe! »
Other destinations have charmed you?
Kim: "I have been living in the United Kingdom for 6 years and I have developed a love affair with Ireland in particular. I really like Switzerland of course, first of all because I am Swiss (laughs) and it's home, but also because the landscapes are really beautiful. But one of the last trips that really marked me lately is Japan. I went to the South Island, Kyushu, as part of a partnership with the Japanese government and it was a total change of scenery full of magic. I also enjoyed Finnish Lapland, which I visited last autumn, and I still remember the cold water dives in the middle of nature after the sauna! Quite an experience. »
But how did you manage to unite more than 110,000 fans around your Instagram account?
Kim:"I've been on Instagram for a very long time, almost since the beginning. As I started developing my Instagram account when I moved to London, I made friends with many local instigators because I didn't know anyone. And they themselves already had a large community and they started to follow me. That's how I started to increase my number of followers, then I was more and more followed and my community continued to grow afterwards. »
You are only 26 years old and yet you sign many contracts with organizations and brands on your Instagram account, how did you acquire such know-how?
Kim: "I'm lucky, because my mother and father-in-law had a swimming pool shop in Switzerland, I grew up in the shop and since the age of 13 I was running the shop myself! I think that's where I acquired the marketing skills and learned how to sell. I also think that everything is based on relationships and the human aspect, networking. I go to a lot of events and parties, it helps a lot. »
Follow Kim's Instagram account by clicking here
Find the full interview by listening to the podcast of the interview here