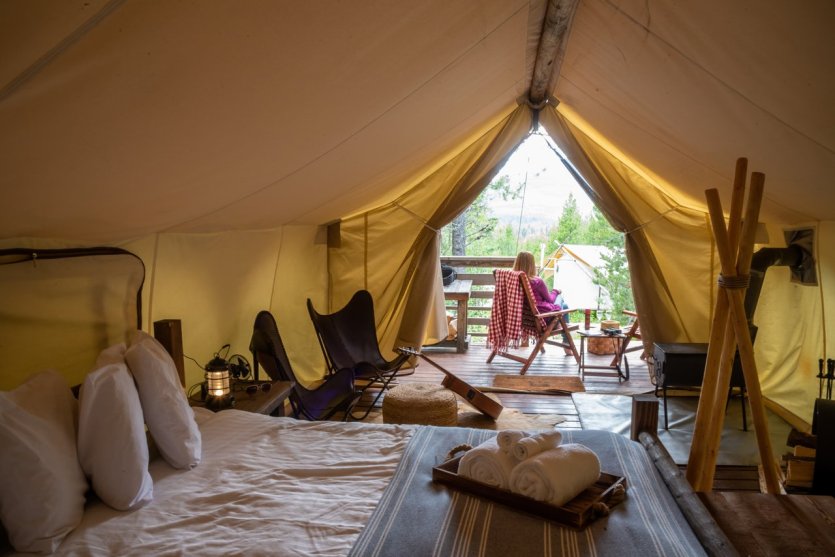 In France, holidaymakers have a choice of accommodation for their stay. Hotels, holiday homes, rented apartments and houses, campsites, everyone can choose the one that suits them best. Symbolized by the tent and the need to be well organized, one may wonder if camping is still popular nowadays, compared to comfortable apartments and houses where you just have to put your suitcases. Camping lovers can rest assured that the appeal of this type of accommodation is still growing, not only because it allows you to break your habits and offer yourself an original holiday, but also because it is now very easy to find all the comforts of home and to enjoy leisure activities.
The reasons for the craze for camping in France
Camping is always a huge success with French and foreign holidaymakers, and the figures do not lie. In 2018, the National Federation of Outdoor Hotels (FNPHA) recorded 125 million overnight stays. If it was already a record year for French camping, 2019 did even better with 129 million overnight stays recorded! In 2020, while the French have been asked to favour holidays in France due to the health crisis, many people have discovered this type of accommodation and have taken a liking to it. As a result, during the summer of 2021, the booking rate has exploded, with some weeks showing 50% more bookings than the same week in 2020. The most popular regions for camping, such as Provence-Alpes-Côte d'Azur, Corsica and Brittany, even had a fill rate approaching 90%.
If camping is always so successful in France, it is first of all because the offer is generous. There are more than 8,000 sites throughout the country. There is something for everyone, and if many establishments are on the coast, you can also find them in the mountains or in the middle of bucolic countryside. If camping allows you to discover unknown landscapes by going to the other end of the country, it is also a practical solution for those who do not want to drive too long when leaving with children. This accommodation solution makes it easy to discover territories that are close to home, and that we have never taken the time to really visit in order to soak up the local specificities. And then, camping allows you to save money. There is always a way to find a small family structure that offers reasonable rates per night. This is a good way to have more money to spend on activities and to treat yourself in the shops and restaurants!
Camping, a diversified offer
Today, camping is no longer just about pitching a tent and cooking on the ground with a stove. Although this way of experiencing holidays still appeals to those who want to break with their habits and go back to basics, many campsites now have practical solutions for families. This is why it is now possible to stay in a 3 or 4 star structure where the mobile home has pride of place. Parents and children have their own bedroom, a living room, a fully equipped kitchen, a shower, private bathroom and a terrace. They have all the comforts of home while retaining the spirit of camping. These top-of-the-range structures usually have a swimming pool or a water park, various sports facilities (table tennis, tennis courts, petanque, etc.) and a grocery store. Various activities are also offered.
As environmental protection is a major issue of our time, some campsites are orienting their offer towards so-called "responsible" holidays. The accommodation, energy consumption, waste treatment, everything is set up to respect the natural environment as much as possible, and this delights campers who feel concerned by ecology.
And then there is glamping, a contraction of "glamour" and "camping". This camping trend is very popular with those who are not looking for the traditional offer, but instead want to experience an unusual holiday in accommodation such as a teepee, yurt, tree house, stilt house or caravan. A great way to get off the beaten track and experience new things