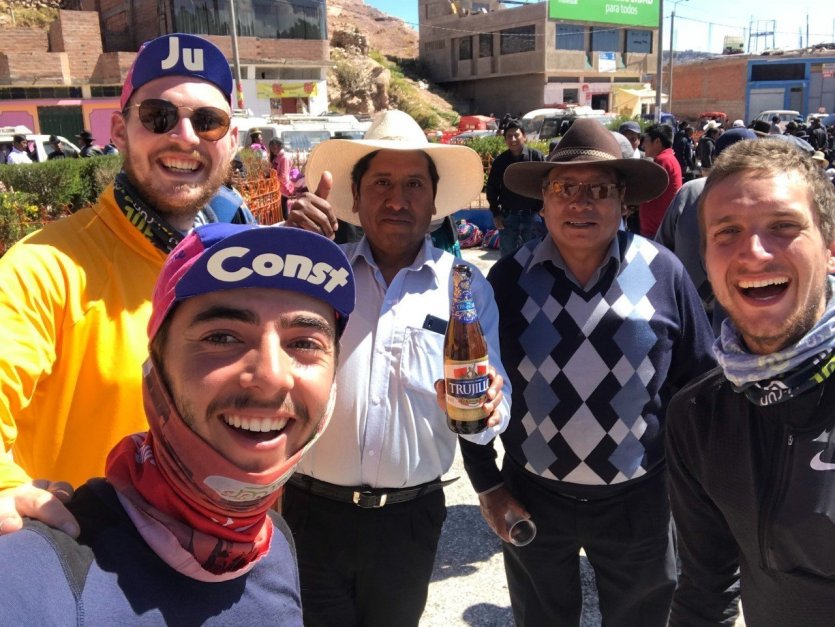 Julien, Baptiste and Constantin have been cycling across Latin America since the fall of 2019 to support multiple sclerosis research. They took stock of their epic with us while they were in Buenos Aires. Meeting with 3 very nice wild people !
Where are you in your journey to Latin America?
The madmen: "We started our cycling trip on October 9, 2019 and arrived in Peru first. Then we crossed part of Bolivia and northern Chile. We arrived two weeks ago in Argentina and we intend to continue our discovery of Latin America as far as Ushuaïa. »
Isn't it too difficult to ride that many miles on a bike?
The rabid ones: "At the end of the day, it's true that we're tired... But the great thing about travelling by bike is that you can put your tent where you want and when you want, especially in Latin America. So as soon as we feel the need, we camp in such and such a place. But you don't pedal every day, only every third day to get some rest anyway. »
What is pleasant beyond the sporting side?
The unleashed: "This is the great freedom we have. We decide on our new itinerary on a daily basis and adapt it according to the circumstances. And then every day is different in terms of landscapes and experiences. As soon as we see a place we're interested in, we just pedal and go. »
How do the locals react when they see you on your bike?
They're a bit surprised in general. We often went to places where not a single tourist had been before us, so there was something to be surprised about! But the residents are often very interested in what we do and very hospitable. Overall, we've been pretty well received everywhere. Even in Bolivia, where the political climate was tense and there were demonstrations, we were really well received. The bicycle is really a second passport that gives us access to places that would otherwise have been inaccessible. »
Have you experienced any mechanical problems with your bikes?
They've been going wild: "Overall for the past two months, we've had a few minor problems, but nothing serious, as we've got really good equipment thanks to a good equipment manufacturer. We've had punctures, broken spokes, foggy records, but we've always been able to solve these problems quickly even though we're more of an amateur cyclist. »
What goals do you want to achieve with your Latin American cycling journey?
The raging: "Our first objective is to raise awareness of this disease. The second objective is to promote the benefits of sport against disease. And our third goal is to raise funds through companies that communicate on our networks, such as our blog or Facebook, and then to donate these funds to associations like Défi Sports Solidaires to advance research against multiple sclerosis. We have also opened a crowdfunding platform that allows us to collect donations and currently we are at 7,000 euros in donations. For those who wish to make donations, you can find the link on the first page of our blog. Important clarification: we finance our trip entirely from our own funds, not at all through the advertising revenues of our networks or donations, because we give everything to the associations. »
Does sporting activity delay the progression of multiple sclerosis?
The madmen: "A sporting activity is beneficial for the patient. The disease destroys the protective sheath of the nerve called "myelin". And an adapted sports activity, such as cycling, helps to rebuild this famous myelin. »
What was your best encounter so far?
The madmen: "When we arrived in Argentina in Tucuman, which happens to be the world's leading lemon exporting city, we thought we could pitch our tent in a rugby club, but we couldn't because the club's managers had already left. And we found ourselves without a roof, which was annoying because it's a very humid region of Latin America. But in the end we met three Argentinians who had their hearts on their hands and helped us, one of them even welcomed us to spend the night at his house. »
After Buenos Aires, which circuit do you intend to follow?
The unleashed: "The objective is to return to Chile and recover the mythical road, the n° 7, also called the carretera austral, which is the Lakes Road. It is a very natural road that connects the south of Chile to the first part of Patagonia. At the moment, we still have 2,600 km to go to get to Patagonia on the Ushuaia side. We should be there in March normally. »
Can simple bicycle enthusiasts embark on such an adventure just like you?
They are wild: "You have to know that before embarking on this crazy adventure, we were simple amateur cyclists. We just rode our bikes on Sundays every few months. And despite our beginner level, everything goes very well during this bike tour in Latin America. So I think it's within everyone's reach. And the more beautiful the encounters, the easier the journey. »
Find the full podcast of this interview here.
More information
Facebook page: America's madmen
Instagram: the chains
Blog: http://lesdechainesenamerique.neowordpress.fr/