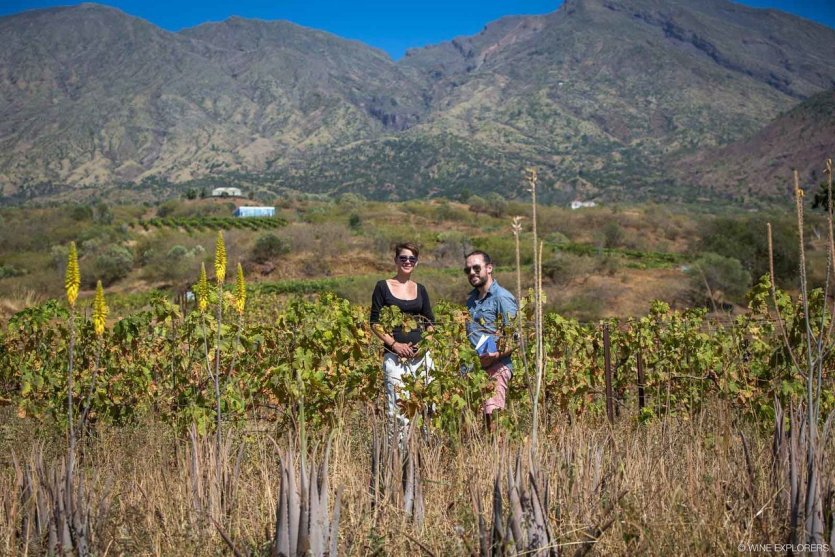 Jean-Baptiste Ancelot's blog is the realization of an unprecedented project: a tour of the world of wine. On Wine Explorers, you can discover a multitude of wines from around the world. And for good reason! He travelled to 88 countries and visited 530 estates, which corresponds to 400,000 km travelled. During this interview, he told us about his incredible adventure.
How did you get the idea to create such a blog?
Jean-Baptiste Ancelot: "It was a crazy idea to visit for the first time all the countries in the world where there is wine in order to have a global idea of what is being done on the planet. We often talk about twenty or so countries, between the old world and the new world, that make the rain and the sunshine in the area, because they are the best known, but if you look a little bit, you realize that there are at least 90 countries in the world that make wine. »
How did you go about discovering these wine countries?
Jean-Baptiste Ancelot: "I set off with five photographers to document the wine planet and meet winegrowers everywhere, from Ecuador to Zimbabwe and of course France. We really went to see what was going on all over the world. It is a long-term project that took place over 4 years, between November 2014 and December 2018. »
Which countries surprised you the most?
Jean-Baptiste Ancelot: "Bosnia and Herzegovina is not easy to access. The roads are complicated and it's still a bit rustic as they came out of the war a short time ago. However, they have a lot of indigenous grape varieties that give sublime wines. So what a nice surprise!
And further still, I often cite the example of Thailand, which fascinated me in the field of wine, since one can make almost two harvests a year there, since we are in the tropics and the vines grow very quickly. And conscientious winemakers have managed to make some superb vintages there, including a 100% raw crémant that was so good that I served it at my wedding last year. It is produced two and a half hours north of Bangkok, on the outskirts of Khao Yai Park, the country's second largest natural park, where there are a dozen wineries
On the Granmonte side, they have a lot of guest rooms, a good restaurant and you can taste a whole range of wines on the spot. They developed wine tourism. "»
Where does this little-known wine-growing tradition in Thailand come from?
Jean-Baptiste Ancelot: "This comes from a gift that had been made to the emperor in the 18th century. It was a few vines donated by a Frenchman and it got a little lost because this is not the first country where the idea of growing vines has been thought of.... But it has remained in the memory and, a few decades ago, some neophyte winemakers decided to revive this wine production. »
But can you really make wine everywhere?
Jean-Baptiste Ancelot: "The world wine map has really been redesigned. Wine can be found from Ecuador to Sweden via Patagonia or Tasmania. We realize that today we can make good wines almost everywhere, not necessarily great wines, but at least wines that are clean, and it's quite impressive. »
You make it sound almost easy to make wine, doesn't it?
Jean-Baptiste Ancelot: "In fact, the weather plays an important role and there are countries where it is really too cold and where it is very difficult to make wine. This is for example the case in northern countries such as Denmark, Sweden or Norway. A few winemakers manage to make wine in the south of these countries, even in the north for Denmark, but it is thanks to the arrival of new varieties that are interspecific, or resistant, new varieties that allow slightly shorter maturity cycles and are above all resistant to cold, humidity and disease
The other reason is that winemaking know-how is better transmitted today. In fact, as long as we have our own vats, know-how and are well equipped, we can make very good wine. »
But aren't some wines treated more than others?
Jean-Baptiste Ancelot: "To make wine production possible, in certain countries where humidity is high, particularly at the equator, the vines are sprayed with a lot of spray in quantities three to four times higher than elsewhere. It's not very environmentally friendly. But beyond these unfortunate environmental aspects, it must be said that the vine grows quite easily everywhere nowadays. »
What is the best terroir for making wine?
Jean-Baptiste Ancelot: "The definition dates back to the dawn of time... The soil must be poor because the vine is vigorous while being very lazy, so if the soil is fertile, it will remain on the surface and produce large grapes that will be of low quality and we will obtain good wine without more. But if you have poor soils, you force the vine to fight to find nutrients in the soil and with this vigour, it will produce much better quality wine.
It is also necessary to have a certain thermal amplitude between day and night to have grapes that can ripen in the gentlest possible way. »
What can we discover on your blog today?
Jean-Baptiste Ancelot: "There are articles by country on wine. All articles are in English and French because we have a large English-speaking community. The site will soon have a commercial vocation where you will finally be able to find wines of the world for tasting. »
You have also published a book on wine in the world, what can we learn from it?
Jean-Baptiste Ancelot: "My book Wine Explorers, le premier tour du monde du vin (éditions Omnisciences) is a hybrid between the guide, the travel journal and the atlas. There is one chapter per wine country and it is very varied, from Mexico to Kazakhstan or Zimbabwe. And as I have travelled with professional photographers, some very beautiful pictures illustrate the book. It is aimed at both wine specialists with in-depth knowledge of wine and wine enthusiasts who are new to wine. »
To listen to the full podcast of this interview it is here
More info at: http://www.wine-explorers.net/fr