Population: 738,000
Density: 44 inhab/km².
Surface area: 16,942 km².
Prefecture : Limoges

Number of municipalities: 747
Highlight: Mont Bessou (984 m)
Main rivers: Vienne, Creuse, Dordogne
Departments : Corrèze, Creuse, Haute-Vienne
Region: since 1 January 2016, Limousin has merged with the Poitou-Charentes and Aquitaine regions. At the time of printing this guide, the provisional name of this new region is Aquitaine-Limousin-Poitou-Charentes. Le Petit Futé has chosen not to merge the regions in order to be able to continue to better highlight the assets of the Limousin and to respond to a tourist and cultural approach more than an administrative one.
Prepare for your trip en Limousin
Transportation
Book a train

comp_pv_maritime
Accommodations
Find a hotel

Holiday rental

Airbnb rental
Services / On site
Airbnb experiences

Book a table

Activities & visits
Pictures de Limousin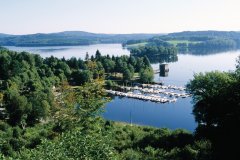 Discover the bike tours en Limousin