Warm and festive, modern and traditional, welcoming and gourmet, Liège has many assets to offer! And Wallonia's economic capital has nothing to be ashamed of in terms of its architectural heritage: the palace of the Prince Bishops of the late 16th century, Place Saint-Lambert, the half-timbered houses typical of Wallonia, the Grand Curtius and its red, green and gold facade... The tourist guide of Liège takes you to discover all these architectural wonders! A little far from the city frenzy, the Hors-Château district offers a welcome break with its small cobbled and winding streets, and its brick walls covered by vegetation. For a breathtaking view of the city, you must climb the 375 steps of the Bueren mountain stairs, a bucolic walk that continues on the Coteaux de la Citadelle. But Liège is also a contemporary and cosmopolitan city, the Guillemins station or the futuristic Tour Paradis are just some of the examples. And as the Christmas season approaches, the "fiery city" lets itself be immersed in the magic of Christmas. It is home to the largest and oldest Christmas village in Belgium! But it is all year round that you can come and taste the delicious specialities of Liège: waffles, cannoli, péket...
When to go to Liège?
Between June and September, temperatures gradually soften and rains are less frequent. Spring and autumn can be very pleasant in the fiery city, even if the rainy periods remain very present. A few days getaway in December can be an opportunity to see the markets and Christmas activities. Indeed, the Liège Christmas market is the largest, but also the oldest in Belgium
So when to go to Liege? The best time to go to Liege is ideally in summer.
Weather at the moment
Weather all year round
The climate of Liege is continental with a slight oceanic influence. Winters are cold and summer days can be very hot, while keeping some mildness due to humidity. June, September and December are the rainiest months. July and August are the hottest months in Liege.
Budget
The cost of living in Liège is comparable to that observed in France (in the provinces rather than in Paris). Restaurants are generally a little more expensive than in France, but the portions are more generous. If wine is more expensive than in France, you will save money by choosing beer. The hotel prices in Liege are essentially the same. Tipping is not mandatory, but always appreciated.
Procedures
No visa is required to visit Liège. For European Union nationals and Swiss citizens, a valid identity card or passport is sufficient to travel to Belgium (note: Belgium does not recognise the validity of identity cards automatically extended from 10 to 15 years) ; for Canadian nationals, it is necessary to have a passport. Unaccompanied minors must be in possession of a permit to leave the country to travel to Liège.
Health
No vaccine is required to travel to Liege. With a real hospital overcapacity, Belgium enjoys excellent sanitary conditions and no high-risk diseases are to be reported in this part of the world. However, check that your vaccines (DT Polio, etc.) are up to date. No problem either concerning water: it is drinkable in Liege.
How to go to Liège? Our advice & tips
Organised trips

Going alone

Moving around
Some specialists in organised travel offer tours throughout Belgium with excursions planned in Liège, allowing you to discover architectural and historical heritage according to a itinerary marked out in advance. The advantage of this type of offer is that it allows you to benefit from advantageous rates in terms of transport and accommodation.
Discover our selection of travel agencies for this destination
It's easy to get to Liège. All you need to do is book a train ticket (between 2h20 and 2h50 from Paris or Lille) or plane ticket (the earlier you plan your departure, the cheaper you will get out of it) and accommodation, also in advance. If you have a personal car, be aware that Belgium's roads are in very good condition and make access to Liège very easy.
To travel in Liege, there will be no shortage of means of transport, between bus lines, taxis, bicycles and of course walking (the city centre is pedestrian!). Public transport is essential and numerous in the city. To reach the surroundings of the city, you can also rent a car.
Prepare for your trip Liège
Transportation
Book a ferry

Car Rental

Taxi
Accommodations
Find a hotel

Holiday rental
Services / On site
Book a table

Activities & visits
Pictures Liège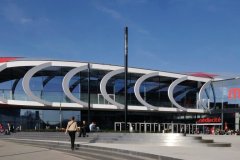 Discover Liège
Practical information