Siem Reap
Travel Guide

Book a flight

Find an accommodation
In northwest Cambodia, near the central Tonle Sap lake, the destination of Siem Reap attracts many tourists who come to admire the Angkor site, a remarkable testimony to the Khmer civilization, its natural environment and its cuisine. You will discover the unparalleled flavours of spicy green papaya salad, traditional dishes around chicken or Amok, Cambodia's national dish. In Siem Reap, the main attraction is the visit to the famous temples of Angkor, a city listed as a World Heritage Site, including the most famous of them, Angkok Wat (12th century), considered the eighth wonder of the world. A natural heritage site is Tonle Sap Lake, the largest lake in Southeast Asia, which exudes a special charm, especially when you visit the floating village on its shores during the rainy season. The village was then flooded and people moved by boat from one building to another. But to immerse yourself in the daily life of the premises and enjoy a colourful show and a really warm atmosphere heading for the markets. The one in Phsar Chas is the most remarkable with an incredible variety of products on the stalls of eels from rivers with mangosteens and other rambutans, not to mention many products imported from neighbouring Thailand. Don't leave without your favorite travel guide.
Read more
Suggested addresses Siem Reap
When to go to Siem Reap?
When to go to Siem Reap? You can visit Siem Reap all year round, but the driest period is from November to March, so plan your stay then to avoid tropical rains and enjoy warm weather. The high tourist season takes place from November to February. Few tourists still in November, making this month the best time to visit Angkor. Then, it spoils very quickly, the worst is by far the Chinese New Year where all Asia converges towards the Khmer city. The advantage is that this period (especially December, January and February) is relatively cool, especially at night. The average tourist season is from March to May. This may be the most unpleasant time. It is very hot (the worst being in April), there is a lot of dust, and the tourist attendance at Angkor is not negligible. So avoid it. The low tourist season is from June to October. The rainy season is not what we often believe: it only rains (very hard) for a few hours a day and usually at the end of the day. The show is then superb, wherever you are. The rest of the time, it's hot. The end of the rainy season is one of the prettiest there is: it almost stops raining and everything is green and flowery, and there are not many tourists yet... The best time to stay in Siem Reap is therefore around the months of October and November.
Weather at the moment
Weather all year round
The region benefits from a variable tropical climate. Cambodia's hot and humid climate is conditioned by the action of monsoons, which determine the two seasons, dry (from November to the end of May) and humid (from the end of May to October). During the dry season, the weather in Siem Reap and Angkor is characterized by good sunshine and mercury ranging from 15°C to 35°C. In the middle of the rainy season, however, Siem Reap records average temperatures of 27°C, which the monsoon can make you feel higher
Budget
The vast majority of Cambodia's population is poor, but the cost of living for foreigners is higher than in other Asian countries. For equal benefits, Thailand, more developed is also cheaper. A stay in Siem Reap is relatively expensive: everything is organized so that tourists spend as much money as possible in a minimum of time. However, by organizing in advance and being smart, smart travellers can get away with it all. Among the different types of tickets for temples, a three-day and three-night pass to Siem Reap is recommended.
Procedures
To travel to Cambodia, and therefore to Siem Reap and Angkor, a tourist visa will allow you to stay there for one month. Theoretically, this Cambodian tourist visa should cost you US$30 upon arrival (US$32 if you arrive without a passport photo, or US$38 if you opt for the e-visa on the Internet). These are the fares charged at Phnom Penh and Siem Reap airports (neighbouring Angkor), but when crossing a land border crossing, an average of US$35-40 is paid (officials are poorly paid...)! To avoid these shenanigans, it may therefore be preferable to obtain a visa in advance.
Health
While no vaccinations are required to travel to Angkor or to enter Cambodia, some are recommended. There are risks related to the environment, insects and animals, food and drink... It will all depend on the type of stay you plan to make. If you decide to travel through the jungle, sleep under the stars, cross swamps or wilderness areas, we advise you in these cases and as a priority to vaccinate against viral hepatitis A and B, diphtheria, tetanus, poliomyelitis, typhoid, Japanese encephalitis (prolonged stay in rural areas) and rabies ("adventurous" tour). As for drinking water in Angkor, we would prefer to bring mineral water bottles.
How to go to Siem Reap? Our advice & tips
Organised trips

Going alone

Moving around
Siem Reap is a leading destination for tourism specialists in Southeast Asia. Cambodia is offered by tour operators and specialized travel agencies through different trips and themes: cultural, historical, discovery, trekking, idleness. You can also choose for the formula that suits you, more specifically oriented towards Angkor: guided tours, individual trips with a French-speaking driver-guide, itineraries to compose...
Discover our selection of travel agencies for this destination
As long as you are planning your stay alone, go in low season to enjoy flights that are half as cheap as in high season. If you wish to land directly in Siem Reap, just next to Angkor, you will make a stopover in Phnom Penh. It should be noted that the price variation depends on the company borrowed but, above all, on the time required to book. The same applies to housing: anticipation means economy. Small budgets will prefer inns and hostels.
We drive in Siem Reap and Angkor in touk-touk, two-seater covered carriages, comfortable and pulled by motorcycles, and taxi-motorcycle first. It is forbidden for drivers to guide you through the temples just as it is forbidden for guides to use you as a driver. Each profession is thus protected. The electric bike is another option, available for rental by the day. Taxis, which can also be rented by the day. And finally the car, authorized in the park.
Prepare for your trip Siem Reap
Transportation
Car Rental
Taxi
Tailor-made trip
Accommodation & stays
Find a hotel
Holiday rental
Services / On site
Book a table
Activities & visits
Siem Reap travel inspiration
Pictures Siem Reap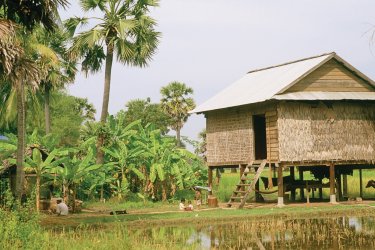 Discover Siem Reap
Practical information
Other destinations nearby Siem Reap