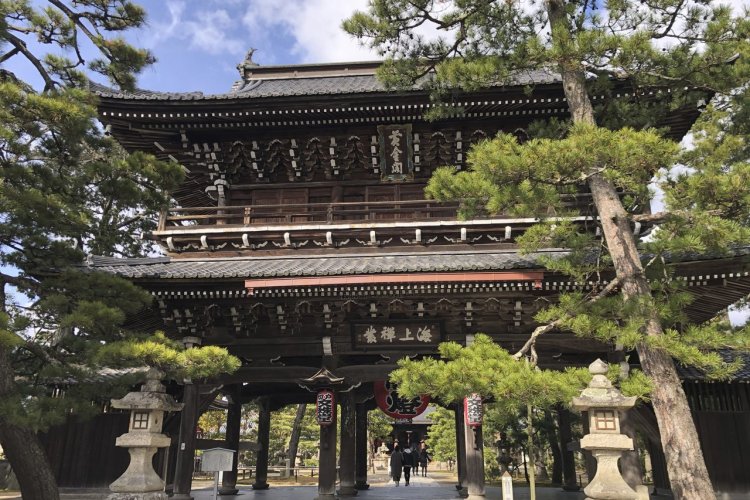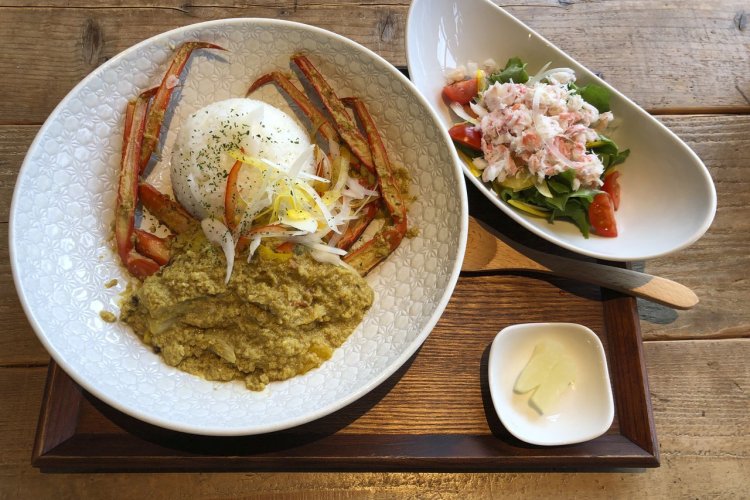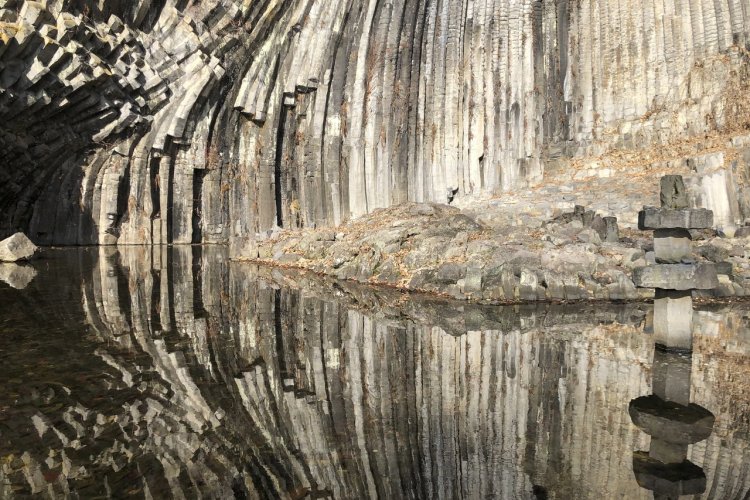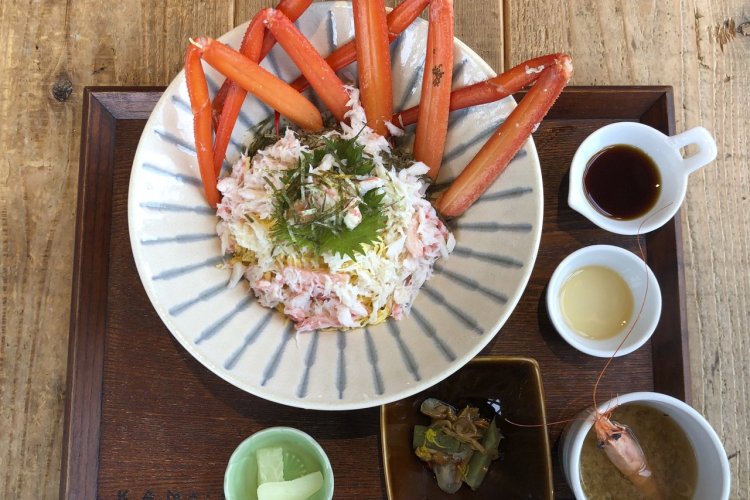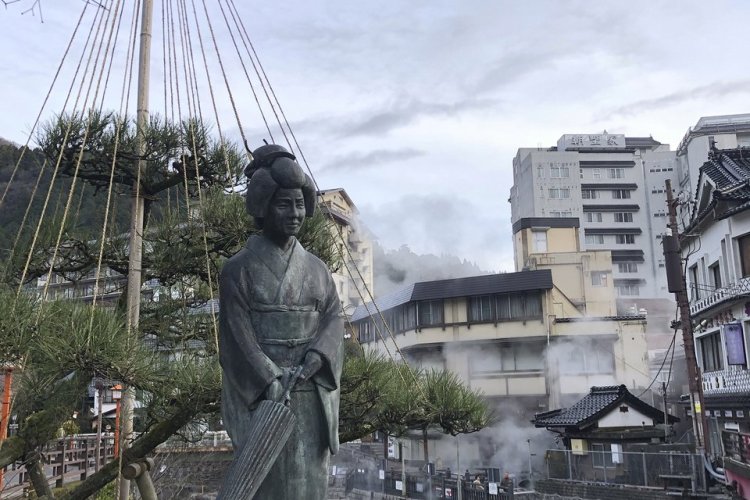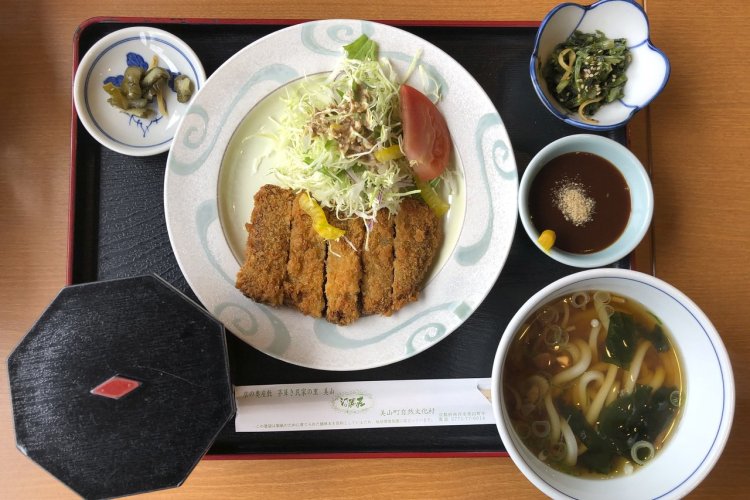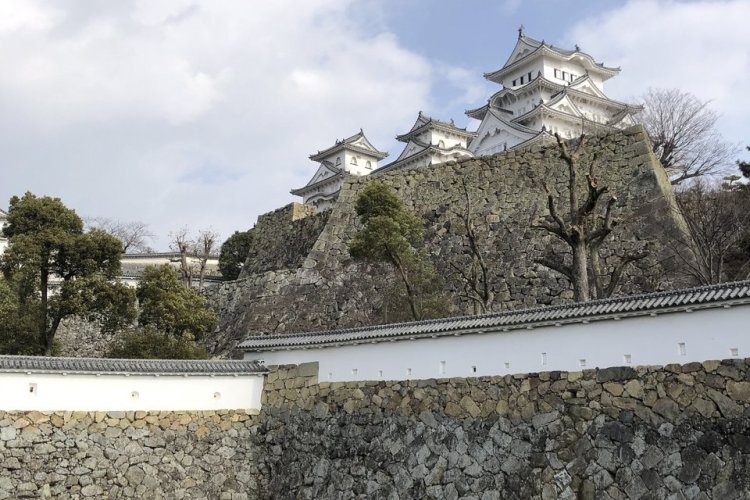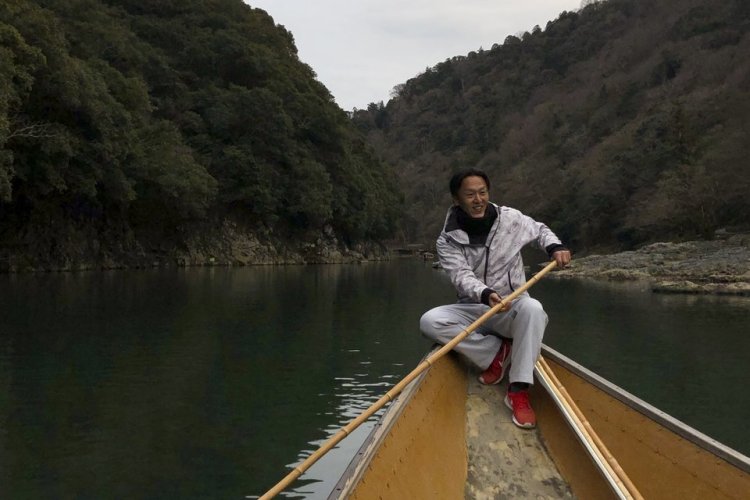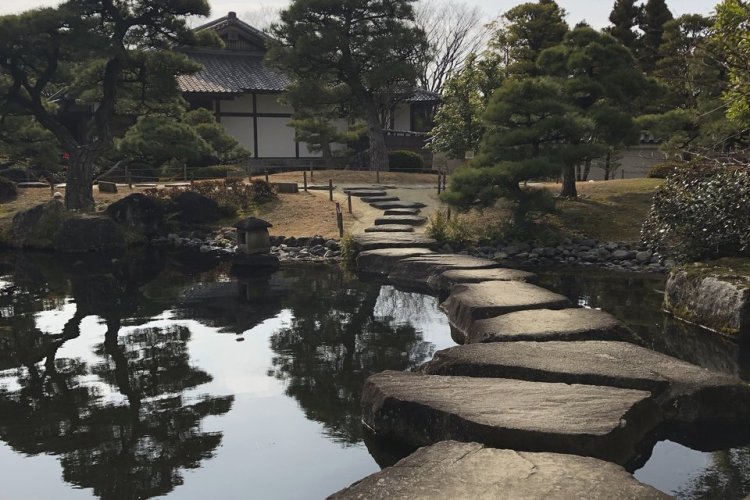 Hyogo is a prefecture located west of Kyoto, which is full of new experiences and cities with unsuspected charm. Hyogo Golden Route is a tour that allows travelers to see a little bit of all the facets of this prefecture. Kami Town, literally "the city of deities" is bordered by the sea, with the river on one side and large forests on the other. The Saruo-daki waterfall descends from these forests to the Yada-gawa River, which then flows into the sea
In Genbudo Park you can admire long, atypically shaped rocks and caves, created by lava flows, waves and wind. Located near the coastal town of Toyooka, about two and a half hours drive from Kyoto, these caves will stand in front of you and plunge you into an almost fairy-tale world. The basalt stones of various colors are reflected in a small body of water, a magical moment guaranteed when the sun is shining.
The prefecture of Hyōgo is famous for its thermal springs, especially Yumura Onsen and Kinosaki Onsen. The first city is rather quiet and not much frequented by international tourists. The tradition of this small village is to cook eggs in the hot springs, which gives them a particular taste and specific properties. As for Kinosaki Onsen, the atmosphere is very picturesque. With friends, family or as a couple, one comes to enjoy the seven onsen that this charming little town has to offer. All of them, or almost all of them dressed in yukata (light summer kimono), for the most gifted you can put on geta (traditional shoes); an experience worthy of deep Japan.
South of Hyogo Prefecture, you can visit more modern cities such as Kobe and Himeji. Kotonohako Kobe is a two-minute walk from Shin-Kobe Station. The large building houses a myriad of shops including Hakkutsuya, where you will find the prefecture's souvenir shop Hyōgo and the brand new Kobe Meat Museum, which also serves as a restaurant. Himeji is famous for its castle (whose towers still exist) which is one of the twelve still existing in Japan and has been a UNESCO World Heritage Site for almost thirty years. The complex stands proudly in the center of the town. White and black, it was inhabited by many prestigious families until 1868. Right next to the castle is the Kouko-en garden, a perfect place to enjoy nature and its tranquility.
Where to eat?
In the small coastal town of Kami, you will be able to taste local crabs at the Kan-Ichi Restaurant. The presentation would make more than one crab fan dream
In Izushi there are not one, not two, but more than fifty soba restaurants waiting for you, because it's "the local speciality", so it's a must to try the famous Izushi Soba. In Japan, contrary to our habit, it is not uncommon to eat cold noodles. These noodles, made from buckwheat flour, are mostly eaten with tempura, a little wasabi and a little broth.
Where to sleep?
Yuamu is a hotel with a very traditional appearance from the outside, but once you push the doors, the mix of modern and old finally offers a most successful marriage. The state of the art rooms offer a restful sleep with a magnificent view of Shin onsen city. Tokiwa bekkan is a traditional hotel more commonly known as ryokan; it is an establishment with character reminiscent of ancient Japan. You will sleep on futons above the tatami, and if you wish, the meal will be served in your living room.
Kyoto
Kyoto Prefecture has a strong link with water, whether it is rivers, sea or onsen; water is omnipresent. In the small village of Ine, a sightseeing cruise awaits you, it allows you to tour the different places and observe the landscape in a different way. The Hozo-gawa river changes its face according to the seasons, and deserves to be walked there because one can, if one is lucky, see some monkeys which decided to walk outside the Iwatayama park which is reserved for them.
Arashiyama is a district located in the west of Kyoto city, rightly nicknamed the "nature district". The mountains are adorned with a beautiful pink in the spring thanks to cherry trees, and change to a fiery colour in the autumn. Formerly a place of strolls for the imperial court, tourists now flock from the Togetsukyo Bridge. Amanohashidate is a city full of charm; its Chion-ji temple, Monji-do, is worth a visit. This place gives the impression of taking a trip back in time. There are many students and especially people who want to pass their exams and come to pray.
A surprising silk museum is hidden in the town of Yosano, located about thirty minutes from Amanohashidate. It is possible to make one's own experience. Hand weaving, bracelet braiding, kimono fitting. For young and old alike, everything is done to share this ancestral art.
Where to sleep?
Yosano Sou is one of the few inns, where you can sleep in the small village of Ine. Most of the rooms have a small balcony with a breathtaking view.
Hauza Kyoto Gojo-Karasuma is a modern hotel with all the facilities and comforts you need for a pleasant stay. It is conveniently located and ideal for sightseeing in the city.
Where to eat?
The Taikyokuro Agura restaurant is located a few steps away from the Amanoashidate temple. On the menu, udon and other traditional dishes based on rice, chicken and fish served in a traditional setting.
Kajika Sou is located on the outskirts of the small town of Miyama. This large complex consists of a hotel, restaurants and onsen. Located next to the town of Miyama, the menu will be composed of game meat only. Fried, in soup, in sauce, you will be able to taste deer as well as wild boar.
A sweet tooth? Miyama Milk Studio offers you ice creams made from the milk of local cows. The tastes can sometimes be confusing: milk, soy, red beans..
More information on the websites Another Hyogo, Kyoto Tourism and on the Facebook page