Oslo, the capital of Norway, is a green city, embraced by its fjord, nestled in majestic forests. It is undoubtedly one of the most pleasant capitals in the world. A city well anchored in everyday life, the vestiges of its history are nevertheless absent. The Kon-Tiki Museum celebrates the greatness of the Viking Empire, the Akershus Fortress traces the glory of the Scandinavian kings and the courage of the Norwegian resistance during the Second World War. As for the museums of Munch, Vigeland (Gustav and Emanuel) and Ibsen, they bring to light the geniuses of their time in all their splendour. The city centre, and in particular Karl Johans gate, has preserved the heroes of the past as if on glossy paper: many old restaurants and cafés seem to have frozen in time. The city bears the imprint of that dark period when Christiania was Danish or Swedish and proudly looks up as Oslo, the Norwegian capital. A multicultural city (you can visit the remarkable Intercultural Museum), this destination promises pretty surprises and beautiful encounters, on every street corner... or on a plate! Don't hesitate any longer, thanks to the Oslo tourist guide, go and meet him!
When to go to Oslo?
When to go to Oslo? Maybe all year round. Oslo is a good capital with many activities and can be visited all year round. The most pleasant time to visit Oslo is however between May and September, when the weather is mild and all tourist attractions are open. In addition, you will be able to leave the city very quickly and practice sports activities: kayaking in the fjord, hiking... Winter will be good for skiing and sliding sports. The Christmas period is particularly worth a visit. The atmosphere is unique, festive, almost magical and the capital is adorned with many decorations.
Weather at the moment
Weather all year round
Oslo's climate is a humid continental climate. Although winters are very cold, and temperatures often drop below zero, the climate is still a little temperate due to the Gulf Stream warming the Atlantic Ocean. Thanks to the proximity of the Norwegian capital to the sea, the climate in summer and very mild, and the very pleasant temperatures to visit the city (around 20°C during the day).
January

-7°C
-2°C
February

-7°C
-1°C
March

-4°C
4°C
April

1°C
10°C
May

6°C
16°C
June

10°C
20°C
July

13°C
22°C
August

12°C
21°C
Sept.

8°C
16°C
October

3°C
9°C
Nov.

-1°C
3°C
Dec.

-4°C
0°C
Budget
The currency in Oslo is the Norwegian krone. In town you will find many banks. In addition, BC is generally accepted in Oslo. While the budget often depends on accommodation, Oslo is a very expensive city. It has repeatedly held the title of the most expensive capital in the world. As a tourist, such a standard of living can be disabling: food, especially meat, can be 50% more expensive than in France (even compared to Paris).
Procedures
EU nationals can stay in Norway for three months without a visa, with only a valid identity card or passport. Beyond these three months, you must apply for a residence permit at the police offices of the city of residence. Good to know: Norway, unlike its neighbours, is not part of the European Union. While it has integrated the European Area and the Schengen Area, it does not belong to the EU.
Health
No vaccinations are required to travel to Oslo and a traditional travel pharmacy will do. Norway has a shortage of doctors, so the country has used foreign doctors, especially French ones. Some patients may even be paid for travel and treatment by the state to go to Sweden or Denmark for treatment....
How to go to Oslo? Our advice & tips
Organised trips

Going alone

Moving around
Many tour operators offer stays in Oslo. The most frequent ones are escapades (3 days and 2 nights or 4 days and 3 nights) and long weekends. In Oslo, since the place is suitable, there are quite a few cultural trips, but the prices are higher. However, apart from more economical packages, it is better to visit Oslo independently
Oslo, despite its large surface area, is easily visited alone. The centre, in particular, is perfectly accessible by foot. On the security side, first of all, it is a very safe city for everyone, men, women, families; and Norwegians have a very strong sense of civic responsibility. Remember to book your accommodation in advance (especially in high season), and let yourself be wandered around the city.
Moving to Oslo is quite simple. If the city centre is a pleasant place to walk, public transport criss-crosses the city and allows you to move around quickly. Ruter As manages public transport in Oslo and Akershus. Urban buses, regional buses, trams, subways (T-banes), ferries and local trains are part of Ruter's ticketing and fare system.
Prepare for your trip Oslo
Transportation
Book a ferry

Car Rental

Taxi
Accommodations
Find a hotel

Holiday rental
Services / On site
Book a table

Activities & visits
Pictures Oslo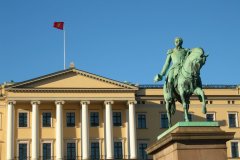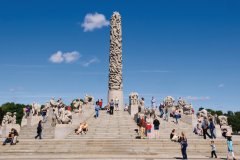 Discover Oslo
Practical information