Willkommen in Hamburg! The second largest city in Germany, the third largest port in Europe, Hamburg the prosperous city is both a vibrant metropolis and one of the 16 Länder that make up the Federal Republic of Germany. Its prestigious past can be seen as you travel through the city, a mosaic of bourgeois Belle Époque architecture and urban planning specific to industrial port areas, flourishing from its lively historic centre. Its metropolitan size and its rather provincial lifestyle make it very appealing. The Hamburg tourist guide invites you to discover the many facets of this Nordic city, which is not unlike London or Amsterdam, to sail from the sumptuous banks parc de l'Alsterto the banks along the Elbe and its fish market, taking you to the largest red district in Europe where pints of beer are served day and night, but also to the many excellent museums in Hamburg such as the Museum of Fine Arts. At once merchant and artist, bourgeois and avant-garde, maritime and depraved, Hamburg reserves many surprises for those who visit it, gradually revealing its proud and singular character while distilling a contagious energy. A guided tour of the monuments of Hamburg and its old city will allow you to immerse yourself in its past, especially during the Second World War. But there is something else at stake here, Hamburg is being lived and visited. It is a city where everything comes to life like its miniature museum; the miniatur-Wunderland. You will enjoy a stroll around the artificial lake of Arstel to admire the beautiful residential districts, which are among the most popular. There are many parks there and you feel safe when you walk the streets. Hamburg is becoming more and more connected. Indeed, the "gate of the world" manages to find a balance between the infernal activity of its port and the serenity of life in its heart. This German city is the ideal place for a city trip with friends for a weekend! Moreover, it has been classified as the best city to celebrate according to a very serious study by Hostelworld. Not surprisingly, because the inhabitants are known to be very welcoming, the public transport system is designed to be efficient and the cost of living is lower for night outings. The Sankt Pauli district is known all over the world for its young and rock spirit! if you want another reason to choose Hamburg as your next destination: its architectural audacity! Hamburg is a joyful marriage between the 19th century neo-Gothic facades and the new buildings in a much more modern style. The Elbe Philharmonic is a perfect example. But also, in the centre of Hamburg, its city hall, the Rathaus. This building built between you will impress you with its imposing facade. Visit the city through its narrow streets, and continue with the must-see sites. There are many tourist attractions if you know them. Your travel guide will be able to accompany you and the tourist offices.
When to go to Hamburg?
When to go to Hamburg? The Nordic city can be visited at any time of the year. Of course, the summer season is more pleasant, especially for walking and boat trips. Rainfall is about equal every month, but it is naturally colder in winter. Summer is therefore the best time to visit Hamburg (especially since the heat is rare). Advent, the pre-Christmas period, is like everywhere else in Germany a propitious time, due to the excitement that surrounds the city, which is marked by its Christmas markets. Autumn brings beautiful colours to the trees, and the arrival of spring in April makes the inhabitants particularly cheerful... a tourist visit at this time will make you fall under the charm of this region. Always remember to bring a map of the city, because it is huge. So when to go to Hamburg? All year round, with more favours for the summer. Indeed, your walks will be even more pleasant even if autumn brings a romantic touch. Prepare your stay in advance.
Weather at the moment
Weather all year round
Hamburg's weather, which is subject to an oceanic climate, is influenced by strong westerly maritime winds, giving the city warmer temperatures than its hinterland, which is more continental: cooler in summer and warmer in winter. It often rains and not necessarily for long, the sky is often filled with grey clouds. As for temperatures, Hamburg records an average of 17.4°C in summer and 1.4°C in the middle of winter, with a few weeks of snow not uncommon. Visiting the area in winter may seem unusual, but major events will warm the heart.
January

-2°C
2°C
February

-2°C
3°C
March

-1°C
7°C
April

3°C
13°C
May

7°C
18°C
June

11°C
21°C
July

13°C
22°C
August

12°C
22°C
Sept.

10°C
19°C
October

6°C
13°C
Nov.

3°C
7°C
Dec.

0°C
4°C
Budget
In Hamburg, the cost of living is a little lower than in France. The prices of restaurants in Germany are particularly lower, while the price of petrol is roughly equivalent. On the accommodation side, you will find correct addresses at rather honest rates, taking care to book in advance. Your Hamburg guide will help you find accommodation addresses. If your budget allows it, it is possible to find an escort to guide you in the visit of the region. The interpreter guides know the best places to visit the surroundings. They propose to make you discover the region, especially the monuments on the heritage list, without forgetting a few anecdotes.
Procedures
No visa is required to travel to Hamburg. As a member of the European Union and the Schengen area, Germany allows any EU citizen to stay or reside on its territory without coercion. A valid identity document is sufficient. The French driving licence is also valid on German soil. No particular administrative hassle to get to this northern German city.
Health
No special vaccinations will be required to travel to Hamburg. This part of Europe is absolutely not a risk area and has no particular epidemic. The hospital infrastructure is very well developed. As for water, if it is drinkable in Hamburg, it is always a good idea to drink water from mineral water bottles.
How to go to Hamburg? Our advice & tips
Organised trips

Going alone

Moving around
There are specialist travel agencies in this part of Germany that can tailor a stay to suit your needs or theme to discover the attractions of Hamburg. It should be noted that by opting for this type of service, you can often benefit from advantageous offers combining transport and accommodation.
Hamburg can easily be reached by rail or air. It should be noted that the price variation depends on the company borrowed but, above all, on the time required to book. To obtain attractive rates, it is essential to do so well in advance. If you can, consider buying your tickets six months before departure! You can also drive to Hamburg with your own vehicle, as Germany's roads and motorways are very well maintained.
If Hamburg once had an efficient tramway network, now there is more than.... 100 years since it was no longer in service! To get around the city, you can use the four metro lines, the dense bus network and of course the taxi. Walking is also recommended, as is cycling. Use these last 2 means of transport to visit the city's historic centre and other tourist attractions. On occasion, visit the St Pauli district, where you will find many street art frescoes everywhere. You will find more details in the tourist information offices
Prepare for your trip Hamburg
Transportation
Book a ferry

Car Rental

Taxi
Accommodations
Find a hotel

Holiday rental
Services / On site
Book a table

Activities & visits
Hamburg travel inspiration
Pictures Hamburg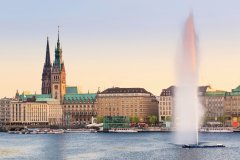 Discover Hamburg
Practical information