While it has long remained in the shadow of the imposing Carthage, Tunis is now the undisputed and true beating heart of the country. Its inhabitants are at least three million to travel each day through its frenetic arteries, in a permanent crossroads that can make you dizzy. Both the economic and political capital of the country, Tunis is modern as much as it respects traditions: its avenues are furnished with buildings with Haussmann architecture, while in Africa and Victory Square, it is modernism that prevails. The Tunis tourist guide will take you by the hand and take you through the whirlwind of spicy smells that is the medina, then in the direction of the "Berges du Lac", these new and surprising districts, before indicating you the direction of Habib-Bourguiba Avenue. We may go to a performance evening at the Étoile du Nord, after having seen the exceptional mosaic collection of the Bardo Museum and let time pass in the Belvedere Park. Between history, mysteries, gastronomy and fascinating monuments, Tunis has many secrets to reveal... for those who know how to search!
When to go to Tunis?
When to go to Tunis? If in the seaside resorts the high season is in July and August - the rates are then higher in terms of hotels - Tunis is rather spared by the phenomenon without being depopulated. The heat is very hot throughout the summer in the capital and it is not uncommon for the thermometer to continue to display 30°C in October. To avoid suffering from this implacable climate, the best season to leave for Tunis is therefore late autumn and early spring. But in the end, to the question when to go to Tunis, there is only one answer that is worthwhile: all year round!
Weather at the moment
Weather all year round
The weather in Tunis, which depends on a Mediterranean climate, is more pleasant than the desert areas of the interior and south of Tunisia. Rainy days are rare (7 days on average in January) and Tunis temperatures range from 8°C in January-February to 34°C in the middle of summer.
January

7°C
15°C
February

7°C
16°C
March

9°C
18°C
April

11°C
21°C
May

14°C
25°C
June

18°C
29°C
July

20°C
32°C
August

21°C
32°C
Sept.

20°C
30°C
October

16°C
25°C
Nov.

12°C
21°C
Dec.

9°C
16°C
Budget
The currency used in Tunis is the Tunisian dinar. In general, life in Tunisia is cheaper than in France. With a tight budget and an adventurous spirit, you can stay in town for a handful of dinars: everyday consumption items, food, coffee drinks are two to ten times cheaper than in France. In the centre of Tunis, you will pay for a drink around a dinar.
Procedures
To travel to Tunis will require a valid passport at least during the stay, a return or continuation ticket as well as sufficient means of payment for stays up to three months. For Europeans, no visa is required for stays of less than three months in Tunis and Tunisia. Please note that if you are travelling with a person who is not a citizen of the European Community, check before you leave to see if a visa is required. If you are planning an escapade to Algeria from Tunisia, please note that the visa required for Algeria must be requested from the Algerian consulate in your place of residence. It is issued by the Algerian consulate in Tunis or Gafsa only to foreign residents in Tunisia. So take care of all the formalities before your trip to your place of residence.
Health
Although health conditions in Tunis are different from those in France, the dangers remain minimal. It is nevertheless recommended to be vaccinated against hepatitis A and to check if your vaccines are up to date (DT Polio...). Depending on the length of your stay and the places you go, it is advisable to protect yourself against rabies, as a preventive measure, but also against hepatitis B and typhoid. Always drink bottled water on site, at the expense of tap water.
How to go to Tunis? Our advice & tips
Organised trips

Going alone

Moving around
Tunisia has long been well known by French tour operators, and is a destination very popular with French-speaking tourists. While it is entirely possible to discover Tunis as part of an organized tour, it is worth noting that the capital is often only one stop on a larger tour. Nevertheless, it will be easy to find many weekend offers to discover Tunis, usually in the form of a package including transport and accommodation. Tunis, by its dimensions, its cultural and gastronomic offer, lends itself very well to a trip of a few days.
Discover our selection of travel agencies for this destination
The average price of a flight to Tunis from France in high season is around 300 to 500 €, while in low season, there are tickets ranging from 150 to 350 €. Please note that these are indicative rates and that the price variation depends on the company borrowed but, above all, on the reservation time. To obtain attractive rates, it is essential to do so well in advance. Remember to buy your tickets six months before departure!
To move around Tunis, we will have the choice between the countless taxis (beware, unlike France, when you see the little green light on the taxis it means they are taken, and when it is the red light, they are free!), the metro - which is actually a tramway named, because of its color, the "Green Serpent" - and the bus network, on which we easily go to the four corners of the city
Prepare for your trip Tunis
Transportation
Book a ferry

Car Rental

Taxi
Accommodations
Find a hotel

Holiday rental
Services / On site
Book a table

Activities & visits
Pictures Tunis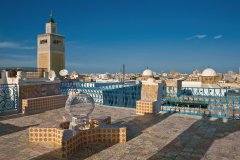 Discover Tunis
Practical information