Sydney's must-see attractions
Although the city is very young, a little over 200 years old, Sydney is simply remarkable. A kind of general harmony emerges from it. With the sweat of their brow, the settlers built one of the most cosmopolitan cities of our century: everything mixes in Sydney. The mythical Opera House and its bay prove to us that natural resources and human architectural audacity can be in osmosis. Punctuated by many large parks with impressive fauna and flora, you will discover the city's nature and concrete with delight. Get ready to discover Sydney the wonderful, Australia's star city that lights up the entire southern hemisphere.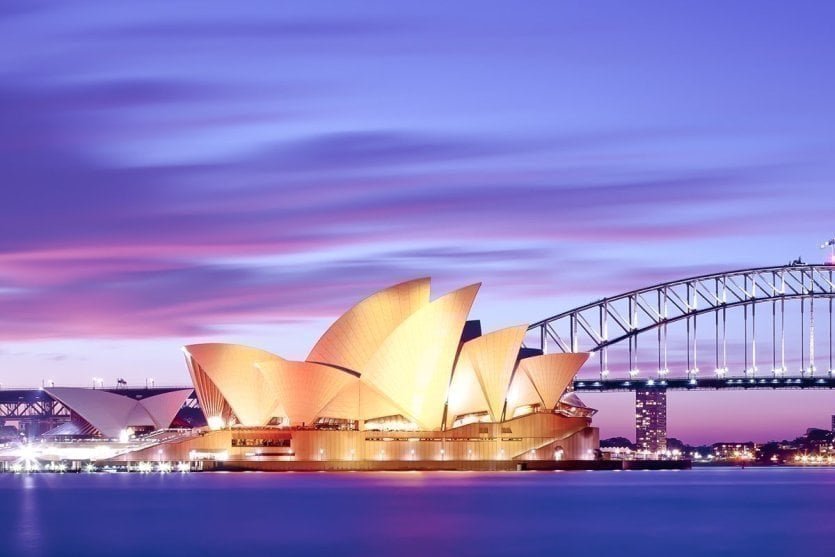 Sydney Tower Eye
Also known as the "Centrepoint", this tower, which rises to an altitude of 305 metres, is the highest in Sydney and the second highest in Australia. Completed in 1981, it is even one of the highest towers in the southern hemisphere! Located in the heart of the business district, this building will offer you a unique 360° view! You will be able to discover all the secrets of the city and the port thanks to a view as far as the Blue Mountains! Inside, you will find a rotating restaurant and bar that rotate every 70 minutes. Ideal for sipping a drink or eating kangaroo while enjoying the breathtaking view!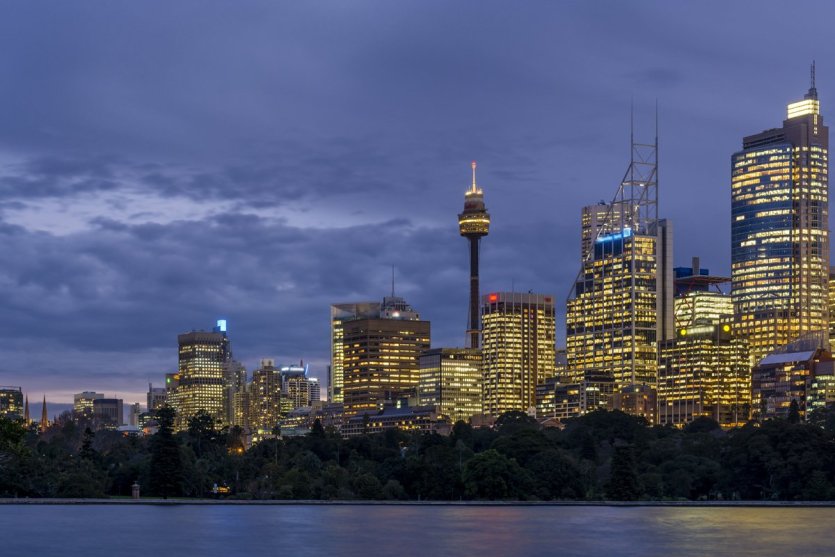 Sydney Opera House

With its unique architecture and geographical location close to one of the most beautiful bays in the world, Sydney Opera House is the monument not to be missed! Symbol of Australia, it was Jorn Ultzon, a Danish architect, who won the competition organised by the city. After many years of construction, Sydney Opera House opened in 1973. Don't think that inside there's only a huge opera house! This building is a true cultural centre where, on average, 2,000 events take place every year. This makes it one of the most dynamic cultural centres in the world!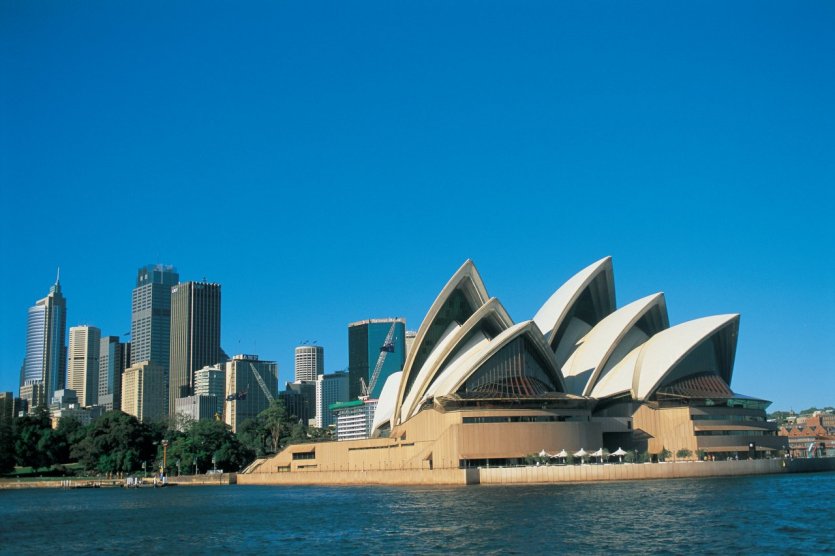 Saint Mary's Cathedral

This cathedral of neo-Gothic architecture is one of Australia's most important historic buildings. Designed by renowned architect William Wilkinson Wardell, who also designed other imposing buildings such as the University of Sydney, this religious building was built from yellow sandstone blocks. That explains the very special colour. It took 100 years to complete this jewel! In 2000, the two large arrows were added, making this cathedral one of the highest in Australia! Inside, you feel in a cocoon as the yellow sandstone used brings a touch of warmth.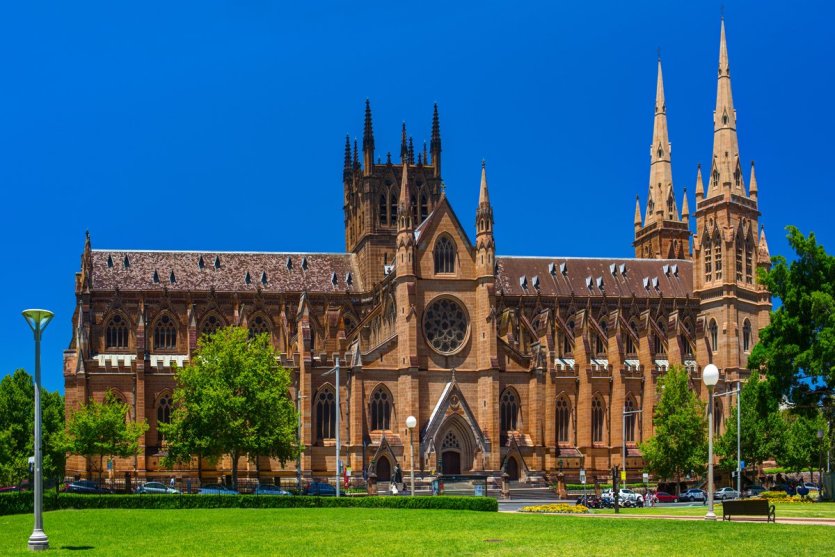 Queen Victoria Building
"The most beautiful shopping centre in the world! "Pierre Cardin is said to have said after visiting this building. Designed by George McRae and completed in 1898, this ambitious project was built during a period of recession. Previously, the site was called George Street Market, and was later renamed the Queen Victoria Building as a tribute to the monarchy. Over the years, the building has been gradually modified, it was even almost demolished in 1959. Fortunately, it was restored in 1970 and now houses many high-end shops.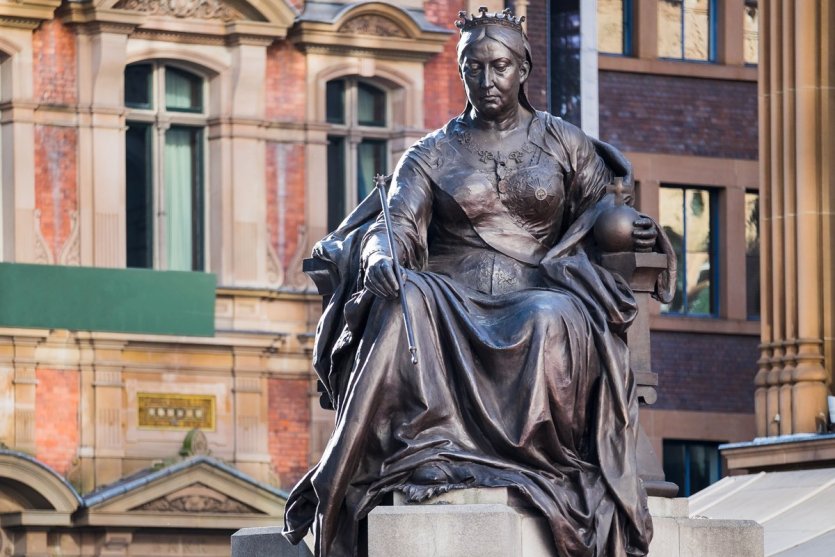 Art Gallery of New South Wales
Every year, more than one million visitors come to admire the museum's rich collection. Located in the heart of the sumptuous Domain Park, it is Sydney's largest public art gallery and one of the largest in Australia. Since 1921, this place has hosted one of Australia's most prestigious awards for portraiture: the Archibald Prize. Inside, Australian artists are obviously honoured: Grace Cossington Smith, Lloyd Rees, etc. Aboriginal art from Australia is also highlighted, as are many antiques from Southeast Asia and leading European painters.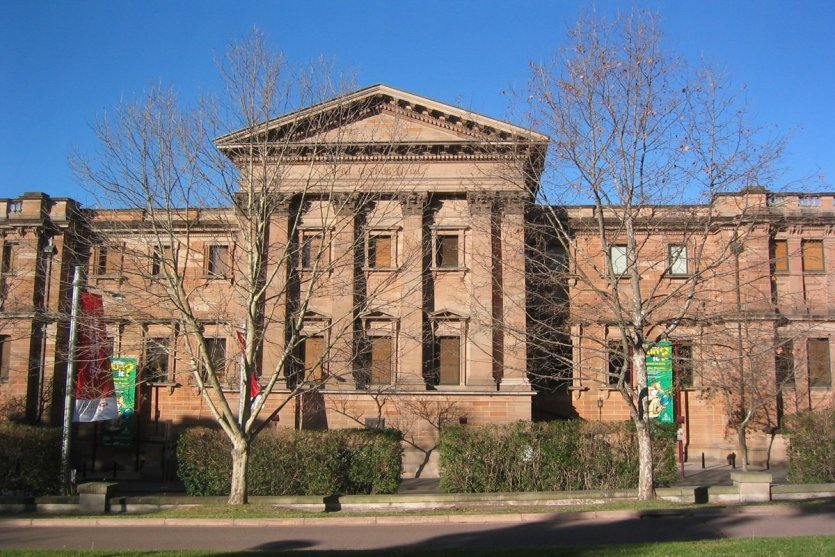 Royal Botanic Gardens

Probably one of the most beautiful and enjoyable parks in Sydney. Its exceptional location makes this green setting an ideal place to enjoy magnificent views of Sydney Harbour, the Opera House and Harbour Bridge. Its large surface, 30 ha, shelters real treasures such as an incredible fauna and flora. Indeed, maybe you will come across a giant grey headed bat or an imposing exotic plant! During your stroll, don't miss to linger on the numerous contemporary sculptures that line the park, real masterpieces!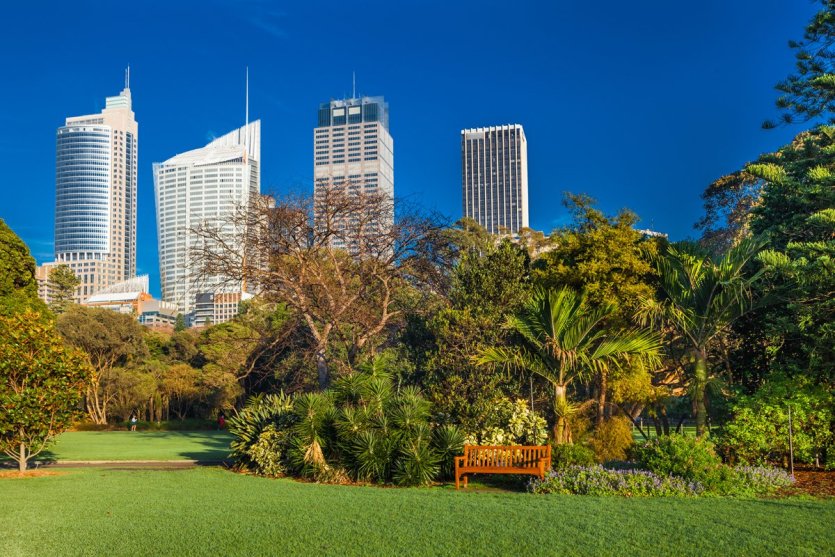 The Rock Discovery Museum
Located in the historic Rocks district, one of the oldest places in the city where you will find the best pubs, this museum is an opportunity to discover in depth the history of this area. From colonial times to the present day, discover in this 1850s building a unique collection of images and objects. A fun museum par excellence, many interactive videos mark out the visitor's journey. On the2nd floor, you can attend temporary exhibitions. Another interesting museum in the Rocks district is the Justice and Police Museum. Ideal for a cold sweat..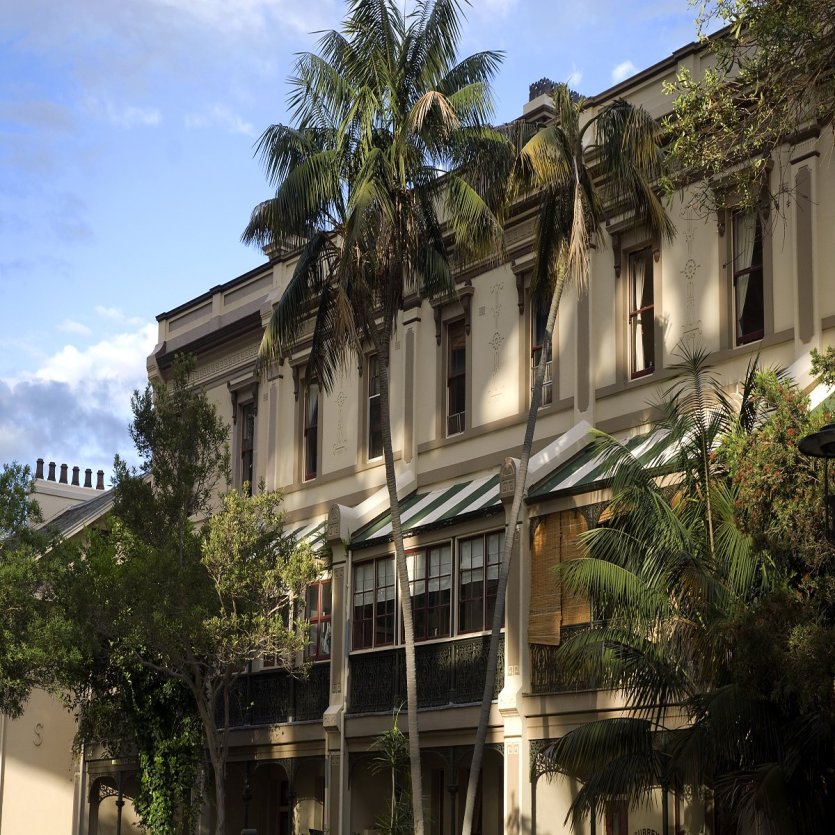 Sydney Harbour Bridge
20 million dollars was required to build this bridge. The little anecdote that the locals like to tell is that Crocodile Dundee's famous actor, Paul Hogan, was a painter on this site during construction. With six lanes of dedicated traffic lanes, a railroad, a bicycle path and a pedestrian walkway, it is the widest bridge in the world and the 6th longest! Nice measurements! To learn about the history of the bridge and enjoy a panoramic view of Sydney and its bay, visit the Pylon Lookout. If you're the brave type, you can climb to the top of the bridge with Bridgeclimb!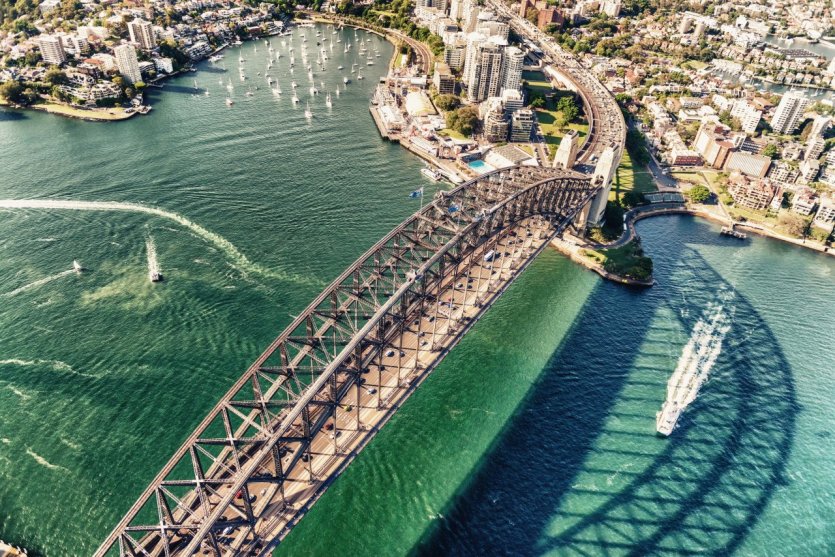 Cockatoo Island
Since 2010, Cockatoo Island has been part of Australia's World Heritage Site. This is Sydney Harbor's largest island. This will take you 10 minutes by ferry from the west of Circular Quay. Initially, it was a prison built by the prisoners and then a correction center for girls before returning to prison until 1908, when it was finally closed. In 1913, Cockatoo Island returned to become a Commonwealth shipyard. During the Second World War, a ship repair workshop was placed there. The last ship created on this island was delivered in 1986.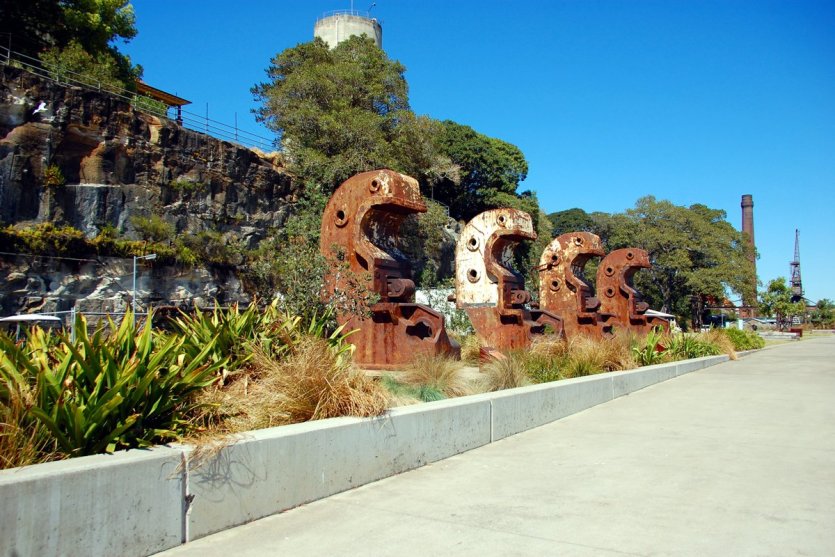 Book your trip !
accommodation
Book a hotel

Holydays rental
On the spot
Book a table

Find an activity