It is the chic seaside resort of southwest Turkey. Bodrum, a former fishing village, is now a destination that combines high-end hotel complexes, chic boutiques and luxury yachts. The site is appreciated by rich tourists who come to enjoy a certain sweetness of life. In summer, Bodrum sees hundreds of thousands of local and European tourists arriving on Gumbet beach, with calm waters, ideal for windsurfing, Ortakent, appreciated by the jet set or Bitez, where families meet. And on the bay, it's a whole festive atmosphere with evenings organized on the beaches, discos and lively bars where tourists and locals mix. On the other hand, the old town does not lack character, authenticity and historic buildings. Thus the castle of Saint-Pierre (15th century) with its five towers, the English, German, Spanish, Italian and French, the highest, built at 47.5 m. This castle houses the magnificent Bodrum Museum of Underwater Archaeology. We must also see the musée maritime de Bodrumand, of course, the site of the former Halicarnassus mausoleum, built in 350 BC. In addition, the Zeki Muren Arts museum, located in the former home of the artist Zeki Müren, exhibits his paintings and stage costumes. As for the seaside pleasures, they are legion: swimming, diving, boat trips and all the gliding on the water. Optional observations of wild fauna and flora. Don't forget to bring your tour guide with you!
What to visit Bodrum (Halicarnasse)?
Suggested addresses Bodrum (Halicarnasse)
When to go to Bodrum (Halicarnasse)?
When to go to Bodrum? The high tourist season in Turkey begins at the end of June and ends in August. That is why the best time to go to Turkey, if you want to avoid the crowd, but also the heat, is in May or from September to October, when the climate is still very suitable and the prices already mild. The low tourist season corresponds to the winter in Turkey. Many Turkish tourists also travel inland during the Bayrams, the religious holidays, which take place after Ramadan. At that time, prices often increase and long-term transport reservations are necessary. If you arrive in Istanbul, take the opportunity to visit this fascinating city. And know that in Bodrum, the hotel complexes close at the end of the tourist season. You will still have hotels for premises and accommodation in town that will allow you to share the local life. But of course if you are looking for a seaside holiday, the Bodrum formula in summer, on the beach, is perfect.
Weather at the moment
Weather all year round
While Bodrum has pleasant temperatures all year round and 300 days of sunshine per year, the three summer months are the warmest, driest and sunniest. Autumn is less hot but still warm and sunny, and spring is very pleasant. In winter, rains are common. Only from November to April is the average temperature below 20°C (about 17.5°C). The average temperature in July and August is around 30°C, in June and September 25°C.
January

8°C
14°C
February

9°C
16°C
March

9°C
17°C
April

13°C
22°C
May

17°C
26°C
June

21°C
31°C
July

23°C
34°C
August

23°C
33°C
Sept.

21°C
30°C
October

17°C
26°C
Nov.

14°C
21°C
Dec.

11°C
17°C
Budget
The local currency is the Turkish lira, but many hotels and shops accept euros and your credit card. Turkey is a country where two worlds coexist. One offers prices that are almost close to ours, or even much higher. It is that of a wealthy minority in large cities and fashionable seaside resorts. The other is aimed at the vast majority for whom the average salary is 500-600 euros.
Procedures
No visa required for tourists from the European Union. A valid identity card or passport (at least six months from the date of entry into Turkey) is sufficient for a stay of less than 90 days. For Quebecers, a visa is required and can be obtained in two ways: at the Turkish Consulate in Montreal (at least three weeks before departure) or by arriving at the airport at the visa office. The second option, on site, is the simplest and cheapest: your passport is stamped in one minute before the last checkpoint.
Health
No vaccine is required to go to Turkey. However, make sure that your D.T. vaccines Polio are up to date. It is also recommended to get vaccinated against influenza during transmission periods. Vaccines against typhoid, rabies and hepatitis B are only recommended if you are staying for a long period of time or if you go to places where sanitary conditions are precarious. Tap water is in principle not drinkable in Turkey
How to go to Bodrum (Halicarnasse)? Our advice & tips
Organised trips

Going alone

Moving around
The choice of sites is so wide and varied that there are a multitude of organized tours for Turkey. If you want a carefree stay at the seaside, from getting off the plane to returning, there are many suggestions for Bodrum. You stop in Istanbul, before reaching Bodrum-Milas airport where a bus takes you to your hotel complex. There you are 100% taken care of, from breakfast to lively evenings. Some optional excursions will take you off the deckchair if necessary. Otherwise you wouldn't have seen anything from Turkey! Except the parade from the windows of your bus.... Too bad, though. Kos Island is 20 minutes away by hydrofoil, for example.
Discover our selection of travel agencies for this destination
For Turkey, airlines mainly offer flights to Istanbul. Several low-cost flights are offered very reliable. Use an Internet price comparison tool. Take a flight or bus to Bodrum. You can book your accommodation at the same time as your flight or directly with hotels or residents. On site, you will have a wide range of choices, if you leave the hotel complexes to go into town, small restaurants or street kiosks where you can enjoy a meal.
Buses are the most economical means of transport and are the most widely used by Turks, as they serve the entire country, unlike the rail network. Air travel is a more expensive but practical solution and there are many domestic flights. The road network is in good condition with 2,000 km of motorways.
Prepare for your trip Bodrum (Halicarnasse)
Transportation
Book a ferry

Car Rental

Taxi
Accommodations
Find a hotel

Holiday rental
Services / On site
Book a table

Activities & visits
Pictures Bodrum (Halicarnasse)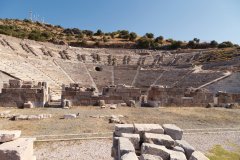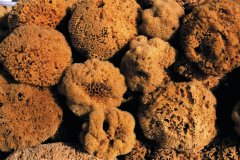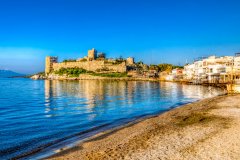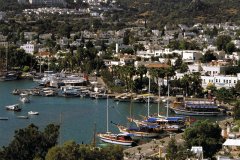 Discover Bodrum (Halicarnasse)
Practical information