Less known than Sharm el-Sheikh, Hurghada is an Egyptian seaside resort spread over 30 km along the Red Sea, a long strip of sand lined with hotels. A former fishing village on the Red Sea, this seaside resort emerged from the sands, south of the entrance to the Gulf of Suez, at the beginning of the last century. It is a well-known spot for diving enthusiasts. The underwater biodiversity is exceptional. The modern district of Sekalla is a succession of shops and diving clubs. On the seaside side, Hurghada offers a wide range of restaurants, bars and discos, while in the old quarter of El Dahar, there are traditional Egyptian cafés and souks. Between two days at the beach or diving, you can vary the pleasures by planning excursions to the offshore islands (Giftoun, Mahmya), a sea trip to swim with the dolphins, a quad ride in the desert, a visit to the large aquarium, an outboard trip or a show at the hotel and palace of a thousand and one nights, Alf Leila wa Leila. Another local entertainment: the visit of the marina, very lively in the evening, with a walk along the harbour on the lookout for the most beautiful yachts and a stop to enjoy an ice cream. This destination is full of beautiful discoveries that your tour guide will help you to recognize.
Suggested addresses Hurghada
When to go to Hurghada?
When to go to Hurghada? Your stay will be more pleasant in spring or autumn. In winter, the wind can be strong and the temperature cool. In summer, the heat wave temperatures are difficult to tolerate. The preferred periods are therefore from September to December and from March to June. Outside these slots, the Hurghada coastline is deserted, the vast majority of hotels closed and tourist providers out of service. It is difficult to practice diving, quad biking or any other tourist activity.
Weather at the moment
Weather all year round
It is the kingdom of the sun. The "rainy" season is reduced to January with... 7 mm of cumulative precipitation. Temperatures are always mild except from June to September when the average temperature exceeds 30°C. In between seasons, nights cool down and in winter temperatures can drop. The days are mild and the nights sometimes very cool. The water temperature is always above 20°C and from June to November above 25°C.
Budget
The currency is the Egyptian pound (LE) divided into 100 piasters (PT). In English, you will be told about pound and piaster, in Arabic about guineh and irch. The euro and the dollar are accepted for most tourist services, as well as credit cards. In the city, many distributors are present. Egypt is a fairly cheap destination, especially in an all-inclusive version
Procedures
A tourist visa (maximum validity of 1 month, cost 25 US$) is required in addition to the passport to enter Egypt. It can be obtained from the Egyptian diplomatic authorities in France and in particular from the Egyptian Embassy in Paris, but it is especially easier to buy it when you arrive at one of Egypt's international airports. Luggage is not searched extensively, but it can be searched. Travellers are allowed to enter Egypt in possession of a maximum of LE 5,000 and US$ 10,000 (or the equivalent in euros).
Health
Equip yourself with mosquito repellent even if the country is not affected by malaria. Egypt is one of the countries affected by the avian influenza outbreak. Make sure that your vaccinations required in France are up to date (D. T. Polio for example). Vaccination against hepatitis A is recommended. Protect yourself from the sun, the most severe risk of this destination. Food and drinks in hotels in western Hurghada are not a problem. Desert excursions are well established and you don't risk much to go on camelback or quad if you are accompanied.
How to go to Hurghada? Our advice & tips
Organised trips

Going alone

Moving around
This seaside resort is the fiefdom of organized stays. Desert excursions are well established and you don't risk much to go on camelback or quad if you are accompanied. We will also organize the traditional day trip to Cairo to see the pyramids. Thematic stays, around diving or sailing, are also on the tour operators' programme.
Discover our selection of travel agencies for this destination
It is not a destination that is of great interest to a traveller who leaves alone. Everything is organized for tourists coming in groups or all inclusive. It is difficult to negotiate prices on the spot, you will pay more than in all-inclusive packages. And you will be left "on the side".
If you come on an organized trip, no problem. The shuttle takes you to your hotel and if your stay is seaside, all you have to do is walk to your deckchair! You can also sail and go on a small sea cruise. We do not recommend renting a car that will be of little use to you. In fact, driving in Egypt is no easy task..
Prepare for your trip Hurghada
Transportation
Book a ferry

Car Rental

Taxi
Accommodations
Find a hotel

Holiday rental
Services / On site
Book a table

Activities & visits
Pictures Hurghada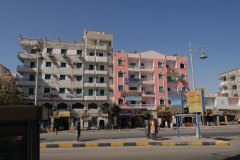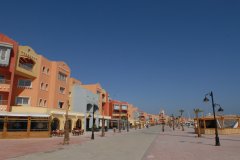 Discover Hurghada
Practical information